Browsing articles in "Local Events"
Last Thursday's Filmmaker Meetup was a big success. We had lots of people show up to meet their peers and share their work. Many ideas were generated for future events.
Thanks to Madebydetroit and Silver Bullet Pictures for all their help.
Check out the work of some of the participants:
Welcome to Royal Oak – Arts, Beats and Eats
It's official.  Royal Oak, MI is now the host of the 2010 Michigan Arts, Beats & Eats Festival.  This is very exciting news for our city and will be awesome exposure for i3 Detroit and community in general to a large audience.  We can't wait to start hearing about plans and expect to see i3 Detroit there in full force. 
Hey Everyone i3 Detroit will be at the Detroit Urban Craft Fair this Saturday November 21st from 10am to 7pm. We will be showing the cupcake car after it's debut in the Royal Oak Holiday Parade as well as showcasing a few smaller i3 Member projects. We also have a cool make and take project for anyone interested. If you are interested in learning more about i3 Detroit or you just want to stop bye and say hi that is cool as well. Come and support all the local handmade crafts and art at the Detroit Urban Craft Fair brought to you by the cool girls over Handmade Detroit!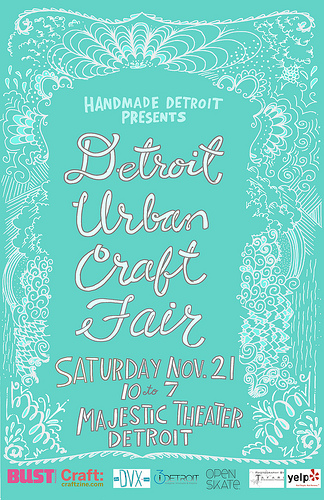 Sunday was Pumpkin Carving and Halloween Costume Build Day at i3 Detroit. It also happened to be Spooktacular in Royal Oak where all the families can go trick or treating at the businesses in downtown Royal Oak. We thought it would be fun to take the Cup Cake car for a drive downtown to hand out candy. The response to the Cup Cake car was great as usual and a lot of fun handing out candies and photos with the kids.
The Utica Shelby Emergency Communication Association holds their 24th annual Hamfest on October 25th.
Doors open from 8:00AM to 1:00PM American Polish Century Club
33204 Maple Lane Drive
Sterling Heights, MI 48312-6212
For interviews, please contact:
Matt Oehrlein
phone:
(248) 906-8473
email:
contact@i3detroit.com
For tours, just drop in before a meeting (Tuesdays 5-7pm) or any Friday evening (5-9pm).
Stay Informed – Mailing Lists
i3 Upcoming Events