Difference between revisions of "3D Printer - Stratasys"
From i3Detroit
m

m (added Fab Lab category)

Line 73:
Line 73:
 
 
 

}}

 

}}

 
+
---
Revision as of 14:39, 12 May 2013
| | |
| --- | --- |
| | Remember to always; clean up and return the equipment to a fully functional, safe state before you leave. This includes returning any safety mechanisms to fully working order. |


Stratasys FDM 1650 3-D Printer
Basic Info
Ownership: Brian Wennberg (100%)
Location: West wall, you can't miss it.
What it looks like: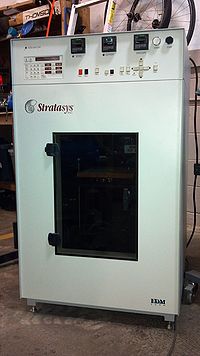 Manufacturer Information
Make/Model: Stratsys FDM 1650
Part Number: 1650
Documentation
not specified
Rules
Instructions
Online manuals for an FDM 2000 which is very similar model:
   *Applications
   *Utilities
   *Manual
   *Operations

Authorized Users and Trainers
No equipment access set up. See User:pajamapuma or Equipment Access Project for help.
Other References
Blog by a gentleman who took one apart and got it working again: My FDM 1650 Blog
Instructions for how to use it from Ball State University: Lab Procedure
Blog entry about finding more material at a reasonable price (not): Material Madness
Equipment page (like ours) from the London Hackerspace wiki: Equipment:Stratasys_FDM_1650
Maintenance
Z-stage Lubrication
   Should be done monthly

Cable Lubrication
   Should be done monthly

FDM Modeler Calibration
   Should be done often - recommended minimum of once a week

Things that Need to be Done
Bring in rack mount computer to run the machine.
Find a source for consumables.
Determine what the materials costs are.
Write up maintenance procedures.
Write up procedures for use.
FAQs
A list of commonly asked questions