Acer 1440G Lathe
From i3Detroit
Acer 1440G Lathe
It's provided here to assist in using a common format for documenting equipment in the i3 Detroit wiki.
Ownership
75% Nate B, 10% Trevor, 15% Brad (??)
Documentation
(Add a link to the documentation online, or a PDF file using a File link)
Certification
(Undefined - or "None Required" or include information about what certification is required before operating this machine)
What It Looks Like
As an example: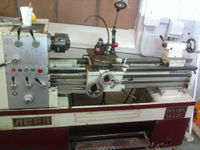 Operation Instructions
Include basic operations for the machine. It's unlikely that you can include all the different ways to use it (and not to use it), so maybe just include info about basic features and switches with pics.
FAQs