Acer 1440G Lathe
From i3Detroit
| | |
| --- | --- |
| | Remember to always; clean up and return the equipment to a fully functional, safe state before you leave. This includes returning any safety mechanisms to fully working order. |


Acer 1440G Lathe
A paragraph describing it.
Basic Info
Ownership: 90% Nate B, 4% Trevor C, 4% Brian W, 2% Aaron D
Location: Machine shop.
What it looks like: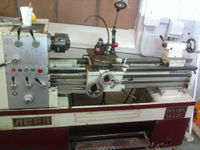 Manufacturer Information
Make/Model: Acer 1440G Lathe
Part Number:
Documentation
not specified
Rules
Instructions
Lowest RPM.
Slow hand-feed with coolant.
Minimum tool extension.
All bolts tightened.
Authorized Users and Trainers
No equipment access set up. See User:pajamapuma or Equipment Access Project for help.
Other References
not specified
Maintenance
Check the oil levels before using.
Things that Need to be Done
FAQs