Badger Universal Model 360 Airbrush
From i3Detroit
| | |
| --- | --- |
| | Remember to always; clean up and return the equipment to a fully functional, safe state before you leave. This includes returning any safety mechanisms to fully working order. |


Badger Universal Model 360 Airbrush
Stub page for the airbrush in the craft room.
Basic Info
Ownership: Unknown Owner
Location: Craft room, shelf in NW corner.
What it looks like: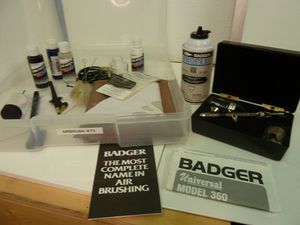 Manufacturer Information
Make/Model: Model 360.
Part Number: Unknown.
Documentation
No documentation links inserted yet.
Rules
No known rules for use.
Instructions
No known instructions for use.
Authorized Users and Trainers
No equipment access set up. See User:pajamapuma or Equipment Access Project for help.
Other References
No external references inserted yet.
Maintenance
No known maintenance info...except for the standard rule of acrylic paint: Never, never, never let paint dry in the brush after use. It ruins standard brushes, and I'm guessing it would ruin an airbrush, especially if there are any moving or adjustable parts which come in direct contact with paint.
Things that Need to be Done
I need to take more photos and post them along with a link or two to some sort of airbrush how-to. I've never used one myself, so until I've accessed that content and played around with the airbrush, this page will remain a stub.
FAQs
A list of commonly asked questions