CNC Router
From i3Detroit
| | |
| --- | --- |
| | Remember to always; clean up and return the equipment to a fully functional, safe state before you leave. This includes returning any safety mechanisms to fully working order. |


CNC Router
AKA "the orange one". Cutting Area is 30"x48"x5.5"
Basic Info
Ownership: Steve Nowicki, 100%
Location: East Side of the shop, just south of the HAAS
What it looks like: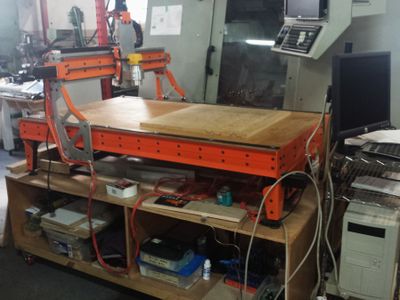 Manufacturer Information
Make/Model: Platform CNC (see link below) and router head
Part Number:
Documentation
Rules
Only use with owner's permission and supervision
Instructions
Follow similar directions as the HAAS
Authorized Users and Trainers
No equipment access set up. See User:pajamapuma or Equipment Access Project for help.
Other References
Maintenance
Things that Need to be Done
Officially approve this equipment to live in the CNC zone
Populate this wiki page with useful information
FAQs