Difference between revisions of "Category:Wood Shop"
From i3Detroit
(Added link for Skil scroll saw)

Line 29:
Line 29:
 

*[[Rigid 16gal Wet-Dry Vac]]

 

*[[Rigid 16gal Wet-Dry Vac]]

 

*[[SawStop Table Saw]]

 

*[[SawStop Table Saw]]

 
+
 

*[[Wood Lathe]]

 

*[[Wood Lathe]]

 
 
---
Revision as of 21:32, 15 July 2013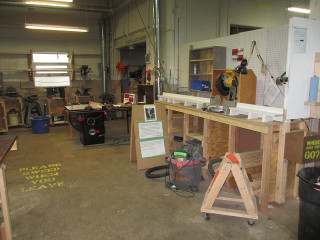 Shop Safety!
Keep shop area clear of debris, cutoff pieces and other hazards.
Wear Eye and Hearing protection at all time using woodworking power tools.
Wear appropriate clothing. Tie long hair back, remove dangling jewelery, remove work gloves.
Take your time. Accidents happen because someone is in too big of a hurry.
Think about what you are doing. If something seems unsafe, it probably is.
Dust Control
Do not vacuum any metal objects with dust-control machine, it must be used only for sawdust.
Equipment
Consumables
Power Tool Wish List
Router Table
6inch by 48 inch combo belt sander
Thickness Planer 13 inch like Dewalt DW735X
i3 ownership of Lathe and tools
i3 ownership 15 inch Floor mount Drill Press
Hand Tool Wish List
Router table saftey items feathera boards etc.
crosscut sled for table saw
Carpenter's Square
Square
more good clamps (not harbor freight)
Wood Shop Training
Pages in category "Wood Shop"
The following 30 pages are in this category, out of 30 total.