Category:Wood Shop
From i3Detroit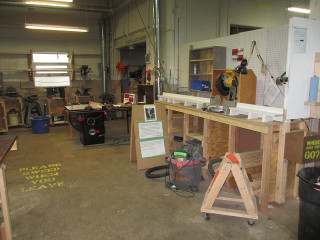 Shop Safety!
Keep shop area clear of debris, cutoff pieces and other hazards.
Wear Eye and Hearing protection at all time using woodworking power tools.
Wear appropriate clothing. Tie long hair back, remove dangling jewelery, remove work gloves.
Take your time. Accidents happen because someone is in too big of a hurry.
Think about what you are doing. If something seems unsafe, it probably is.
Dust Control
Do not vacuum any metal objects with dust-control machine, it must be used only for sawdust.
Equipment
Raw Material Storage
Material Storage Policy
Sheet Goods Rack: 1/4 sheet (8 sq. ft.) or larger sheet goods, or boards narrower than 12 in. but longer than 4 ft. A-frame Rack Exterior: Less than 1/4 sheet (8 sq. ft.) but at least 24 in. by 12 in. sheet goods, or boards narrower than 12 in. and between 2 ft. and 4 ft. long. A-frame Rack Interior: Boards narrower than 12 in. and more than 4 ft. long, and not sturdy enough to stand up in a vertical storage rack. Shelf under the miter saw: a limited quantity of smaller pieces for open-use will be kept here.
Material Owned by Individual Members
Raw Material Space permitting, storage in the Sheet Goods Rack and A-frame Rack is available for the sizes described above. Your raw material must be marked with Name, Phone, Email, and Date, or Parking Permit, or it will be considered open-use and available for others to use. Your raw material should not be stored for longer than 90 days. After 90 days, even fully labeled material becomes open-use. We request that WS Parking Permits not extend for more than 90 days.
In-Process Projects: A shelving unit marked for Member Projects is available in the wood shop for small in-process storage while clamping, gluing, finishing, etc.. Use of this area requires a Parking Permit and should not exceed 30 days. Large in-process projects also require a Parking Permit and should be on a cart or some movable rack so that others may move it out of the way.
I3-Owned Material Storage
Any material marked with a date and "i3" or "WS" is reserved until that date for an internal i3 project and should not be used without a Warden's permission. After that date, it is available for open-use.
Open-Use Material Storage
Materials stored in the "over the window rack", the Sheet Goods Rack, or the rolling A-frame Rack, without a proper label as described above, are available for open-use by anyone working in the space.
Open-Use Compensation: The intent of open-use material, whether donated or purchased with Wood Shop funds, is to provide a convenient source for small amounts of common materials. We do not have space or funds to provide a complete material supply for projects. If you use a piece of open-use material longer than 4 feet or larger than a quarter sheet, please deposit an appropriate amount of compensation into the Wood Shop Donation Box.
Material Donation: Members wanting to donate a manageable quantity of leftover project material may leave it in the appropriate location, space permitting, where it will be available for open-use. The Wardens will periodically cull the stored open-use material to remove duplicates and seldom-used items.
Consumables
Power Tool Wish List
Router Table
6inch by 48 inch combo belt sander
Thickness Planer 13 inch like Dewalt DW735X
i3 ownership of Lathe and tools
i3 ownership 15 inch Floor mount Drill Press
Hand Tool Wish List
crosscut sled for table saw
Carpenter's Square
Square
more good clamps (not harbor freight)
Wood Shop Training
Pages in category "Wood Shop"
The following 30 pages are in this category, out of 30 total.