Craft Room
From i3Detroit
First 2 pages optimized for printing. TOC follows below zone map.
Zone Information
| | |
| --- | --- |
| Zone Name | Craft Room |
| Warden | Kevin Flory |
| Phone | 419-234-6200 |
| Email | flory.twin.2@gmail.com |
Please contact warden with questions or comments. This means you! The warden gets sad when nobody pays attention to him, and is guaranteed not to bite or fling excrement, even if you poke things in his cage or break equipment.
Reference Map
The floorplan below gives a rough guide to what can be found where.
| Number | Description |
| --- | --- |
| 1 | Paper, clipboards, canvas. Guillotine paper cutter. |
| 2 | Labelers, pens, envelopes, scissors, X-Actor. Empty storage containers (for use by all). |
| 3 | Sewing supplies and equipment. Brown and butcher paper. Foam and foam cutter. Yarn. |
| 4 | Miscellaneous storage, including Silhouette, Cuttlebug, and Cricut. Craft wood. |
| 5 | Beads, beading, and jewelry. Painting supplies overflow and screen printing supplies. |
| 6 | Painting tools and supplies. |
| 7 | Mosaic supplies. |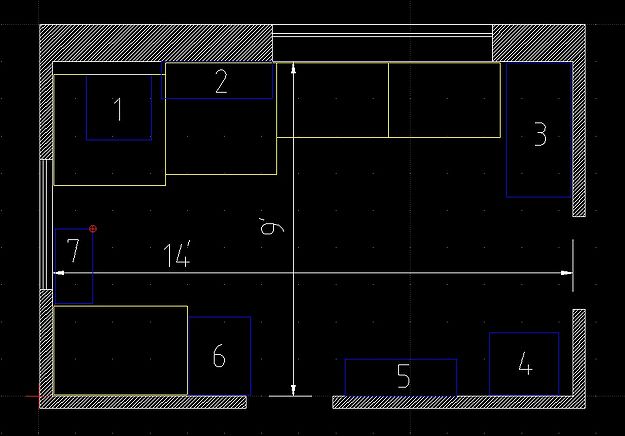 If you're reading this on the Wiki, a full (searchable) list of materials and supplies in the Craft Room follows. (This material is still under construction, but will eventually include use instructions for using all the equipment in the room.)
If you're reading this in the Craft Room on the wall, start up the shared Craft Room laptop (in the southwestern corner of the room--the one with all the stickers on it) and have a look at the Wiki page, at http://i3detroit.com/wi/index.php?title=Craft_Room.
Notes
To Request a Change in the Craft Room
If you would like to see changes in the craft room, feel free to contact Kevin Flory. I'm particularly interested in requests for materials or equipment you'd like to see stocked. I'll also take suggestions on new layouts you'd like to see, although I may not be able to honor all requests.
For minor restocking requests, feel free to leave a note or use the whiteboard by the pencil sharpener.
To Find Help
If you'd like to find someone to give technical advice on using a specific machine or technique, or are willing to be listed as someone who can help others, please contact Kevin Flory.
Subject Matter Experts

| Sponsor | Area Of Expertise |
| --- | --- |
| Kevin Flory | Painting, drawing [specialties: oils and watercolor ] |
External Documentation
About Donations
While I appreciate all donations, please check before leaving any donation larger than a loaf of bread. Space is tight in the craft room these days, and I'd hate to discard your donation due to a lack of room!
Contact Information
Please contact the warden, Kevin Flory, for additional details or help finding something.
Supplies And Equipment
Equipment
Major Equipment
Item
Detailed Description
Owner/Sponser (If Known)
Size
Current Location
Pic
Shared Craft Room Laptop
For use by everyone. Has Windows and Ubuntu systems installed--select desired system using arrow keys at time of boot.

The Windows system has the Silhouette utilities and drivers installed, as well as:

OpenOffice
Notepad++
InkScape
Gimp, Paint.NET
Sure Cuts A Lot
Firefox
Spotify

The Windows system is currently configured to print to the 5Si and Samsung printers.

Unknown
14" x 10.5" x 2"
Bench Top (floating)

Singer Sewing Machine
See equipment page here.
Unknown
16" x 7" x 11.5"
Sewing supplies shelf, W wall
None At Present
Necchi Sewing Machine
See equipment page here.
Unknown
15" x 7" x 11.5"
Sewing supplies shelf, W wall
None At Present
Singer "Ultralock" Serger 14U34
Believed to be currently broken.
Owner: Trevor
W wall, cubed shelving units, upper R
None At Present
Minor Equipment
| Item | Detailed Description | Owner/Sponsor (If Known) | Size | Current Location | Pic |
| --- | --- | --- | --- | --- | --- |
| Brushes, Q-Tips, Palettes | | Mel B. | Drawer in fixture 15" x 21.5" x 25.5" | 3-drawer fixture underneath workbench--bottom drawer, labeled "Painting Supplies". | None At Present |
| Paper Trimmer | 1 `guillotine' trimmer, 13" bed | Presumed Mel B. | 14.5" x 13" x 1.5" | Paper area, top of bench, SE corner | |
| Paper Trimmer | 1 flatbed `roller' trimmer, 12" bed | Presumed Nick B. | 16.5" x 6.5" x 2" | Top of bench by sewing machines, SW corner | |
| Sewing Miscellany Kit 1 | Kit with mixed sewing supplies | ? | 14.5" x 10' x 2' | Sewing supplies shelf, W wall | None At Present |
| Black & Decker Iron | See equipment page here. | None | 5" x 5" x 10" | Sewing supplies shelf, W wall | None At Present |
| Black & Decker "Steam XPress" Iron | See equipment page here. | None | 5" x 6" x 11.5" | Sewing supplies shelf, W wall | None At Present |
| Proctor-Silex "Ultra-Ease" Iron | See equipment page here. | None | 6" x 5" x 9" | Sewing supplies shelf, W wall | None At Present |
| Badger Airbrush Kit | Includes paints, instructional guide, and cleaning materials. | Unknown | | Miscellaneous supply shelf, NW corner | None At Present |
| Snap/Grommet Kit | Used for putting on and taking off snaps, eyelets, and other metal fixtures on fabric. Contained in labeled custom-fit box. | Nate B. | 14.5" x 10' x 2' | Sewing supplies shelf, W wall | None At Present |
| Lightbox | Provides underlit working surface appropriate for tracing or working with transparencies. | Unknown | | Miscellaneous supply shelf, NW corner | None At Present |
| Cricut Paper Cutter | Like a miniature vinyl cutter, but for paper. Allows cutting of arbitrary shapes when used with special software on Craft Room laptop; otherwise, requires special cartridges with pre-loaded designs. Manual in craft room. | Unknown | | Miscellaneous supply shelf, NW corner | None At Present |
| Silhouette Paper Cutter | Like the Cricut, provides a craft appliance for cutting paper shapes. | Unknown | | Miscellaneous supply shelf, NW corner | None At Present |
Supplies
Art and Craft Supplies
Item
Detailed Description
Owner/Sponser (If Known)
Current Location
Pic
Mosaic Supplies
Large collection of mosaic supplies in own cabinet.
Owner: Ashley Prescott
East wall under hallway window
None At Present
Acrylic Paint
Tube and bottled acrylic paint in a wide variety of qualities ("Craft", "Basic", "Artist") and colors.
Sponser: Kevin Flory
Craft paint is in the grey shelf on the north wall. Artist-quality paint is in the shelf above it.
None At Present
Oil paint
Tube oil paints. Very wide array.
Sponser: Kevin Flory
Hanging shelves, north wall
None At Present
Paint thinner, varnishes
Various liquids used in painting:

Paint Thinner
Spray And Liquid Varnishes
Stand Oil
Cobalt Drier
Acrylic Matte Medium

Sponser: Kevin Flory
Hanging shelves, north wall
None At Present
Sewing Supplies
Item
Detailed Description
Current Location
Pic
Polyester Stuffing
4 bags, loose, at 2 lb. apiece [that's a LOT of stuffing]
W wall, cubed shelving units, bottom L (spilling out under the workbench).
None At Present
Sheet Stuffing
Various scraps, none larger than 16 x 18 triangle.
W wall, upper hanging shelves, labeled box.
None At Present
Fabric
Even more fabric than there is stuffing, and that's saying a lot. Everything from patch-sized remnants through swaths of complete bolts (longest measure thus far comes in around 13'). Currently undergoing analysis by Maxwell Gonyea-Alexander as time permits.

Scraps: W wall, upper hanging shelves, various labeled boxes per material type
Remnants and Bolt Sections: White drawer units under workbenches

None At Present
Ribbon
Various widths, qualities, and colors of ribbon. Mostly paper gift-wrapping ribbon, but there is a small amount of fabric ribbon as well. 2 shoeboxes.
Upper shelves, W wall
None At Present
Trim, lace trim
A few lonely pieces of trim and one oversize pink zipper.
Upper shelves, W wall
None At Present
Velcro, nylon straps
Lots of variously-sized nylon strap rolls. Some velcro, including adhesive-back velcro.
Upper shelves, W wall
None At Present
Velcro, nylon straps
Lots of variously-sized nylon strap rolls. Some velcro, including adhesive-back velcro.
Upper shelves, W wall
None At Present
Molding Supplies
Item
Detailed Description
Current Location
Pic
Plaster-based casting compound
PermaStone™-brand casting compound. "Just mix with water!"
Upper shelves, W wall
None At Present
"Smooth-On" Plastic Casting Supplies

"PMC® 121/30" Liquid Rubber Compound
"Dragon Skin® 10 FAST" Liquid Rubber Compound
"Clear Flex® 50" Water Clear Urethane Rubber
"Mod Max® 30" Silicone Rubber Compound
"Mod Max® 40" Silicone Rubber Compound

Upper shelves, W wall
None At Present
General Supplies
Item
Detailed Description
Current Location
Pic
Office Supplies

Tape

Scotch Tape
Masking Tape
Packing Tape

Rubber Bands
Index Cards
Post-It Notes
Pens
Pencils
Markers
Envelopes
Staplers and Staples
3-Hole Punch
Labellers and Label Tape

Bench top, SE corner
None At Present
Storage Supplies
Small plastic "food" containers, freezer and sandwich bags, bottles, squeeze bottles, et cetera ad infinitum.
Shelves, S wall
None At Present
Miscellaneous Consumables
| Item | Detailed Description | Owner/Sponser (If Known) | Current Location | Pic |
| --- | --- | --- | --- | --- |
| Fake Birds | Pretty fake birdies. Wide variety, some of which is shown in photo. | | Miscellaneous supply shelf, NW corner | |