Craftsman 16gal Wet-Dry Vac
From i3Detroit
| | |
| --- | --- |
| | Remember to always; clean up and return the equipment to a fully functional, safe state before you leave. This includes returning any safety mechanisms to fully working order. |


Craftsman 16gal Wet-Dry Vac
For sawdust cleanup in the Wood Shop. (No metal shavings, please!)
Basic Info
Ownership: i3 Detroit
Location: this wet-dry vac is located in the Wood Shop.
What it looks like: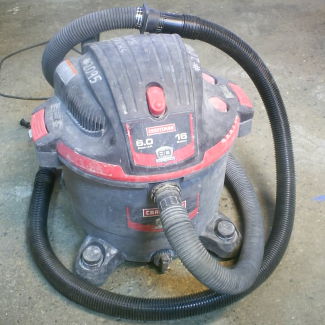 Manufacturer Information
Make/Model: Craftsman 113.177611
Part Number: S/N 07307 R 2100
Documentation
Rules
Only for sawdust in the wood shop. (No metal shavings, please!)
Instructions
Make sure the hose is connected, and turn on the power switch.
Authorized Users and Trainers
No equipment access set up. See User:pajamapuma or Equipment Access Project for help.
Other References
Maintenance
The paper filter needs to be replaced periodically.
The barrel needs to be dumped when it fills up with sawdust.
Things that Need to be Done
The nut that should hold the paper filter in place is missing. Several small zip-ties are being used as a work-around, but they may not hold over the long-term.
FAQs