Organization Structure
From i3Detroit
These are the current official documents governing i3 Detroit. Most members only need to be familiar with the standing rules.
Overview
This is the official, legal structure of the i3 Detroit corporation. This information will only be regularly needed by directors and officers. The Articles of Incorporation establish i3 Detroit as a membership-based corporation, meaning it has two deliberative assemblies (definition): the voting members, and the board of directors.
Each assembly has rights and responsibilities given to it by the articles and the Bylaws. Those rights and responsibilities are exercised by voting on written Proposals, which become Resolutions (definition) when passed. Resolutions of a deliberative body can be used to authorize any power granted to that body by the bylaws, or to create additional procedures and rules that they agree to follow. In the chart below, legal rights/responsibilities are delegated in the direction of the arrows.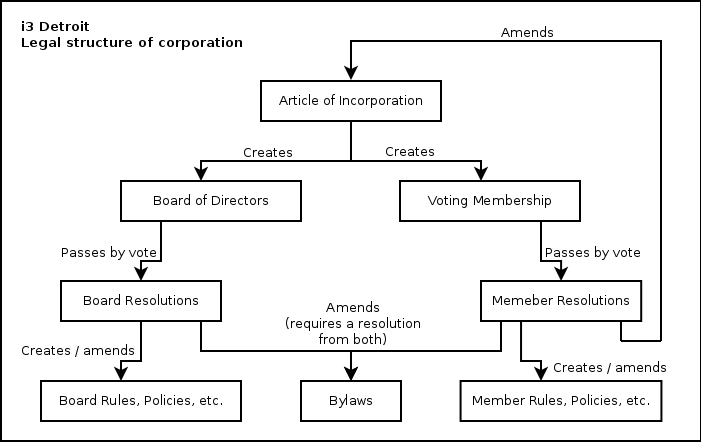 Standing Rules
Member resolutions
Bylaws
Director resolutions
Articles of Incorporation
Form 1023 (501c3 Application)