Embroidery Machine - Husqvarna Designer SE
From i3Detroit
| | |
| --- | --- |
| | Remember to always; clean up and return the equipment to a fully functional, safe state before you leave. This includes returning any safety mechanisms to fully working order. |


Husqvarna Designer SE
A combination sewing/computerized embroidery machine. This page also covers hoops, accessories, and software packages.
See also:
Basic Info
Ownership: I3 Detroit (100%)
Location: Craft Room, bench under exterior window
What it looks like: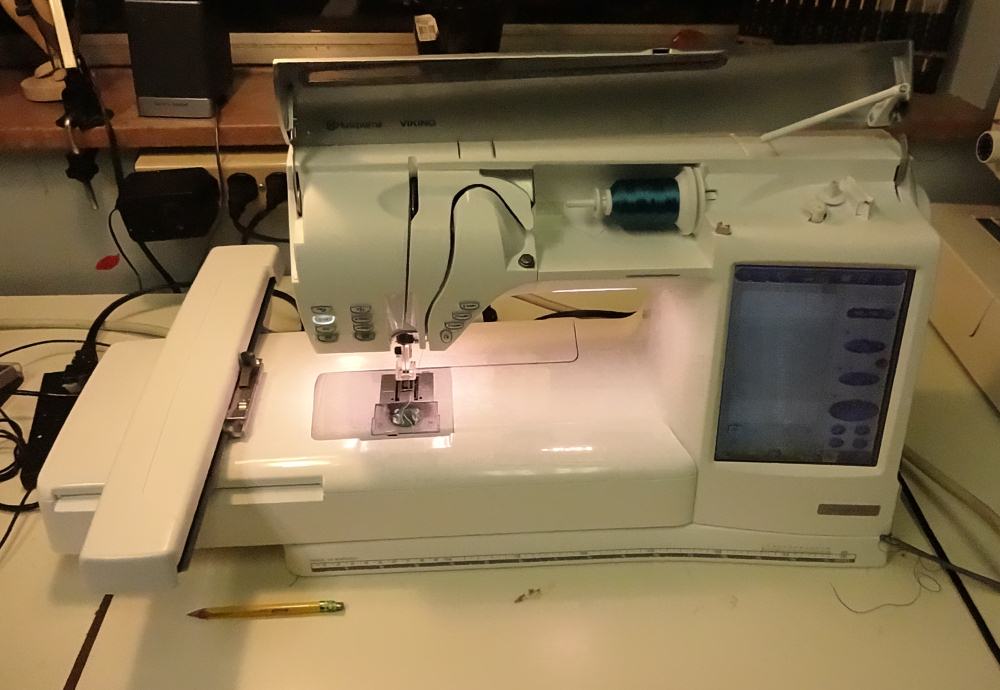 Manufacturer Information
Make/Model: Husqvarna Viking Designer SE
Part Number: N/A
Documentation
See Husqvarna's online postings of the manual and User's Guide.
Rules
At present, training is required for the embroidery function of the Husqvarna. No training is required to use the Husqvarna as a sewing machine.
Instructions
To use as a sewing machine:
If it's not already attached, find the Husqvarna foot pedal under the bench. Plug it in on the right of the machine, near the power cord. (See the thumbnail to the right.)

Once the LCD boots, select the Sewing Mode icon. (This icon can be found in the blue bar at the very top of the LCD. It's the fifth icon from the right, the leftmost of two which look like sewing machines. See thumbnail.)

Select your stitch from the on-screen display. For a complete listing of available stitches, see the Husqvarna documentation noted below, or consult a sewing expert.
Switch the foot.

In the top drawer of the fabric storage cabinet below the Husqvarna, find the clear box labeled "Husqvarna Feet and Accessories".
In the upper left-hand corner of the LCD, locate the foot display. Find the foot that looks like the display in the LCD.
Raise the foot. On the front display, find the button at top right (with a picture of a foot and an up arrow), and press it. (In the following thumbnail, this is labeled as "1".)
To get more information:
See documentation as noted below, or see Craft Room warden.
Authorized Users and Trainers
No equipment access set up. See User:pajamapuma or Equipment Access Project for help.
Other References
The full set of Husqvarna printed documentation is on the bookshelf in the Craft Room. A number of electronic documents and a training disc with limited semi-video walkthroughs are also available. (Note: Due to unclear licensing, these documents are not being made available on the Wiki. For the PDF documents, please see the Craft Room warden, or find the files on the Craft Room laptop under C:\4DEmbroidery\Guides\Reference. For the training dic, please look on the Craft Room bookshelf.)
Maintenance
During everyday use, a user will have to:
Change the needle.
Add or change a thread spool or bobbin, rethread the machine, and thread the needle.
Instructions for completing these tasks will be appended as time permits.
No advanced maintenance tasks have been identified.
Things that Need to be Done
Beyond better documentation and investigation into the design/execution toolchain, which are scheduled to be handled by the Warden, the Husqvarna has no pending to-dos.
FAQs
Not yet compiled.