Difference between revisions of "Injection Molding Shop"
From i3Detroit
Line 199:
Line 199:
 

! Status

 

! Status

 

! Contact

 

! Contact

 
+
 
+
 
+
 
+
 
+
 
+
 
+
 
+
 
+
 

|-

 

|-

 

| Move to new home

 

| Move to new home
---
Revision as of 03:20, 3 November 2012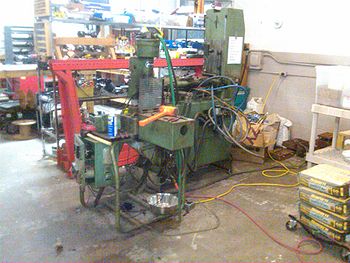 Acknowledgements
Thanks to Michael F. from the Lansing Makers Network for alerting i3 Detroit to the availability of these machines.
Thanks to Jim K., Roger S., Nate W., Brian W., (someone please help with this list!) for hauling these unwieldy, messy, heavy machines from an unlit pole-barn in Ionia to our space under a tight deadline.
Shop Safety!
Keep shop area clear of debris, spills, and other hazards.
Wear eye protection at all time when using equipment.
Wear appropriate clothing. Tie long hair back, remove dangling jewelery.
Take your time. Accidents happen because someone is in too big of a hurry.
Think about what you are doing. If something seems unsafe, it probably is.
Equipment
Consumables
ToDo List Notes
The intention of these ToDo lists is to maintain current answers to several different questions:
What do we need to do to make these machines a practical tool for our members?
How can I help with the injection molding project?
Is the project making good use of the shop space it occupies?

Is it making progress or is it stuck?
Does it have the specific resources/expertise it needs?
Does it have a practical roadmap to reach success?

What am I promising to do if I put my name in a "Contact" box?
Keep track of the status of that ToDo item
Help coordinate work on that ToDo item to avoid duplication of effort
Do as much (or as little) actual work on that item as your expertise and time allow.
Most importantly, if it stops being fun, make noise! Fail loudly! If you're not seeing the progress you want to see on your ToDo item, let people know, ask for ideas and help.
Injection Molding Shop Infrastructure ToDo List
Description
Status
Contact
Location
Moved to east shop wall between kiln and paint storage
Done
Exhaust system
Note that what may appear to be a vent pipe with a red funnel is actually a chute for parts to fall down.
Cooling water supply
We do not expect to need a chiller, but we do expect to need open-loop or closed-loop room-temperature water flow.
Compressed air supply for the smaller machine
Extend a line into the molding shop
Electrical power
Overhead pendulum drop, 240V 18A 3PH rating on large hydraulic pump motor, heater power TBD.

Smaller machine is 110V.

Resin storage: acquire more airtight bins/containers/barrels.
Some resin is in bins, some in paper bags, some in jugs.
Hydraulic fluid spill management for the larger machine
Sheet metal pan under the machine (proposed), automotive oil pan until constructed.
Wheels/casters for easy relocation of machines
Small machine needs heavy duty and lockable wheels/casters.

The big machine has rubber feet for a reason, user death imminent!
Injection Molding Shop Support ToDo List
Description
Status
Contact
Arburg Documentation
Phone message was left at i3 by the Arburg regional manager
Roger S.
Safety: Oil, resin, people near hot surfaces. Fluids under high pressure. Rapidly closing molds.
Mold Design
CAE (software tool chain?)

Copy existing mold design (where to find examples?)

Mold Fabrication
Tool steel appears to be impractical for our shop.

Forged/rolled Al plate (specialized mold alloy) proposed. Alumold 500 is available from Alro. Expect to get many hundreds of shots with a conservatively-designed mold made from the right aluminum stock.

Process Control
Temperature (two zones), pressure, cycle time, etc.
Reading List
Project plans/status/info on i3 Detroit wiki
First injection molding wiki page (this page) has been started
Dave S.
Arburg ALLROUNDER 150 ToDo List
Description
Status
Contact
Degrease more
Grab a bucket of warm/hot water, put some purple power in it, wipe grease off machine.

Don't get water in the oil reservoir

anyone!!
Degrease machine
Find grease nipples and make sure they are lubed
NateW
Move to new home
Located between kiln and tool crib on east wall
Done
Wire
Connect the 2 220v lines to the bus bar, rewire from control box to motor.

Ted wants to run a pendulum drop, this would be ok if a 110v outlet is also on this drop for the CB4

Replace key switch
(f00f says he plans to rekey it half of key is stuck in front plate on control box)

Otherwise a lock in place 2 position switch is fine.

Figure out fuses for thermal controls
(they appear to be missing)
Cooling
Reservoir and pump, possible 5gal bucket.
Hydraulic fluid
lost a bit in transit - should be ok at level to test, will need more soon 5-8gal aprox.
Lower barrel to horizontal position
This can be left in current state for time being, we dont have a mold to run, can be tested without.
Test
with or without mold, there is 1 mold that may work, needs cleaning/repairs
Nate W.
Clean up small 6" mold to test
Arburg C4b ToDo List
Description
Status
Contact
Degrease more
Grab a bucket of warm/hot water, put some purple power in it, wipe grease off machine.

Don't get water in the oil reservoir

anyone!!
Grease machine
Find grease nipples and make sure they are lubed
NateW
Move to new home
Located between kiln and tool crib on east wall
Done
Electrical wires on machine:
drooping/hanging wires, deteriorating insulation, replace main plug,

no wiring diagram as yet.

Cooling
not required
Compressed air supply
Route line down to machines. Tap off above line if possible.
Solenoids: Not engaging, could be a timer (controls on controller box) issue.
Wiring is pretty rough, Need to determine if they electrically function.
Thermocouple: Replace!
Appears it fully failed
Nate W
Test
OMG IT MADE SOME PARTS!!

Tons of work still to go

Nate W
Project Milestones
First photo of the Injection Molding Shop with machines and supplies in place (Done!)
Electrical power supplied, machine turns on (C4b Done!)
Working pressure reached in hydraulic circuit with no visible leaks (working pressure reached in compressed air circuit with no audible leaks) (C4b Done!)
Cooling water flowing with no visible leaks
Stable temperature control observed (C4b Done!)
Melted plastic supplied to a mold (C4b Done!)
First example of molded plastic item using mold from the pole-barn. (C4b Done!)
First mold fabricated at i3 Detroit
First example of molded plastic item using mold fabricated at i3 Detroit