Jet Drill Press
From i3Detroit
| | |
| --- | --- |
| | Remember to always; clean up and return the equipment to a fully functional, safe state before you leave. This includes returning any safety mechanisms to fully working order. |


Jet Drill Press
It is most often used for drilling holes in wood, plastic, and related materials. With specialized bits, it can also be used for sanding.
Basic Info
Ownership: Dave Scholl
Location: In the wood shop on a rolling cart.
What it looks like: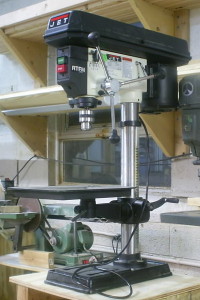 Manufacturer Information
Make/Model: Jet JDP-15M
Part Number: Stock No. 354165, Serial No. 7090087
Documentation
Rules
Please wear safety glasses!
Please clamp your work to the drill press table.
Before you drill, check to make sure your bit is located over the hole in the table. When the table is raised or lowered, it can swing a little bit to the side. If the hole is not aligned under the bit, when the drill goes through the workpiece it will make another divot like the one you can see on the table now.
Instructions
The chuck key is on a retractable chain on the right-hand side, next to the motor.
Drill press clamps and the drill press vise are kept in the cart under the drill press.
Authorized Users and Trainers
No equipment access set up. See User:pajamapuma or Equipment Access Project for help.
Other References
TBD
Maintenance
TBD
Things that Need to be Done
Build Cabinet for Drill Press tools and accessories
FAQs
1) Where are drill bits stored? Is there different bits for wood and metal? If so, how can I tell them apart?