Difference between revisions of "Laser Cutter - Wolverine"
From i3Detroit
m

Line 65:
Line 65:
 

}}

 

}}

 

[[Category:Laser Cutter]]

 

[[Category:Laser Cutter]]

−

[[Category:Laser]]

+

[[Category:]]
---
Revision as of 12:34, 25 February 2014
| | |
| --- | --- |
| | Remember to always; clean up and return the equipment to a fully functional, safe state before you leave. This includes returning any safety mechanisms to fully working order. |


Wolverine
Basic Info
Ownership: Roger Slykhouse
Location: West wall, you can't miss it.
What it looks like: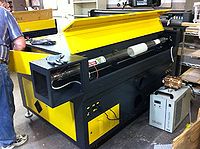 Manufacturer Information
Make/Model: Jinan G. Weike / WKLaser LC1290
Part Number: not specified
Documentation
The setup manual, File:OPERATIONAL MANUAL OF MACHINE xin USB.pdf is worth reading, if only for a laugh.
Inside the cutter, a Leetro MPC6515 control board coordinates the motors and laser firing. Its documentation is freely downloadable.
So much grief has arisen from the awful state of the documentation and software, that an entire Chinese laser support forum has arisen for the hapless owners of these machines help each other.
Rules
i3 Members may use this machine with permission of the owner.
You must be trained to use this machine.
There is a consumables fee for this machine of $0.25 per minute (or $15 per hour) of laser-on time. (Check the display on the machine right after your job completes to get the time it ran.)
Instructions
Time-of-cut checklist:
Place material (square to edge of honeycomb). You can also run the head left / right and watch the red dot to see if it moves parallel to the edge of the material. Adjust as needed.
Cover inactive honeycomb area except an "intake" in front of the material. This directs smoke away from the gantry. If the other machine is not in use, cover the vents at the back of the OTHER machine to increase the exhaust flow.
Turn powerstrip for the chiller and blower on. This should bring up the chiller and air-assist pump.
Push gently on rubber hose to trigger chiller alarm, verifying that it's awake.
Make sure there is nothing obstructing the path of the laser head toward the right rear of the working surface! Turn keyswitch to on, and wait for boot and home to complete.
Jog head over to start of cut.
Grab a focus-chip and keep one hand over emergency-stop while setting Z. On Wolverine, do two quick jogs up on the Z-axis if you use the auto-focus / Datum feature.
Wave hand under head and verify that air-assist is blowing.
Download design from LaserCut software.
Keep one hand over emergency-stop while using Test to check boundaries.
Turn on the exhaust fan.
Lift the fire extinguisher and set it back down. This verifies that your muscle-memory knows where it is.
Press Start.
DO NOT WALK AWAY. See http://www.thinkhaus.org/2011/04/03/lazzoring-is-serious-business/ for why.
Authorized Users and Trainers
No equipment access set up. See User:pajamapuma or Equipment Access Project for help.
Other References
Two good sources of info: http://www.chineselasersupportforum.com/vbul/forum/forum.php http://www.rabbitlaserusa.com/ManualsTutorials.html
Maintenance
We do not know the maintenance schedule for this machine yet. The tube is warranted for 10 months and eventually will need to be replaced. The glass should be cleaned regularly, and the screw drives for the Z-axis should be checked for lubrication.
Things that Need to be Done
Develop a list of materials, with speed and power settings for various cutting depths. Add bumpers under the lid. Add stringer gas shocks so the lid does not slam shut.
FAQs
A list of commonly asked questions