Difference between revisions of "Machine Shop"
From i3Detroit
(Added equipment section)

Line 8:
Line 8:
 

*Do not cut off any piece of your body

 

*Do not cut off any piece of your body

 
 
−

 

+
 
+
 
+
 
+
 
 
 

== Useful Sites ==

 

== Useful Sites ==
---
Revision as of 19:11, 26 October 2011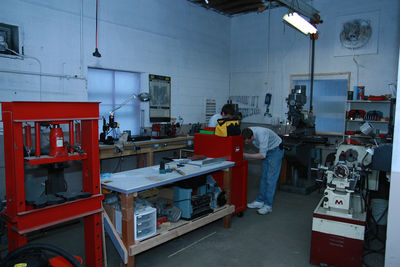 Content Needed!
Machine Shop wardens, tool-owners and users! Make this page more awesome and provide content about the voodoo you do so well!
Bench Grinder
Safety Notes
Do not use the bench grinder on aluminum as the aluminum flakes can trap heat in and cause the wheel to fracture.
Do not cut off any piece of your body
Equipment
Useful Sites
Virtual Machine Shop
Information on a wide variety of machining operations.
   http://kanabco.com/vms/library.html

G-Code Generators
CNC Halftone Wizard
Creates the g-code for creating a halftone interpretation of a PNG, JPG or GIF.
http://synapticcircle.com/technopolis/2011/09/04/cnc-halftone-wizard-1-0/
CAM.PY
Written in python by Neil Gershenfeld of the MIT Center for Bits and Atoms, CAM.PY generates g-code tool paths for milling 2D and 3D objects. Useful in creating g-code for cutting PCB's.
http://fab.cba.mit.edu/about/fab/dist/cad.py
Information on Gears
Timing Belts, Pulleys and Metric Gears
Info from Stock Drive Products/ Sterling Instrument (SDP/SI)
http://www.sdp-si.com/web/html/reference_library.htm
Trash
Please don't throw sheet metal, copper, or aluminum away. We recycle these.