Milwaukee Panel Saw
From i3Detroit
| | |
| --- | --- |
| | Remember to always; clean up and return the equipment to a fully functional, safe state before you leave. This includes returning any safety mechanisms to fully working order. |


Milwaukee Panel Saw
For sawing wooden sheet goods.
Basic Info
Ownership: i3 Detroit
Location: This item is located at the south end of the wood shop.
What it looks like: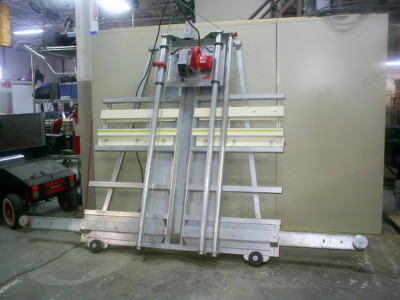 Manufacturer Information
Make/Model: Milwaukee Panel Saw Md. 6480 (Motor is Md. 6411)
Part Number: S/N 797A495300081 (Motor is S/N 795A495300079)
Documentation
Rules
Use with wooden sheet goods only, please!
Severely warped sheets are not safe to cut.
Return the saw to the top of its travel when you are finished. This insures that the saw blade will not be misaligned or bent when the next workpiece is loaded. It also helps extend the life of the return spring.
Return the saw to the cross-cut position when you are finished. Only users over average height can reach the saw rotation pins at the top of the vertical saw travel. Users who are going to cross-cut will find the saw ready to use. Users who are going to rip-cut will need to lower the saw before loading the workpiece in order to set the rip height, and they can easily reach the rotation pins in this lowered position.
Instructions
Authorized Users and Trainers
No equipment access set up. See User:pajamapuma or Equipment Access Project for help.
Other References
Maintenance
Things that Need to be Done
FAQs