OBD Code Reader
From i3Detroit
| | |
| --- | --- |
| | Remember to always; clean up and return the equipment to a fully functional, safe state before you leave. This includes returning any safety mechanisms to fully working order. |


Centech OBDII code reader
Usually, when the "Check Engine" light comes on in my car I fix it by covering it with a piece of electrical tape. But if the tape keeps falling off, you can use the code reader to determine what your car is complaining about.
Basic Info
Ownership: Ted
Location: There is a white storage bin on the shelf in the tool crib labeled "Automotive Tools". The code reader should be in there inside its black nylon case along with the cables.
What it looks like: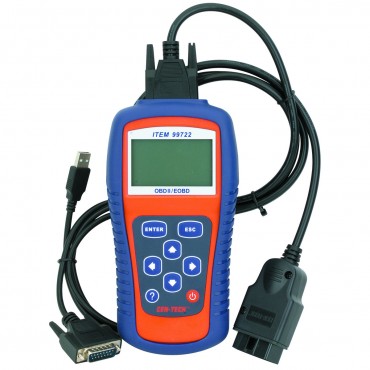 Manufacturer Information
Make/Model: Centech Somethingorother. It's the $80 one from Harbor Freight
Part Number:
Documentation
not specified
Rules
Should remain at i3 unless you get specific permission from the owner.
Instructions
Authorized Users and Trainers
No equipment access set up. See User:pajamapuma or Equipment Access Project for help.
Other References
not specified
Maintenance
Change the battery once in a while.
Things that Need to be Done
not specified
FAQs