Schott Binocular Microscope
From i3Detroit
| | |
| --- | --- |
| | Remember to always; clean up and return the equipment to a fully functional, safe state before you leave. This includes returning any safety mechanisms to fully working order. |


Binocular Microscope
Basic Info
Ownership: Andrew Meyer (100%)
Location: East end of west bench
What it looks like: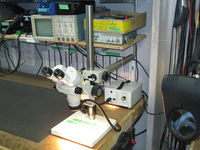 Manufacturer Information
Make/Model: Schott illuminator, Nikon SMZ-2B binocular microscope
Part Number: SMZ-2B
Documentation
Rules
Please turn off the illuminator when not in use.
Please do not force any knobs. If a knob does not turn as far as you think it should, please ask.
Please avoid gumming up the optics or mechanics with solder smoke--use an extractor!
Please clear everything but the microscope and the illuminator off the west bench when done.
Instructions
Authorized Users and Trainers
No equipment access set up. See User:pajamapuma or Equipment Access Project for help.
Other References
not specified
Maintenance
not specified
Things that Need to be Done
not specified
FAQs
none yet