Strip Heater
From i3Detroit
| | |
| --- | --- |
| | Remember to always; clean up and return the equipment to a fully functional, safe state before you leave. This includes returning any safety mechanisms to fully working order. |


21" Strip Heater
A simple device that allows you to take a sheet of clear or colored acrylic sheet, up to 3/8" in thickness and bend along the heated line. Ideal for making boxes without glue seams, picture frames, menu holders, etc.
Basic Info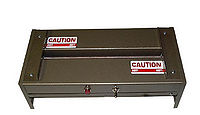 Manufacturer Information
Make/Model: 13-160, sold by Delvie's Plastics (strip heaters).
Part Number: not specified
Documentation
Rules
Use common sense. Replace dust cover once it's cooled before putting it away.
Instructions
Heat plastic until pliable; bend. See this video for a tutorial on bending plastics with heat.
Authorized Users and Trainers
No equipment access set up. See User:pajamapuma or Equipment Access Project for help.
Other References
Last edited: Mysterious Paul Mysterious Paul 16:19, 14 March 2013 (EST)
Maintenance
There is no routine maintenance required. Store it with the dust cover in place to keep debris from ending up on the heating element.
Things that Need to be Done
not specified
FAQs
none yet