Torqcut CNC
From i3Detroit
| | |
| --- | --- |
| | Remember to always; clean up and return the equipment to a fully functional, safe state before you leave. This includes returning any safety mechanisms to fully working order. |


Bridgeport Discovery Torq-Cut 22
A vertical CNC machining center with 22" travel.
Basic Info
Ownership: Nate Bezanson (48%),John Anderson (18.5%), Brian Wennberg (18.5%), James Kemp (15%)
Location: In the center of the shop - it's the huge gray thing.
What it looks like: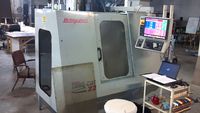 Manufacturer Information
Make/Model: Torq-Cut 22
Part Number:
Documentation
not specified
Rules
Must be on the list of operators to actually run the machine, but anyone can request a part to be cut. This will be flushed out better once the tool chain is set up.
Instructions
You can write the instructions here. Or maybe add a link to another page or the user's manual.
Authorized Users and Trainers
No equipment access set up. See User:pajamapuma or Equipment Access Project for help.
Other References
not specified
Maintenance
Maintenance Info is kept on this page:
Bridgeport_Maintenance
Things that Need to be Done
In the final stages of being set up. Tool chain still needs to be defined.
FAQs
A list of commonly asked questions