Workbench
From i3Detroit
Tool Use
If you use it, put it back when you're done with it.
If you don't know how to use a tool, ask!
If you break it, post about it to the list to figure out how to resolve it.
Trash
If you're buying trash bags, get the 33-gallon drawstring type. They fit the 32-gallon cans nicely. There is one 45-gallon can too.
Please don't throw sheet metal, copper, or aluminum away. We recycle these.
Harbor Freight (Hossfeld Style) Bender
This is a great tool for bending flat strips of metal, or bending heavy rod.
How-to manual can be downloaded from Harbor Freight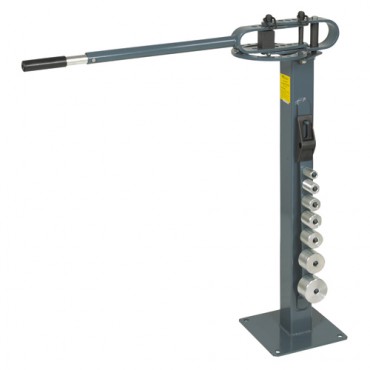 Midwest Fastener Corp Hardware Proposal
Based on last member meeting, I am looking for a list of all the hardware we would use on a regular basis to send to MFC for a quote. Priority (High: Everyday, Medium: Weekly, Low: Monthly, Minimal: Yearly). I listed a few to get you started.
| Name | Type | Approx Used per Quarter | Priority | Notes |
| --- | --- | --- | --- | --- |
| 1/4"-20 (Coarse) | Hex Bolts | 200 | High-Medium | Assorted Lengths from 3/4" to 4" |
| 1/4"-20 | Standard Washers | 200 | High-Medium | Lock & Regular |
| 1/4"-20 (Coarse) | Standard Hex Nuts | 200 | High-Medium | Lock & Regular |