| | |
| --- | --- |
| | Notice: Certain tables on this site may not be displayed due to technical difficulties. The issue is currently under investigation. |
Difference between revisions of "Zones"
From i3Detroit
Line 318:
Line 318:
 

|i3  

 

|i3  

 

|----

 

|----

−

|Router Table

+

|Router Table

 

|J

 

|J

 

|Wood Shop

 

|Wood Shop

Line 342:
Line 342:
 

|

 

|

 

|----

 

|----

−

|Drill Press - Jet  

+

|Drill Press - Jet

 

|J

 

|J

 

|Wood Shop

 

|Wood Shop
---
Revision as of 16:35, 2 September 2013
Information and safety procedures for our tools and equipment organized by location.
Map of Zones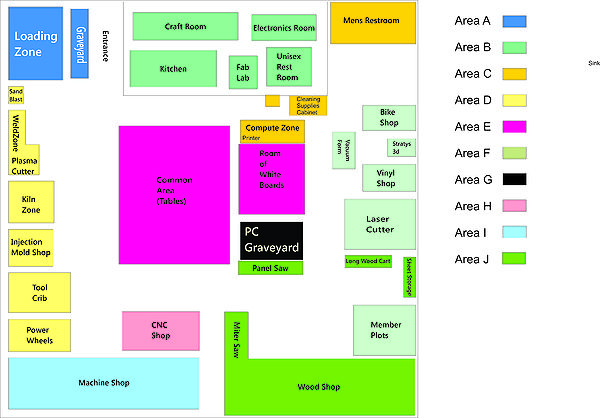 List of Zone Wardens
Major Equipment with Required Training
Here is a list of the major equipment, compiled from the individual zone wiki pages and arranged alphabetically, with zone, ownership, instructors and access. The instructors listed are those that have volunteered to train others and have been approved to do so by the zone warden. Access is either OPEN (you decide whether you can handle the machine, or need some training);i3 TRAINING REQ'D (you have to be trained by an approved i3 trainer or get Warden approval of prior experience with that type of equipment), or PRIVATE (you must contact owner for permission to use [rare]).
Equipment Name
Area
Zone
Trainers
Access/Owner
Soldering Station, Black - Edsyn Loner
B
Electronics Room
Open/NateB
Soldering Station, Orange - Weller WLC-100
B
Electronics Room
Open/TBD
Oscilliscope -Tektronix TDS 460
B
Electronics Room
Open/TBD
BusPirate
B
Electronics Room
Open/TBD
Logic Analyzer, Saleae
B
Electronics Room
Open/TBD
Hot Air Station - X-Tronic 4000
B
Electronics Room
Open/TBD
Antenna analyzer - MFJ 269B
B
Electronics Room
Open/BradT
Laser Cutter - BumbleBee
G
Laser Cutter Zone
MattA, RogerS, TerryW,NateB
Training Req'd/i3
Laser Cutter - Wolverine
G
Laser Cutter Zone
Private/RogerS
Lift, powered - Genie
F
PC Graveyard
Open/NateB
Sewing Machine, straight stitch - Juki DDL-8300N
B
Craft Room
Open/NickB
Cricut
B
Craft Room
Open/TBD
Printer - LaserJet 5 si
C
Near sink
Open/TBD
Lathe - Acer 1440G
I
Machine Shop
Open/
Bridgeport Mill
I
Machine Shop
Open/i3
DoAll DBW-1 Bandsaw-Blade Welder
I
Machine Shop
Dave Scholl
MHC Shear Brake and Roll
I
Machine Shop
Sanford Surface Grinder
I
Machine Shop
Fork Lift
E
Sander, Belt+Disc
J
Wood Shop
i3
Saw, Band - Craftsman 12in
J
Wood Shop
Jim Kemp
Cyclonic Dust Collection System
J
Wood Shop
i3
Sander, Disc - Delta 12in
J
Wood Shop
Dave Scholl
Saw, Table - SawStop
J
Wood Shop
Greg Smith / Dave Scholl
i3
Saw, Miter - DeWALT
J
Wood Shop
Paul
Work Bench with vice
J
Wood Shop
i3
4 drawer File Cabinet
J
Wood Shop
i3
Router Table
J
Wood Shop
i3
Tall 36 inch Cabinet
J
Wood Shop
i3
Skil Scroll Saw
J
Wood Shop
Matt Switlik (Swit)
Air Compressor - Ingersoll Rand
J
Machine Shop
Drill Press - Jet
J
Wood Shop
Dave Scholl
Jointer
J
Wood Shop
Greg Smith
i3
Saw, Panel - Milwaukee
J
Wood Shop
Greg Smith
i3
Vac, Wet-Dry - Rigid 16gal
J
Wood Shop
i3
Router, Table - RoundOverBit Router Cart
J
Wood Shop
Greg Smith
i3
Lathe, Wood
J
Wood Shop
Greg Smith
Greg Smith
P&H TIG Welder
D
Welding Shop
Lincoln Weld-Pak 100 MIG Welder
D
Welding Shop
Oxy-Acetylene Torch
D
Welding Shop
Lincoln Wire Welder
D
Welding Shop
LinuxCNC Plasma Cutter
D
Welding Shop
Kiln
D
KilnZone
Kiln2
D
KilnZone
Relay Box/Programmable Controller 1
D
KilnZone
Web-based Programmable Controller 2
D
KilnZone
Vinyl Cutter - Graphtec SignJet 1130
G
Vinyl Shop
Makerbot CupCake CNC
B
FabLab
Printrbot
B
FabLab
LPK C30/S (PCB Mill)
B
FabLab
Stratasys FDM 1650
B
FabLab
ArtSign Laser Cutter
B
FabLab
Bridgeport CNC Mill
H
CNC Shop
DIY Little CNC
H
CNC Shop
Paul K
Open/Paul K
Rhino ST6 CNC Lathe
H
CNC Shop
21" Strip Heater
H
CNC Shop
Paul K
Open/Paul K
Design Workstation
H
CNC Shop
Arburg ALLROUNDER 150
D
Injection Molding Shop
Arburg C4b
D
Injection Molding Shop
Vacuum Former
John Sugg