Zones
From i3Detroit
Information and safety procedures for our tools and equipment organized by location.
Map of Zones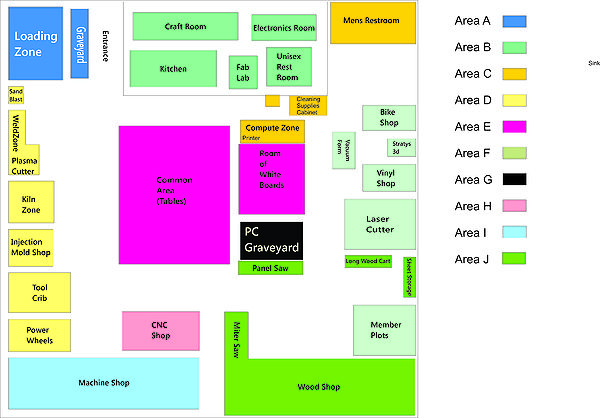 Detailed Layout
List of Zone Wardens
Major Equipment with Required Training
Here is a list of the major equipment, compiled from the individual zone wiki pages and arranged alphabetically, with zone, ownership, instructors and access. The instructors listed are those that have volunteered to train others and have been approved to do so by the zone warden. Access is either OPEN (you decide whether you can handle the machine, or need some training);i3 TRAINING REQ'D (you have to be trained by an approved i3 trainer or get Warden approval of prior experience with that type of equipment), or PRIVATE (you must contact owner for permission to use [rare]).
Equipment Name
Area
Zone
Trainers
Access/Owner
Status
Soldering Station, Black - Edsyn Loner
B
Electronics Room
Open/NateB
Soldering Station, Orange - Weller WLC-100
B
Electronics Room
Open/TBD
Oscilliscope -Tektronix TDS 460
B
Electronics Room
Open/TBD
BusPirate
B
Electronics Room
Open/TBD
Logic Analyzer, Saleae
B
Electronics Room
Open/TBD
Hot Air Station - X-Tronic 4000
B
Electronics Room
Open/TBD
Antenna analyzer - MFJ 269B
B
Electronics Room
Open/BradT
Laser Cutter - Bumblebee
G
Laser Cutter Zone
MattA, RogerS, TerryW,NateB
Training Req'd/i3
UP
Laser Cutter - Wolverine
G
Laser Cutter Zone
Private/RogerS
Lift, powered - Genie
F
PC Graveyard
Open/NateB
Sewing Machine, straight stitch - Juki DDL-8300N
B
Craft Room
Open/NickB
Cricut
B
Craft Room
Open/TBD
Printer - HP
C
Comput Zone
Open/i3
Lathe - Acer 1440G
I
Machine Shop
Open/
Bridgeport Mill
I
Machine Shop
Open/i3
DoAll DBW-1 Bandsaw-Blade Welder
I
Machine Shop
Dave Scholl
MHC Shear Brake and Roll
I
Machine Shop
Sanford Surface Grinder
I
Machine Shop
Fork Lift
E
Nathan W.
i3
Sander, Belt+Disc
J
Wood Shop
i3
Saw, Band - Craftsman 12in
J
Wood Shop
Jim Kemp
Cyclonic Dust Collection System
J
Wood Shop
i3
Sander, Disc - Delta 12in
J
Wood Shop
Dave Scholl
Saw, Table - SawStop
J
Wood Shop
Greg Smith / Dave Scholl
i3
Saw, Miter - DeWALT
J
Wood Shop
Paul
Work Bench with vice
J
Wood Shop
i3
4 drawer File Cabinet
J
Wood Shop
i3
Router Table
J
Wood Shop
i3
Tall 36 inch Cabinet
J
Wood Shop
i3
Skil Scroll Saw
J
Wood Shop
Matt Switlik (Swit)
Air Compressor - Ingersoll Rand
J
Machine Shop
Drill Press - Jet
J
Wood Shop
Dave Scholl
Jointer
J
Wood Shop
Greg Smith
i3
Saw, Panel - Milwaukee
J
Wood Shop
Greg Smith
i3
Vac, Wet-Dry - Rigid 16gal
J
Wood Shop
i3
Router, Table - RoundOverBit Router Cart
J
Wood Shop
Greg Smith
i3
Lathe, Wood
J
Wood Shop
Greg Smith
Greg Smith
Hobart 250amp MIG Welder
D
Welding Shop
Nathan W. / Jody
i3
Century Mig Wire Welder
D
Welding Shop
Nathan W. / Jody
Roger S.
Oxy-Acetylene Torch
D
Welding Shop
Jody
Mario C.
LinuxCNC Plasma Cutter
D
Welding Shop
Kiln 1
D
KilnZone
UP
Kiln2
D
KilnZone
Planned
Relay Box/Programmable Controller 1
D
KilnZone
DOWN
Web-based Programmable Controller 2
D
KilnZone
Planned
Vinyl Cutter - Graphtec SignJet 1130
G
Vinyl Shop
Nathan W.
i3
Makerbot CupCake CNC
B
FabLab
Printrbot
B
FabLab
LPK C30/S (PCB Mill)
B
FabLab
Stratasys FDM 1650
B
FabLab
Bridgeport CNC Mill
H
CNC Shop
DIY Little CNC
H
CNC Shop
Paul K
Open/Paul K
Rhino ST6 CNC Lathe
H
CNC Shop
21" Strip Heater
H
CNC Shop
Paul K
Open/Paul K
Design Workstation
H
CNC Shop
Arburg ALLROUNDER 150
D
Injection Molding Shop
Nathan W.
i3
Arburg C4b
D
Injection Molding Shop
Nathan W.
i3
Vacuum Former
Injection Molding Shop
John Sugg
Looking for ways to help around the space? Apply your talents here!
If you're not sure about the details of something here, post to the group and ask.
If you're gearing up for Potlock, see also Potlock_Menu_Planning for the other half of the thing!
Periodic tasks
| Task | notes | last performed | How often? |
| --- | --- | --- | --- |
| Clean chair/couch upholstery | | 2013 June | |
| Make the microwave spotless | | early cenozoic period | |
| Check/update all machine signs | just print the first section of each machine's wiki page and stick it to the machine | 2014 June mostly | every 6 months, or when you know there's a major change |
| check/update all zone warden signs | just print the first section of each zone's wiki page and post it in the zone | 2013 december | every 6 months, or when you know there's a major change |
| purge graveyard | put today's date on all undated items. Items over 90 days old go to dumpster/recycle. | 2014 march | every 90 days |
| clean and sweep under graveyard | ideally every time the recycling goes out... | | every month |
| Genie preventive maintenance | see NateB. | 2014 august | every 6 months |
| check/stock paper towel stations | use the e-room one as an example | 2014 december | every month (guessing this happens pretty often and isn't documented) |
| Check/Replace light bulbs | every where burned out - Cool White (Philips brand bulbs recommended) | continuously | as needed |
Nonrecurring tasks
Zones TODO List
The following list is an attempt to offer up suggestions of tasks that could be accomplished in the various zones by people interested in helping out.
Feel free to take charge of one or more of these items as your time and expertise allow. If you have taken charge of a task, please put your name into the field next to the task.
Should you run out of time or ability to complete a task, make sure to post on the mailing list and "fail loudly". This ensures that task status is shared, and no task languishes in silent failure.
| Task Name | Description | Priority | Champion |
| --- | --- | --- | --- |
| Populate ToDo List | Add a list of things that are needed/wanting to be done in the eRoom. | 1 | Nate B. |
| Floor decluttering | Cull the storage under the benches. Everything left should be in a proper tote with proper label. | 2 | Nate B. |
| Set up Siglent | Set up and test out the new function generator. Put it through its paces early in the warranty period | | |
| Add jacks to Siglent | Route the ext-trig, mod-in, and sync-out connectors up to the front of the function generator | 4 | Nate B. |
| Fix the Roombas | At least one of the Roomba vacuums has a charging problem that we can fix. New FETs are in the "SMT Crap" bin. | 1 |  ? |
| Partslaser mechanism | Build X-Y gimbal, motor controller, laser enable, and camera mount |  ? |  ? |
| Partslaser software | Spreadsheet/database, label printing, find-a-part interface |  ? |  ? |
| Cabinet map | Until Partslaser is operational, an easier way to update https://www.i3detroit.org/wiki/File:NewERoomWithOverlays-output.jpg would be nice. | 2 |  ? |
Task Name
Description
Priority
Champion
Get Protomat Working
The VM for the Protomat has not yet been completed and verified to function as a controller.
2
Matt Gardeski & Andrew Meyer
drop laser vent impeller
see how caked in stuff it is
4
Printrbot
The Printrbot has gotten some love, and now prints decently well. Things that need to happen still:

replacing the firmware with Repetier
getting a VM set up for it
maybe build a Power Tower to house the power supply and spool

4
Decorative Work
The Fab Lab currently has a sort of forest theme going on. It would be nice to continue the theme by painting the conduits and stanchions deep brown to simulate vines and trunks, put up more vinyl leaves, and paint the ceiling with either a sky pattern or a forest canopy pattern.
5
Max Gonyea-Alexander
Manufacture Focus Gauge for FS Laser
A sturdy, solid, non-deformable block 1.359" (critical dimension) tall and nominally 0.75" diameter (or square). Chamfered or filletted corners for comfort.
1
Greg
Relabel tools
The Fab Lab now officially uses RED as the tool-label color. Please find any tools labeled "Fab Lab" using yellow and replace it with red.
2
Andrew Meyer
Patch Ceiling
The removal of the old PVC ventilation ducting left a hole in the ceiling of the lab, with a PVC ring still in place. Removal of the ring is desired. There is an 8" square patch and patch compound available in the cabinet under the Protomat. The patch should also cover the two smaller holes further over the shelf.
3
Evan Allen
Replace USB Hub
The current USB hub used by the Fab Lab server sucks. Suggested replacement would be one or two USB2.0 self-powered hubs. If two, one would be mounted on the underside of the bottom shelf near the monitor for flash drives and such, and the other tucked away hidden for machine interfaces.
4
Andrew Meyer
Relocate Pegboard
The pegboard hanging on the wall behind the office-side door is a much-appreciated secret donation. However, being behind the door is a less-than-useful location. A good target for this would be on the Other side of the corkboard, where the coathook is. The coathook should then be relocated to where the pegboard currently is.
4
Potlock
| Task Name | Description | Priority | Champion |
| --- | --- | --- | --- |
| Move Air Dryer Controller | The air dryer was moved from its old location in the Metal Shop but the controller for it was not. It needs to be added so that the air lines to the HAAS will not freeze up from under-utilization if the machine has a lot of time between operations. | 1 | Brian McPherson |
Task Name
Description
Priority
Champion
Power Drops for the Wood Shop take 2
120v on the member storage for the lathe, 120v near sawstop for the small bandsaw. (this includes the laser vent)
4
Balance breakers
now that the fridges and microwave have a new home, the classroom wall is gone, and we want more lights in the space we should really re-asses how we have the breakers' load balanced.
4
New air compressor replacement
We have member buy-in of up to ~$4500 at least, we want i3 to be willing to put forth money to bring it up to enough to buy a new 15hp screw compressor
4
Evan
Power Runs take 2
We need more circuit breakers, exactly where is to be determined, but here's a preliminary list

120 near the front door for electric cars and power hungry tools to be used outside
Label dust-collector disconnect on north wall
Label all outlets with the panel and breaker that serves them

3
Air line for sandblaster/welding zone
it doesn't move, plumb it in permanently. Same thing with computers, desktops on wifi suck.
3
Evan, Nate W
Cord reels
are desired in metal shop and tool crib proposed reels
3
Network reinforcement (literally)
The rack ears that currently hold the network are tenuously attached to the wall and have very haphazard holes drilled in them. The ears should be ramset into the wall (after the elimination of the wooden backboard that it's currently affixed to. We may also want new ears because as previously said they are very haphazardly drilled.
2
Conduit Labeling
Designate all conduits with the circuits contained therein, and "downstream" (toward-end-device) "flow" arrows.
2
Front door replacement
There is budget for a replacement front door, it just needs to get found, bought, and installed.
2
Nate B
Sound deadening
Ow, my ears. Let's at least make an attempt to sound isolate some things. preliminary idea is to hang curtains around the whiteboard room and see if it helps. Maybe the treehouse or kitchen after that.
2
Hot water to the shop sink
Just needs to be run, not sure what direction though (over?)
2
Konrad B
fuses for air compressor and sander
replace busbar fuses with 70A ones, the cable running it is awg 6
2
Atomic clock
GPS, cesium beam, Rubidium, whatever we can get working. Also use it as a timing standard for the equipment.
2
Construct a better security camera system
There is a tentative plan to have in place a new security camera system based on off-the-shelf computer hardware, linux, a program called 'Motion', and some bt878 capture cards. pcie version, pci version
2
Network Protection
Our network is now gloriously mounted on the wall instead of that huge mostly empty rack that gathered trash, yay! There may be a is a slight problem having to do with a leak that comes down literally on top of where it was long ago decided to place the technological backbone of our hackerspace. The CEO is working with the landlord to get it fixed, but if he doesn't (or in the interim at least) the network may have to be shielded from the elements. A loose idea would be a piece of plywood with angle brackets connected to the wooden backboard (which should be going away) bent down like an awning to direct the water away from the things that keep our space ticking.
1
Network Prettification
re-wire parts of the network so they follow the main trunk and use half-decent cable, Trace, test, and label all cat-5 drops and panels
1
Thermal Insulation
The space leaks lots of energy in winter, let's find some major leaks and get some solutions in place. Luckily some of our members have FLIRs.
1
Wire remaining security cameras to the box by the Fab Lab
There are some cameras that have been placed but do not have wire run to them, that needs to be rectified.
1
Intercom Permanence
Wherever the intercom equipment is gonna be, it shouldn't be running on an extension cord. Add outlets to the box in the mezzanine?
1
Patch wall hole by sandblaster
1
Bathroom light
Do something less-horrible with the abominable light fixture in the scary bathroom
2
Microwave Circuit
Get the microwave some dedicated power so it doesn't blow the breaker when the front-door outlet is being used heavily.
1
Network placement round two
Once we get the new server there will be no reason to continue using the existing server rack. The contents (the new server, and the UPS) will move underneath the fablab workbench. Power needs to be punched through the wall to give the network access to the battery backup, and possibly ventilation in the doors of the cabinet (but not vented to the shop).
3
VoIP PA system for the shop, and the office space
With a functional phone system it would be nice to have a system where the shop can be paged either from the outside or from an interior phone
1
Add all the planned VoIP phones to their designated zones
The Laser Cutter, CNC Shop (possibly more) need phones installed
2
VoIP PA system take 2
re-use pa amp and possibly speakers from the over-engineering light to make louder the PA
2
Server replacement--hardac.i3detroit.local
Skynet died and it has been proposed to purchase a brand new server, like with a warranty and everything. The current quotes can be found here: Server upgrades
4
Andrew Meyer, everyone else too
Power Runs take 1

extend 240 near the garage door for the plasma cutter to be used outside
240 near the garage door as a hardline for the OpenEVSE
extend 120 from welding zone to sandblaster

3
Power Drops for the Wood Shop take 1
220v for the new sander.
4
Network placement
The rack that currently holds our switches takes up floorspace that could be otherwise utilized, there are mounting points for all of that gear a foot from them on the wall, they should move there.
3
Evan Allen, Justin Triplett
Network Standardization
Our network is currently an amalgamation of 802.3, 802.3af, and what is known as 'dumb' POE. The plan is to make all dumb POE devices 802.3af compliamt or replace them outright, this will simplify wiring and keep everything standard.
2
Move ToDo tasks in here
Lots of tasks on the general ToDo list should be in zone-specific lists for better championing
2
Evan
Task Name
Description
Priority
Champion
Populate ToDo List
Add a list of things that are needed/wanting to be done in the Machine Shop.
1
Levi M.
Level Lathe
The legs on the lathe need to be leveled since it has been moved, after that point accuracy issue needs to be addressed
2
New Drill Press Belt
A New belt is needed for the drill press. Preferably made of leather.
3
Inventory Grey Cabinet
Inventory all of the tooling and items in the grey cabinet so that things do not get bought twice and so it can be labelled for easier use
2
Inventory Drill Bits Box
The count of drill bits of each size is needed from the box on the window-sill
3
Install handle for ladder
handle has been welded, just needs to be mounted
2
Empty scrap bins
Take 'em to the recycler or something.
 ?
User:Niftykid1 has done this in the past, talk to him?
Reorganizing
Deal with events/classes HowTo pages, maybe coalesce
Make zone areas consistent with zone map (or eliminate the concept of map area entirely)
Fix Category:Proposals/Category:Resolutions

Coalesce, nuke, complete, whatever?
Semantify whatever ends up left over in minutes

update all zone pages and member pages with new templates
Nuke GasMeter
Semantifying
Equipment Form: the category:zone generation is not always consistent with the zone's named category, that needs to be looked at
EAP: fix zone autocomplete. reformat dates
EAP: access list for whole zone to be transcluded to zone page
EAP: sorttable/sorting order on transcluded queries
EAP: make property trainer, so you can autocomplete on and prettylink
EAP: reformat tables in access pages to make link pretty
Major Equipment with Required Training should get auto generated
Use wiki for keeping track of who has access to what passwords

Stage 1: Brainstorm feasibility & usefulness

Meeting minutes: Use template subclusion to auto-populate with old business, previous action items, current space projects, even zones and sigs maybe
Figure out a better way to add blank meeting minutes and display only past (or up to 1 week in the future) meeting minutes on the front page (like if the secretary makes a month at a time of blank minutes)
Make ToDos editable with forms
Make current events auto rotate
Adding content
make an accurate floorplan / map
Make a wiki page for the bunkcouches and add Category:Group Projects tag
Update Parking_Tickets_and_Parking_Permits page

Much outdated information

Make i3 page on real wikipedia
Make wiki zone picture accurate

iframe embed of main page? or simply a screenshot

Add member infoboxes to officer & board member pages (after giving them a chance to do it themselves)
Fill in Cricut page to make it useful.
Add legal advice documentation-upload official forms, write up history of who contacted a lawyer when and why (Jamie and Marie)
Fixing broken things
Andrew Meyer cannot add authorised users to his zone's equipment (like the 3D_Printer_-_Rostock_MAX), but can add trainers

The text-entry boxes are greyed-out for the authorised users, and white for the trainers
Looks like a permissions issue

Wiki accounts allowed to add users to these lists should have access to both in general

Figure out why we get a 502 after images upload

Also get 502 when making regular edits

EAP: Refresh cache issue?
make SMW error icon mouse over-able like it's supposed to
Maintenance
Go through In_the_Media for broken links, find content (on archive.org?), point to archive copy or pull a local copy (into a subpage?). Intern?
Prettifying
Glitter cursor
Custom theme??
Completed
EAP: document how to exclude a tool from EAP, or indicate no-auth-required status

I think there's already a "training required" field (if not make one). Make the entire equipment access query within an if statement on training required = yes

Make better equipment template
Unable to remove CEO position from the template because it removes the CEO position from previous years.
infoboxes: query respnsibilities in member infobox
infoboxes: Fix infobox templates, responsibility & zone template so that multi-person values both get the property.
Infoboxes: Make committee infovoxes to catch all general responsibilities
EAP: transclude access edit button not working, pulls magic word after transclude
EAP: test export for authbox use
reformat zones table on main page to have pretty links, also zone colors somehow (div. box, table cell BG, etc). Probably requires an extra template
Add member infoboxes to all zone wardens (after giving them a chance to do it themselves)
Add real name calls to officers & board templated pages
EAP: add autocomplete on real names,
Add zone infoboxes to all zones
Either redirect I3Detroit:About (which appears in the page footer) to something else, or point that here, but have the info only in one place so we can keep it fresh.
EAP: BUG: Summary pages (see Fab Lab Access) do not populate
Do something about main page title, see [1] (method 2 done, just needs to be rolled out with the new main page)
Complete Zone Infobox (add picture)
Make dynamic member list sort by name (not username)
Template:Officers and Board (make membership coordinator and CEO optional)
Complete Member InfoBox (access formatting, give category members)
Make member list dynamic
Member InfoBox (Steam username)
Zone Infobox (zone e-mail)
Fix Officers/Directors Template
How to communicate with the board on the main page now
Roll communication into main page, especially email table
Meeting Minutes query box includes regular meeting days/times maybe pretty up formatting
Change theme
Move wiki ToDos from main ToDo
Make HOWTO Blog page
Clean up Sidebar
New main page
Nuke Finding Information page
Nuke Meetings page
Nuke Publicity page
Nuke Communication page
Nuke IRC page
Nuke Location page
Nuke SignDevelopment page
Nuke Powerwheels_Car_Number_3 page
Fix UserBox usernames to redirect to relevant service user page (i.e. http://qrz.com/db/kd8llt)
Fix compute zone communication section
Change default "Watch page" behavior so the box isn't checked whenever you edit a page
Put Officers_and_Board_of_Directors#Bringing_Proposals_to_the_Board somewhere else
Concrete tasks
Doable, solid, well-defined tasks (with needed supplies and notes)
Make a sign for doorbell to instruct guests to ring it instead of standing outside awkwardly
Re-establish cart-parking by kitchen wall, and re-label all carts
Repaint/revinyl n2d2
Make a poster about what laser scrap to keep (useful pieces) vs dumpster (remnants that're mostly empty space)
Sort and label opaque vinyl from translucent vinyl to reduce mistakes and waste
Sign or vinyl on printers with cost per page. (m712: 5c/pg. Color laser: 20c/pg for average cover like graphs/charts, 50c/pg for heavy like dark photos)
Iron on vinyl label "safety glasses" for canvas pockets near bandsaw
Make a sheet-metal diverter for the northeast furnace to send partial flow into metalshop.
Rehang fire extinguisher in metal shop where access isn't blocked. Suggested handle height is 30-36 inches off the floor. (With a proper concrete screw or anchor please!)
Get all the current members' pictures up on the corkboard and update any that are super out of date (email people to ask them for good pictures. Otherwise, just make people pose or snag off of facebook?)
Make official-looking sign for front area with Board of Directors, Officers, and Zone Wardens' names and pictures (Figure out exact design and placement-on corkboard where pictures are now? On whiteboard wall?)
first-aid kit: make list of to-buy items, pass to board.
Repair/rebuild top of tall workbench in tool crib (NEED: Some 1x3 board.)
Change hydraulic fluid in Genie
Make "how to phone" cheatsheets for phones
Fix Chronotune startup bug
Replace ballast in lamp over tool crib
Abstract or more-planning-needed tasks
Make float switch for 12v sump pump, finish backup pump in north sump
Fix Twitter bot
Create a theme for the wiki that reflects the main website's feel
Find a way for the CRM to add/remove people to/from the Google Groups
Build printer that, when presented with a member's RFID tag, prints a label with name/date/email/etc
Equip the vending machine with a bill acceptor
Invent a paperless waiver solution
Finish the OpenAccess system CRM integration
Implement Bluecam stream
Build a spraybooth
Completed tasks
Replace vending-machine lock (order new lock!)
Clean and restock first-aid kit
Make a vinyl finger silhouette for the sawstop for fingers saved, like fighter jets to brag about enemy kills
replace cord reel end
Build slotted shelving for laser zone storage under desk.
metal pegboard in welding zone
door closer on front door
Wood shop dust collector extension
Clean chairs in common area
Label/number each plot in member storage (compare MattA system and TerryW system)
Replace ballast in lamp over computer zone
Install rest of 4-inch bridle rings going up from backboard. (need springnuts, squarenuts)
Raise lower shelves of rack adjacent to flammables cabinet, to accommodate fliptop totes
Fix the commons-area chairs, and throw away the unfixable ones
Tidy the power-meter rs485 box wiring (dual-lock?)
Remount loose vises to wood bench in toolcrib (need bigass wood screws?)
rough-in Wood shop dust collector drops for new bandsaw and sander (might need a bunch of pipe strap?)
Relabel Handheld Drill Rack
Inventory tools in tool crib (query ownership), document on wiki or at least labels
Cut Plastic to 2'x2' sheets and store under Vacuuform [potlock]
Tighten screws on BBQ grill. wipe down, clean grease.
Install a phone by the laser cutter
Install keeper-wire in Genie battery trays (NateB task. NEED: Yard-sign wire.)
Put AED vinyl sticker on north-facing side of AED cabinet.
Add outlets along east edge of treehouse
Replace intake filter on air compressor.
Redo zones map according to zone colors (wiki task!)
Expand cable-path down backboard. (NateB task. NEED: Larger/more bridle rings!)
Lubricate Genie column (NEED: Boe-Lube in spray can)
Scrub out gross bins under e-lab east bench so they're usable
Finish installing carpet squares in electronics lab (
Investigate the big dust collector's discharge issues
Move fire-extinguisher signs in metal shop to point at the actual location
Hang light over lathe in woodshop (See GregS for placement. NEED: new fixture, tubes.)
Re-stick the strip of whiteboard on the face of the red member storage shelf above the vinyl work area
Update photos on [2]
Extend machine-shop north wall circuit to south-wall outlets, providing an outlet for the PC there
Add a lightswitch in the CNC zone for the CNC light
Label newly-purchased safety glasses to reduce walk-off. (Bands of heatshrink with "i3" written, exactly like the Sharpies.)
Secure corkboard to wall by kitchen door.
Paint frames of bunk couches
Trim the kitchen countertop formica
Return bad fluorescent tubes
unclog utility sink
Guest sign-in poster near front door
Rebuild wooden welding shield with metal
Clean entry door window adhesive residue
Shuffle east-wall zones
Tear apart big rolly wall thing
Rehang whiteboard in fab lab
Fix drawer in metal shop Craftsman cabinet
Label acids cabinet and move acids into it
vinyl "i3" logo on porthole window
Clean and sweep area near gas tanks and sandblaster
Hang "unescorted guests" sign more securely
Clean kitchen window, replace duct tape with clear tape
Build stand for butcher-paper roll
Install pulley bike hangers
hang unused fan in metal shop
merge Map_of_Zones into Zones and make the former a redirect
Tape Outlines of Zones on the Floor
Fix Sawdust receiver on big dust collector
Rehang e-room east bench on longer Unistrut for shelf support
Reprint all the fastener-basics pages over by the fasteners stock
Remove/rehang orange air hose feeding bike zone
Fix air leaks!
Cut and hang small whiteboard inside fablab north door
Winterize roof vents
hang new banner over garage door
Add lights over welding bench
Remove fittings from pipe/conduit and store in "clean stock" rack
Add blue paint/tape to machine-shop items (letter drills especially)
Make new "i3detroit" and "1481A" vinyl for front door window
Separate the compute-zone circuit from the treehouse wiring
Take down useless air plumbing near metal shop north wall
rehang the Red Green autographed 'duct tape' roll
Build new shelving for blue-bins
Paint 36-inch keepout zones around electrical panels
Replace cat-5 to accesspoint above rack
Establish a place for ladders to live
Build 4 tables for the Craft Room.
get Inkcut running on the vinyl laptop
add 7-segment displays to opto section
Set up a public terminal or two, for printing and signup tasks, etc
Replace battery in west-wall emergency light
add outlet for lights near welding area