Parking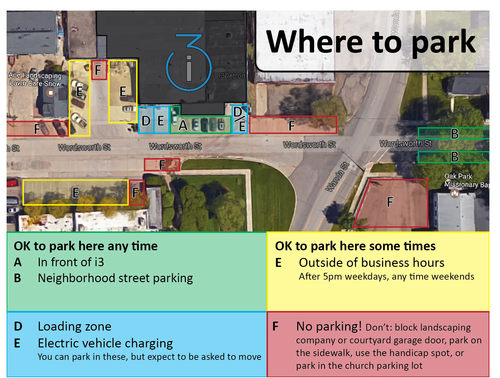 i3 Detroit is located at:
1481a Wordsworth
Ferndale, MI 48220
Parking Map
See picture to right
Pannable, zoomable, editable map (ask for edit permissions): https://goo.gl/wJnrZk
PRINTABLE VERSION: on Forms.
Where to Park, in order of preference
Always
Anytime. (Indicated in green)
In front of our building. (This is the only place that you can leave your car unattended -- i.e. if you're carpooling off-premises. But don't leave your car in front of the garage door!)
In the neighborhood east of Wanda, just go down Wordsworth or Channing until you find a spot. (PREFERRED if it's a busy night!)
Sometimes
(Indicated in Yellow)
Monday-Friday: 6 pm to 6 am
Weekends: all hours
In the courtyard on the west side of i3. Do not block any vehicles in here.
On the south side of Wordsworth in the Gage visitor spots.
On the south side of Wordsworth in the Gage handicapped spots, ONLY if you have a permit. The law applies everywhere!
Special
(Indicated in Blue)
In front of our garage door is primarily loading and electric vehicle charging, however anyone may park here. DON'T leave the premises while you're blocking the door. DO immediately move your car if someone shows up who needs to use the door, and DO help them load their stuff if they could use the help!
Never
(Indicated in Red)
Along the fence between our dumpster and Wanda. The new business there needs that space and may tow.
The handicapped spots across the street at Gage, unless you have and display the permit.
The church parking lot.
Blocking the landscaping company's parking or courtyard garage door.
Sign for Your Dash