Minutes:Board Meeting Minutes 20160614
Agenda for 06-14-2016
'Chair: Mike F.' 7:31pm
Introductions
Announcements
Old Business
Proposal:
Craft Room Co-Coordinator Proposal
Kevin and Jan both now representative of the Craft Room. Any duties to be given now or in the future can be decided/carried out by either of us.

Jan is Sewing Czarina. Kevin is the art and everything-else Czar.

Duties which apply to the whole room, or reporting, or otherwise aren't specific to one area are normatively to be shared.

Should we not be able to coordinate a decision or activity--say, due to sudden illness--either party can act as Coordinator.
In the case of a disagreement we can't compromise on, we'll find an arbitrator. In the very unlikely case of irreconcilable differences, the board has override privileges, as always.

We'll be sticking to the existing budget for now; if we need more money, we'll lay that before the board in a separate proposal.
For long-term organizational purposes, we're going to agree more or less who gets which regions of the room. Our purpose is not to remove existing functions, but sewing needs a little more consideration than it's been getting.

We will jointly agree on large pieces of equipment or large furniture entering or exiting.
Non-dedicated equipment (like the Sillhouette, which can be stored anywhere and used anywhere) doesn't need joint approval for entry or rearrangement.
Large-scale reorganization will be jointly coordinated. In particular, Kevin won't be moving the sewing stuff around on my own anymore.
The existing budget isn't split into activities, but roughly 7/10 of it was sewing.

All single-item purchases over $100 will be discussed and agreed to before the purchase.
For anything else, including consumables and equipment, we have joint discretionary power, with the understanding that Jan will need the bulk of the money.

We currently plan on optimizing somewhat more tabletop to sewing and moving the other functions into the drawers or walls.

There will always be some tabletop space reserved for the current dedicated functions of glue guns/assembly and papercutting/painting. Those functions should not go away.
However, many Craft Room users use the room like a tool crib. Since the sewing devices need dedicated fixture space, it makes sense to reduce the amount of current non-dedicated tabletop space--it currently gets used for coat racks and sprawl space. Instead, more of the sewing devices should be readily and efficiently usable.

We may also find ways to optimize table space to fill all functions.
Moved by
Leora,
Seconded by
Jamie
8 Ayes / 0 Nays
Result:
PASS
Action Items
Action Item: Matt A. - Send out reminders on guest policy. - Completed

Action Item: Vivian - add a sign with tour hours on the door. Completed
New Business
Officer Description
The Task Force on Officer Descriptions submitted their report to the Board. What is status of Descriptions and who defines those descriptions (Board or President)?
If updates are required, do so by August, prior to nominations.
Discussions and information are in the [channel on Slack] on May 26th.
Semi Annual Budget Review
The Budget Review was held on 6/11. Our single issue is the concentration of Big Ticket items in Early 2016. To that end it was agreed to:
Keep Big Ticket Purchase Freeze on thru 7/1.
Schedule remaining Big Ticket Purchase items at a pace of no more than $2,000 per month.
Each additional Big Ticket item added to 2016 budget is done with the removal of an item of approx equal cost.
We can schedule the Big Ticket items for 2016 by Treasurer Decision. I will talk in detail to the affected ZCs and when the schedule is made, post it to the ZCs and Board.
Budget Report presented at meeting is at 2016_H1_Budget_Report
Also if the MF Fundraiser is approved, then it will be budgeted as a $750 Big Ticket item in the month of expenditure and monies returned will be added to the month they are deposited, up to the original expenditure.
Transfer Consumables budget from Battlebots to DetroitSat SIG
Battlebots SIG has disbanded without use. This is already budgeted. We are in good shape for consumables against income. The Treasurer recommends this measure.
Board questions about progress of soliciting other donations.
Recommendation from the board is to seek donations. i3 will match donations up to $500.
Proposal:
Up to $500 that was previously allocated to the disbanded Battlebots Sig will be allocated to the i3DetroitSat SIG if matching donations are acquired.

Moved by
Evan,
Seconded by
Leora
7 Ayes / 0 Nays
Result: '
i3Detroit 2020
Discuss member driven visioning process that would begin with an online survey. (Leora)
Send any questions or thoughts to Leora.
Action Item - Survey will be prepared and then discussed before sending it out.
A non-visionary survey was done by Konrad a couple years ago.
Space & Zone Discussions
Floor Plan
Pallet rack added to commons area and adds shelves over the cart area.
Member Storage
Commons area
POC: Evan Several tables have been floating around, even moved out of the 'free to a good home' eviction from the metal shop back into the commons area. I'd like to formally say that any zone can take them, but if they aren't claimed in a week they leave i3. Evan will proceed.
Officer Reports
Treasury and Budget Report for May, 2016
Financial Grade: B
Emergency: $7.5K Checking : $4K BNektar: 900 Paypal: 500 Total: 12.9K
Classroom 95% paid. (2015&16)
103 Subscriptions 13 annuals.
Good dues
Below normal donations.
Holding Big Ticket Items until 7/1.
Big Ticket Schedule on 6/21
Eaton donation in pipeline.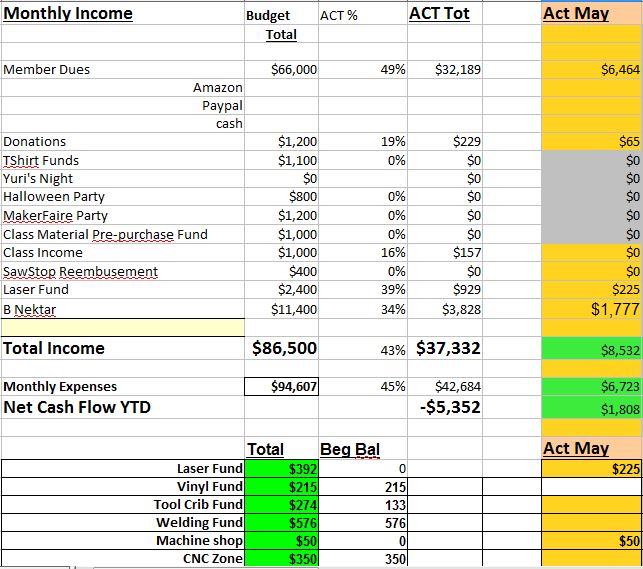 Secretary
Should start access audit soon.
President
Learn to Solder at MF. Radio Shack is sponsoring and supplying kits!
MOPOP
Sponsorships/Donations. Working on coordination and keeping a list of those in the past. Follow up for repeat donations.
Farmer's Market? Will plan to attend and setup after Maker Faire.
Senior Vice President
Will meet with Ron about giving a talk on acrylics and how his products can be used at i3.
Still looking to do the Etsy workshop will get on Jessica's calendar when she returns from out of town, want to also work with James on structuring the workshop.
Currently planning a How to use TinkerCAD workshop for i3 members and a second one for community/visitors and guests. First week of August.
VP of Activities & Classes
May, Last month of Training Stimulus
9 refunds for May.
Program was successful. There were more new classes in March and more repeating workshops and classes in April and May.
There will probably be fewer one off classes from now until Maker Faire. Everybody is getting busier.
VP of Membership-Onboarding
Added some more important things (spray paint, storage, more about guest policy) to the orientation process
7 new members since last board meeting, 4 more in the process presently.
VP of Membership-Retention
No activity
Challenging to determine who's leaving.
Action Item - Terry to send the current overdue message to Nate, to review.
VP of Membership-Member Advocate
Committee Reports
Moderation Committee
Scholarship Committee
Checking to see where applications are submitted.
Lost & Found Party
Action Items
| Action Item | POC |
| --- | --- |
| add a sign with tour hours on the door. Completed | Vivian |
| Add location of the banned member list on the wiki. Actual location will not be public. List is referenced in the standing rules https://www.i3detroit.org/wiki/Standing_rules#Banning, but no known electronic version exists. | David H. |
| Send out reminders on guest policy. - Completed | Matt A. |
Proposals
Proposal
Moved By
Seconded By
Aye
Nay
Result
Craft Room Co-Coordinator Proposal

Kevin and Jan both now representative of the Craft Room. Any duties to be given now or in the future can be decided/carried out by either of us.

Jan is Sewing Czarina. Kevin is the art and everything-else Czar.

Duties which apply to the whole room, or reporting, or otherwise aren't specific to one area are normatively to be shared.

Should we not be able to coordinate a decision or activity--say, due to sudden illness--either party can act as Coordinator.
In the case of a disagreement we can't compromise on, we'll find an arbitrator. In the very unlikely case of irreconcilable differences, the board has override privileges, as always.

We'll be sticking to the existing budget for now; if we need more money, we'll lay that before the board in a separate proposal.
For long-term organizational purposes, we're going to agree more or less who gets which regions of the room. Our purpose is not to remove existing functions, but sewing needs a little more consideration than it's been getting.

We will jointly agree on large pieces of equipment or large furniture entering or exiting.
Non-dedicated equipment (like the Sillhouette, which can be stored anywhere and used anywhere) doesn't need joint approval for entry or rearrangement.
Large-scale reorganization will be jointly coordinated. In particular, Kevin won't be moving the sewing stuff around on my own anymore.
The existing budget isn't split into activities, but roughly 7/10 of it was sewing.

All single-item purchases over $100 will be discussed and agreed to before the purchase.
For anything else, including consumables and equipment, we have joint discretionary power, with the understanding that Jan will need the bulk of the money.

We currently plan on optimizing somewhat more tabletop to sewing and moving the other functions into the drawers or walls.

There will always be some tabletop space reserved for the current dedicated functions of glue guns/assembly and papercutting/painting. Those functions should not go away.
However, many Craft Room users use the room like a tool crib. Since the sewing devices need dedicated fixture space, it makes sense to reduce the amount of current non-dedicated tabletop space--it currently gets used for coat racks and sprawl space. Instead, more of the sewing devices should be readily and efficiently usable.

We may also find ways to optimize table space to fill all functions.

Leora
Jamie
8
0
PASS
Up to $500 that was previously allocated to the disbanded Battlebots Sig will be allocated to the i3DetroitSat SIG if matching donations are acquired.
Evan
Leora
7
0
Meeting Metrics
Time completed: 8:22 pm
Funds appropriated: $0
Attendees: 13
Attendance
Evan Allen
Matt Arnold
Nathaniel Bezanson
Jamie Burdeski
Leora Druckman
Michael Fink
Matthew Gardeski
Matt Huber
David Henry
James O'Dell
Charlie Rysenga
Vivian Sanders
Terry Wynn