Minutes:Board Meeting Minutes 20160712
Agenda for 07-12-2016
'Chair: Mike Fink 7:32pm'
Introductions
Tom Levin

Letter Press
Working on Tongue Twister Videos
Joselyn

Ceramics
Teaches at Cranbrook.
Announcements
Old Business
i3Detroit 2020
Discuss member driven visioning process that would begin with an online survey. (Leora)
Send any questions or thoughts to Leora.
Action Item - Survey will be prepared and then discussed before sending it out.
A non-visionary survey was done by Konrad a couple years ago.
Thinking of 3 mini-surveys vs one long one due to the long question list.
Officer Description
The Task Force on Officer Descriptions submitted their report to the Board. What is status of Descriptions and who defines those descriptions (Board or President)?

Debate on if Membership On-boarding and retention should be combined or split.

Change the name of retention to Off-boarding to better define the role.

Membership Advocate

Should a second Membership Advocate position be added?
Overlapping terms so knowledge isn't lost.
Should the name be changed?

Senior Vice President
Proposal:
Make the following updates to Officer position duties.
VP of Classes and Events
Administer listing and ticketing of classes
(EB, Cal, Blog, FB)
Authority over scheduling space reservations for classes
Authority over class revenue/budget
Encourage and assist new classes
Reporting

Monthly written in board minutes
Number of classes
Class Attendance
Revenue: Gross/Net revenue to Materials/Instructor/i3

VP Member Off-boarding
report: number of members leaving, why people leave
Assist in off-boarding tasks

VP Membership On-boarding
Reporting

Number of new members, total members.
Provide a report to the general membership at the first Tuesday meeting each month.

VP-Member Advocate - wiki good
Do we want two of them? Yes

Senior Vice President
Friday Night Tours
Site survey/Internal Ambassador - Day to day shop ops
Fill in gaps in officers
Coordinate with President
Daytime availability valued
Provide a report to the general membership at the first Tuesday meeting each month.
President
Provide a report to the general membership at the first Tuesday meeting each month.
Moved by
Jamie,
Seconded by
Leora
7 Ayes / 0 Nays
Result:
PASS
If updates are required, do so by August, prior to nominations.
Discussions and information are in the [channel on Slack] on May 26th.
Summary of Issues brought up since Last Board Meeting
Slack
Another car was left next door. Owner was contacted by Evan and the situation is now resolved.
Emails
Spray Paint stains outside - Still unresolved. Need someone to power wash.
Confirmed sponsorship for learn to solder - Radio Shack & Xuron.
Hackerspace Administration Conference - September 15th in New York. Anyone interested?
Vision Survey input
Kiln for sale
Maker Wedding Shower - Charlie hasn't heard anything on this yet.
Borrowing tools from the space (2 emails).

Actual removal is an issue how to prevent it in the future?
Is the process working as expected?
Concerns on if standards are consistently applied.
Overall good, but much confusion.

Insurance policy. Overall OK. Should increase the amount of property insurance. Would probably take ~ $500 - $1000 additonal budget to adjust to a more reasonable level.
New Business
Selection of # of Board Members for Next Term
Jamie's attempt to consolidate power and have only 6 board members failed as there was no second for the proposal.
Proposal:
Elect 7 board members for the next term.

Moved by
Evan,
Seconded by
Matt H.
6 Ayes / 0 Nays
Result:
PASS
Proposal to split the kiln zone into a ceramics zone and a glass zone (sent in separate email) Leora and Sam
Proposal:
Proposal to split the kiln zone into a Ceramics Zone and a Glass Zone for a 3 month trail period.
The current co-coordinators of the Kiln Zone, Leora and Joseph would become coordinators of the Glass Zone. Samantha Letvin and Joselyn Graziadei would become co-coordinators of the Ceramics Zone. Both are experienced working with and teaching ceramics and have indicated an interest in managing the ceramics zone.
Responsibilities of Zone Coordinators (Based on: https://www.i3detroit.org/wiki/HOWTO_Be_A_Coordinator )
Note: These responsibilities can be divided and delegated as the coordinator(s) see(s) fit and do not necessarily need to be done by the coordinators themselves.
Coordinate, drive and determine the future plans and directions for the zone
Create a yearly Zone Budget and participate in the annual Budget process for i3
Manage the Zone's budget, including approving reimbursements and keeping track of expenditures and incoming donations and fees
Maintain the zone's equipment functionality, availability of consumables and overall organization and cleanliness .
Purchase equipment, tools and consumables for the zone. Approve loaned tools for the zone.
Make available orientation and certification on equipment and classes on techniques and other zone related topics
Communicate and work with other zones to cooperate on common issues and resolve any conflicts
Set standards for the zone, including equipment use and placement, safety rules and any needed start up or shut down procedures
Communicate to members what is happening in the zone including sending emails to i3Detroit lists and posting on Slack
Submit a brief (three sentence) update for the 1st and 3rd Tuesday Member Meetings on what happened in the prior 2 weeks, what will be happening, and any equipment issues
Write and update the zone wiki page, including equipment information, rules, procedures and any other useful information as the co-ordinator(s) see(s) fit
Find ways to tell potential members (who are interested in the zone's craft and equipment) about the zone and about i3Detroit
Seek funding and donations for the zone
Follow up on shared and delegated tasks
Equipment and Materials
Current equipment and materials to be retained in the Glass Zone
New glass kiln
Large grey cabinet
All glass and glass related tools and materials
Wedging table
Bakery Cart for glass
Shelving on South side of kiln zone
All cold working and wet working equipment (tile cutters, wet grinder, etc)

Current equipment and materials to be retained in the Ceramics Zone
Pottery Wheel
Ceramics Kiln 1
Ceramics Kiln 2
Large beige cabinet
All clay and clay related tools and materials
Wedging table
Bakery Cart for ceramics
Shelving on North side of kiln zone
Equipment and materials to be shared
Kiln shelf paper
Kiln shelves
Kiln furniture
Use of storage on the pallet rack in the kiln zone
Moved by
Jamie,
Seconded by
Evan
6 Ayes / 0 Nays
Result:
PASS
Transfer coordination of the media lab workstations to the compute zone
Proposal:
Terry W will contact the Media Lab coordinator and provide a written recommendation to the board in 14 days. Evan

Moved by
Evan,
Seconded by
Matt H.
4 Ayes / 1 Nays
Result:
PASS
Budget Requests
Plan to move $400 that was allocated to Yuri's night and never used to Maker Faire Project support.
This wouldn't add any money to the budget, just move it around. The money would still be in the "special events" category, just allocated to a different special event.
The Maker Faire tent could use more money for various event supplies - more tablecloths, materials to make a stand for the banner, extra gallery walls, various signage.
Proposal:
Move $400 that was allocated to Yuri's night and never used to Maker Faire Project support.

Moved by
Jamie,
Seconded by
Evan
5 Ayes / 0 Nays
Result:
PASS
Space & Zone Discussions
Floor Plan
Member Storage
Commons area
Officer Reports
Treasury and Budget Report for June, 2016
Financial Grade: B+
Emergency: $7.5K Checking : $4.0K BNektar: $1.4K Paypal: $.4K Total: $13.3K
105 Subscriptions 13 annuals.
Big ticket item schedule out
Moderate dues low Donations (Eaton in July)
Matt G and I working thru CRM bug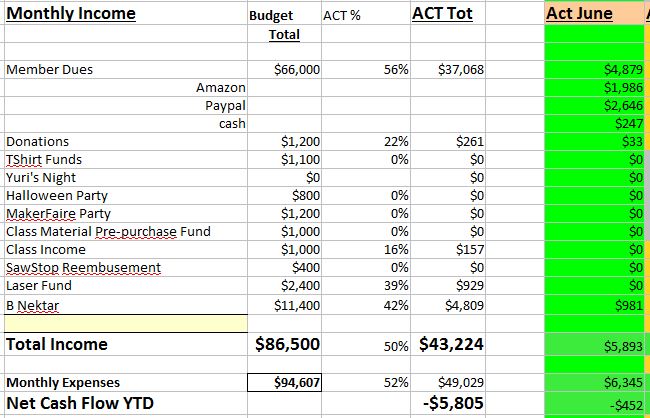 Secretary
Action Item:

David H. - Add location of the banned member list on the wiki. Actual location will not be public. List is referenced in the standing rules

https://www.i3detroit.org/wiki/Standing_rules#Banning

, but no known electronic version exists. Electronic version exists, but needs to be placed on the server and a portion of the page added to the wiki.

Should start access audit after Maker Faire.
President
MOPOP - may involve longer shifts due to limited wristbands.
Learn to solder is going ahead.
Membership brochure is in progress. Consulting with a designer.
Senior Vice President
Will meet with Ron about giving a talk on acrylics and how his products can be used at i3.
Still looking to do the Etsy workshop will get on Jessica's calendar when she returns from out of town, want to also work with James on structuring the workshop.
Currently planning a How to use TinkerCAD workshop for i3 members and a second one for community/visitors and guests. First week of August may be delayed as early August is close to Maker Faire.
VP of Activities & Classes
No new classes for July.
Looking for people to teach new classes after Maker Faire. Need to work on projects and ideas for Halloween.
VP of Membership-Onboarding
4 new people between phase 1 and 2.
4 new members in the last month.
VP of Membership-Retention
VP of Membership-Member Advocate
Committee Reports
Moderation Committee
Scholarship Committee
Checking to see where applications are submitted.
Lost & Found Party
Action Items
| Action Item | POC |
| --- | --- |
| Add location of the banned member list on the wiki. Actual location will not be public. List is referenced in the standing rules https://www.i3detroit.org/wiki/Standing_rules#Banning, but no known electronic version exists. Electronic version exists, but needs to be placed on the server and a portion of the page added to the wiki. | David H. |
Proposals
Proposal
Moved By
Seconded By
Aye
Nay
Result
Proposal to split the kiln zone into a Ceramics Zone and a Glass Zone for a 3 month trail period.

The current co-coordinators of the Kiln Zone, Leora and Joseph would become coordinators of the Glass Zone. Samantha Letvin and Joselyn Graziadei would become co-coordinators of the Ceramics Zone. Both are experienced working with and teaching ceramics and have indicated an interest in managing the ceramics zone.

Responsibilities of Zone Coordinators (Based on: https://www.i3detroit.org/wiki/HOWTO_Be_A_Coordinator )

Note: These responsibilities can be divided and delegated as the coordinator(s) see(s) fit and do not necessarily need to be done by the coordinators themselves.

Coordinate, drive and determine the future plans and directions for the zone
Create a yearly Zone Budget and participate in the annual Budget process for i3
Manage the Zone's budget, including approving reimbursements and keeping track of expenditures and incoming donations and fees
Maintain the zone's equipment functionality, availability of consumables and overall organization and cleanliness .
Purchase equipment, tools and consumables for the zone. Approve loaned tools for the zone.
Make available orientation and certification on equipment and classes on techniques and other zone related topics
Communicate and work with other zones to cooperate on common issues and resolve any conflicts
Set standards for the zone, including equipment use and placement, safety rules and any needed start up or shut down procedures
Communicate to members what is happening in the zone including sending emails to i3Detroit lists and posting on Slack
Submit a brief (three sentence) update for the 1st and 3rd Tuesday Member Meetings on what happened in the prior 2 weeks, what will be happening, and any equipment issues
Write and update the zone wiki page, including equipment information, rules, procedures and any other useful information as the co-ordinator(s) see(s) fit
Find ways to tell potential members (who are interested in the zone's craft and equipment) about the zone and about i3Detroit
Seek funding and donations for the zone
Follow up on shared and delegated tasks

Equipment and Materials

Current equipment and materials to be retained in the Glass Zone

New glass kiln
Large grey cabinet
All glass and glass related tools and materials
Wedging table
Bakery Cart for glass
Shelving on South side of kiln zone
All cold working and wet working equipment (tile cutters, wet grinder, etc)


Current equipment and materials to be retained in the Ceramics Zone

Pottery Wheel
Ceramics Kiln 1
Ceramics Kiln 2
Large beige cabinet
All clay and clay related tools and materials
Wedging table
Bakery Cart for ceramics
Shelving on North side of kiln zone

Equipment and materials to be shared

Kiln shelf paper
Kiln shelves
Kiln furniture
Use of storage on the pallet rack in the kiln zone

Jamie
Evan
6
0
PASS
Elect 7 board members for the next term.
Evan
Matt H.
6
0
PASS
Make the following updates to Officer position duties.

VP of Classes and Events

Administer listing and ticketing of classes
(EB, Cal, Blog, FB)
Authority over scheduling space reservations for classes
Authority over class revenue/budget
Encourage and assist new classes
Reporting

Monthly written in board minutes
Number of classes
Class Attendance
Revenue: Gross/Net revenue to Materials/Instructor/i3


VP Member Off-boarding

report: number of members leaving, why people leave
Assist in off-boarding tasks


VP Membership On-boarding

Reporting

Number of new members, total members.
Provide a report to the general membership at the first Tuesday meeting each month.


VP-Member Advocate - wiki good

Do we want two of them? Yes


Senior Vice President

Friday Night Tours
Site survey/Internal Ambassador - Day to day shop ops
Fill in gaps in officers
Coordinate with President
Daytime availability valued
Provide a report to the general membership at the first Tuesday meeting each month.

President

Provide a report to the general membership at the first Tuesday meeting each month.

Jamie
Leora
7
0
PASS
Move $400 that was allocated to Yuri's night and never used to Maker Faire Project support.
Jamie
Evan
5
0
PASS
Terry W will contact the Media Lab coordinator and provide a written recommendation to the board in 14 days. Evan
Evan
Matt H.
4
1
PASS
Meeting Metrics
Time completed: 10:10 pm
Funds appropriated: $0
Attendees: 16
Attendance
Evan Allen
Matt Arnold
Nathaniel Bezanson
Jamie Burdeski
Leora Druckman
Michael Fink
Matthew Gardeski
Matt Huber
David Henry
James O'Dell
Charlie Rysenga
Vivian Sanders
Ken Siegner
Terry Wynn
Samantha Letvin
Joselyn Graziadei