Minutes:Board Meeting Minutes 20161108
Agenda for 11-08-2016
Chair: Jamie
Officer Reports
Treasury and Budget Report for Oct, 2016
Emergency: $11K Checking : $4.9K BNektar: $4.2K Paypal: $1K Total: $21.1K
GM (Jamie) Donation of $200 came in. (Oct deposit)
$100 from Chicago

Came in from a Law Firm in Chicago who said "We like what you do, here's some money, put our name on your web page"
Apparently https://www.i3detroit.org/donations/ says "If you donate $100 or more we will post your logo, website address and name if desired on our sponsors page."
Charlie will send them a thank you and update the sponsors page
Action Item: Charlie - Send a thank you for donation
No significant indication of Dues Revenue falloff. Still on Budget for Income.
Budget Meeting Sat Dec 3 12-4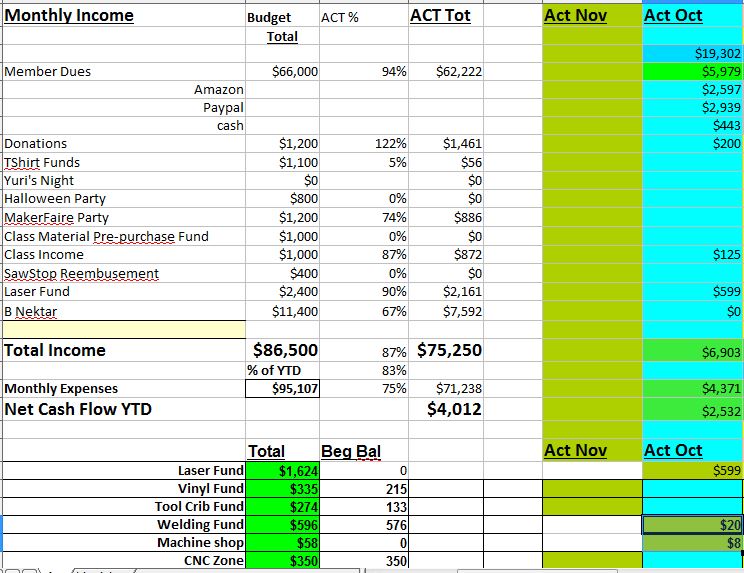 Observations
Class income has almost reached our target for the year.
We skipped spending the $800 halloween party. Yay.
Does James want that for the New Years party? Some

TShirt budget has been mostly unspent.
Does anyone want to order shirts now, or put it off for next year's budget?
Do we need shirts? Some sizes are out, so yes.
Action Item: Evan - Do something about shirts
Secretary
Move budget requests from Treasurer report to new business for meeting flow.
President
Action Item: Charlie - Discuss expansion plans with neighbors/landlord.
Charlie would like help managing Contact@ emails. Charlie and Vivian have been busy with work.
Action Item: Charlie - Ask more members to get involved in Contact@
This is the last year Charlie wants to be President. We can start asking for/looking for a replacement. There are a few other positions that we know will be empty in the future, we can start looking for those sooner. Tangential discussion tabled to board list.
Senior Vice President
VP of Activities & Classes
VP of Membership-Onboarding
Matt is starting to track the time it takes for people to make it through onboarding.
Has worked through the backlog of people who were in the system when he took over.
Old scholarship forms are outdated, will proceed with something new and simpler.
New member forms are outdated and being replaced
Net +7 active members, -1 Hiatus
Those in Onboarding queue went from 12 to 21
Still not a good system for handling people who have become stale in the system and for knowing when people need to be followed up with. Being worked on.
VP of Membership-Retention
Position is unfilled
Terry is doing some of the duties
Evan wants to work with Matt C and Terry to make a concrete list and solicit the membership for a volunteer.
Action Item: Evan - Find a person to do the thing.
VP of Membership-Member Advocate
Nothing has come up in the past month.
Old Business
Vision Meeting
From the meeting to discuss part 1 results, there are three groups working on:
Better system for classes and training
Order and cleanliness
Sense of community and clique-iness
Results of the second survey are in. Leora will set up a whenisgood for the meeting to discuss.
Action Item Review
Action Item
POC
Status
Send Out a whenisgood to schedule the vision meeting
Jamie
Done
Follow up with zone coordinators who haven't responded.
Evan
Bike - Arthur will continue, but would like to be replaced

CNC - Thad and Jim want to be co-coordinators

Treehouse - Max stepped down a while ago, apparently

Welding - Jody's staying

Follow up on wood shop and welding zone incidents to take some of the burden off the zone coordinators
Matt A, Alec B, Tony S
Done
Send out camera system update email to membership - 2 requests, system is unstable, new cameras are budgeted for
Mike
Done
Send out an email to members to ask for volunteers for new zone coordinators after Evan does his follow up.
Mike
waiting
Ensure the position duties for officers are updated on the wiki in the How to pages.
Mike
Done
Evan will take over the general task of finding people for vacant positions.
Leora is pretty overwhelmed with both Kiln and Jewelry zones. Leora would like to find a replacement to take over as cocoordinator for Jewelry. Potential ceramics person is still in onboarding but more help may be needed. Also wants a cocoordinator for glass kilns.
Action Item: Evan - Send out an email to members to ask for volunteers to fill open positions
Board Responsibilities
Tabled at last two meetings. How can we better support zone coordinators and officers? Many Board responsibilities are loosely defined, and responsibilities often get too spread out between seven people.
What are some of the problem responsibilities?
Vision was one, but Leora is working on it.
Action Item: Every board member - Identify one necessary task and one "nice to have" task that wouldn't break the space if not done
There is an unprioritized list of duties on the Zone Coordinator page, it could use some more coordination.
Leora wants a meeting of Zone Coordinators in January, and solicit input from past zone coordinators, to talk about what kinds of support they need.
Action Item: Leora - Schedule zone coordinator meeting in January
Summary of Board List/Slack Discussions since last meeting
Cameras
Have gotten one quote for an off the shelf system.
It could probably work, and we testing out our own system which is promising. It's cheaper, and we'll actually know what we're getting.
Evan will decide on a purchase option in two weeks.
Board List moved
Moved from regular @googlegroups.com to the i3 GSuite as board@i3detroit.org.
Shell Eco Marathon Team
Charlie gave them a good "Please no" response.
Nation of Makers Memebership
This is a new organization that has spun out of the meeting earlier this year in D.C. that has invited us as a founding member.
Charlie suggests we join, but notes that their conference calls and slack channel are hard to keep up do to volume.
Consensus is we are generally in favor, but Charlie will look out for any onerous requirements.
New Business
Finish Appointing Zone Coordinators
Proposal:
Appoint Jim Kemp and Thad Johnson co-coordinators of the CNC Zone
Moved by Evan, Seconded by Leora
5 Ayes / 0 Nays
Result: PASS
Proposal:
Re-appoint Jody Raiford coordinator of the Welding Zone
Moved by Evan, Seconded by Leora
5 Ayes / 0 Nays
Result: PASS
Future of the Treehouse
Jan, via email: I have wondered if it could be better used. I know some like it but it feels like a dumping ground. I would support configuring it to be a project work space, or a zone. Not sure what zone... Space is limited. What I would do is rebuild it a bit bigger, possibly with walls, and use it as a zone space. I really like the idea of building up. I think zones without space, or not enough space, could really benefit from that concept.
Andrew would like to call dibs, and notes that the treehouse is significantly more floor and wall space than the fab lab, and would love to move the fab lab there.
Evan points out we would be losing 3 couches and a few other things which have some value to members.
Leora points out the treehouse is commonly used by, and uniquely suited to introverts who want to get away from everything for a bit.
Budget Requests
Proposal:
Disolve the $800 halloween party budget item, and budget $200 for the New Years party James is planning
Moved by Evan, Seconded by Matt G
5 Ayes / 0 Nays
Result: PASS
Request approval of funds to purchase 2-3 different task stools (similar to: https://smile.amazon.com/dp/B00KCLKXRC ) for commons area. Initial purchase not to exceed $150. If these work well, plan to purchase several more of the best one at a later date. - Alec B.
Proposal:
Budget up to $150 for stools for Commons Area
Moved by Matt G, Seconded by Evan
5 Ayes / 0 Nays
Result: PASS
Space & Zone Discussions
Floor Plan
Leora points out that elab overflow may not be an efficient use of floorspace. Evan suggests we could get all of extra zone storage out of member storage and overflow and move to the West Mezzanine
Committee Reports
Moderation Committee
Lost & Found Party
Meeting Metrics
Time completed: 9:17pm
Funds appropriated:-$600
Attendees: 11
Action Items
| Action Item | POC |
| --- | --- |
| Do something about shirts | Evan |
| Discuss expansion plans with neighbors/landlord. | Charlie |
| Ask more members to get involved in Contact@ | Charlie |
| Send out an email to members to ask for volunteers to fill open positions | Evan |
| Send a thank you for donation | Charlie |
| Identify one necessary task and one "nice to have" task that wouldn't break the space if not done | Every board member |
| Find a person to do the thing. | Evan |
| Schedule zone coordinator meeting in January | Leora |
Proposals
| Proposal | Moved By | Seconded By | Aye | Nay | Result |
| --- | --- | --- | --- | --- | --- |
| Budget up to $150 for stools for Commons Area | Matt G | Evan | 5 | 0 | PASS |
| Appoint Jim Kemp and Thad Johnson co-coordinators of the CNC Zone | Evan | Leora | 5 | 0 | PASS |
| Re-appoint Jody Raiford coordinator of the Welding Zone | Evan | Leora | 5 | 0 | PASS |
| Disolve the $800 halloween party budget item, and budget $200 for the New Years party James is planning | Evan | Matt G | 5 | 0 | PASS |
Attendance
Jamie B
Mike F
Matt G
Alec B
Charlie R
Mike W
Leora D
Matt C
James O
Andrew M
Evan A