Minutes:Meeting Minutes 20210706
Minutes for 07-06-2021
Meeting Location
Meeting was Called to Order At: 19:42 by Jamie
Virtual Meeting Etiquette
Be excellent.
Attendance and voting can be found in the #meetings slack channel.
Please show up early if you are concerned about your audio.
If there is no one waiting to speak feel free to do so at the next opportunity.
If there is someone waiting to speak, please say that you are raising your hand in the google call chat. (This will be demonstrated)
Please refrain from other side conversations, these can be distracting for the rest of the meeting and make it difficult for the chair to keep track of what's going on.
Introductions
Introduction of i3Detroit
Presented by a different volunteer each month - 2 minutes

What we are:
What we value:
We determine success by:
Welcome everyone!
Experienced Members
William - Has a new job. Working remotley for a firm in LA.
Jen - Looking forward to having some sewing classes soon. Basic skills, machine use, mending, cosplay are topics discussed.
Paul L - VP of activities and classes. Looking forward to new classes.
A'Lisa - Looking forward to catching up with everyone.
New Members & Guests
Show and Tell
Hans - 2nd rim is now painted! Waiting for it to cure.
Que - Made a vice. Started with a bowling ball, sits on a bag and can freely pivot for engraving.
Old Business
Out Standing Action Items
New Business
Upcoming Events
Up coming Events Calendar

Tomorrow: i3 Rules n' Stuff group
Tomorrow: Virtual wiki Wednesday
Friday: i3 Virtual tour
Saturday: Virtual Stitch n' stuff
Is there interest in a re-occurring [Saturday] hang out / BBQ time?

Head over to #partyplanning in slack with thoughts.
Covid Policy Update
Proposal:
Change Covid Policy to:
COVID-19 Policy
Masks are required when you will be working within 6 feet of someone else for 15 minutes or more. This applies to both vaccinated & unvaccinated individuals.
Social distancing is not required provided you have consent of anyone you are within 6 feet of.
Anyone who experiences symptoms or has a suspected or confirmed diagnosis of COVID-19 within 14 days of visiting i3 shall notify the president by emailing president@i3detroit.org. The president will keep this information confidential but will use it to notify others who may have been exposed.
Camera reviews will be permitted to be conducted remotely via video chat. All other rules regarding the camera system will remain the same.
The Covid Policy supersedes any other Standing Rule should there be a discrepancy.
Highlights of Change:
Changes mask requirement from "everyone has to wear masks all the time" to only requiring them when people will be in close contact (15 minutes @ 6 feet, the CDC definition for close contact). This option was tied for most liked in the survey, and was the least hated. (The other most-liked option was unvaccinated only, but that was also more hated, both in votes and in write-in comments)
Removes health screening requirement before each visit based on 75% support on the survey
Removes calendar requirement based on 67% support on the survey.
Removes occupancy limit
Removes 1 of the 2 forms needed to reinstate your key. You still need to fill out the new waiver if you haven't already done so, but communication on that to the affected people is going to be handled off-list and isn't directly related to Covid.
Generally removes any explicit language that used to be legally necessary, and replaces it with the assumption that people will use common sense & be excellent to each other
Moved by
Paul L,
Seconded by
William
14 Ayes / 1 Nays
Result:
PASS
References:
Discussion:
A'Lisa - removing the screening form makes it harder to know who to contact as there is less of a record of who might have been here.
Jamie - Thinks door logs will be close enough with camera reviews. Nothing we do will be 100% accurate.
Jen - Requiring people who are vaccinated to wear masks, disincentives unvaccinated from getting vaccinated, and punishes those that are.
William - Agrees with not needing masks.
Mike - If the only incentive to get the vaccine is to not wear a mask and not concern for the heath of others.
Paul - Agrees with the point of screening is valid, but it will make it harder to accurately contact trace. Scanning the key will help, but can still get bypassed.
Hans - Many people would like to more slowly transition to a mask-less environment. Allowing additional time may be helpful for member comfort.
Mike - If there was an exposure, there won't be any record of who was in the space, as there won't be a calendar either.
Jamie - Much like the last exposure, we would need to send the date.
Fawn - If we scale back requirements, it works well that requests to wear a mask should be honored, and individuals should be prepared to wear one. Recognizing that wearing a mask helps with community health, and should not be viewed as a punishment.
Potential Amendments
Someone needs to champion an amendment for it to be discussed & voted upon during the meeting! Possible Proposal: William, Jen Nagle Change #1 to: Masks are required for unvaccinated individuals only. Vaccinated individuals must send proof of vaccination to the board in order to be exempt.
Discussion:
Nate - how would someone in the space know if someone is unmasked and has sent proof to the board, or has not.
Fawn - At office, they use stickers, or pins.
Que - What if someone is not comfortable providing access to medical records?
Nate - Stay masked.
William - Agrees with Fawn.
Mike - Thoughts in the wind.
Hans - How is the implementation going to work, and how is the board going to handle tracking? The board seemed to have concerns about the record keeping aspects of this. Wouldn't want to
Jen - Put a picture of the card in slack.
Mike - Is also aware of the discomfort of the board of having medical information.
Jamie - The survey indicated that many individuals were uncomfortable with providing medical information.
Fawn - Some people are uncomfortable with sharing the information. It causes issues as those that cannot be vaccinated are effectively in the same group that do not want to provide information.
Paul - would like to modify this amendment to contain 1a
Jamie - It's confusing to amend amendments that have not been discussed, but possibly here.
Random Discussions for some amendment, but no longer clear which one as all were briefly reviewed
Mike - Could wear a pin that indicates they are ok being close to others.
Fawn - Instead of requiring a list, wear a button that indicates they are, ask for proof. If there are many events, this conversation is repetitive.
Paul - Is it reasonable that if asked to wear a mask to expect others to comply.
Tim - Feels the original proposal does a good job of capturing the range of responses. Is not in favor of pins.
Fawn - Agrees that if asked to wear a mask it is reasonable to expect compliance.
Jamie - This seems like a good amendment to make.
Jen - Would like to withdraw amendment 1, and use 1a.
Mike - Moves to table this amendment. Jen seconds. No vote needed.
Proposal:
Add Section 1a:
Members working within 6 feet of each other for 15 minutes or more other may consent to remaining mask-less if there is affirmative consent.

Moved by
Mike,
Seconded by
Paul
13 Ayes / 5 Nays
Result:
PASS
Discussion:
David - Does this superseded the request of others to request masking?
Jen - It is reasonable to be receptive to others and comply.
Hans - Agrees with Tim that the original proposal was laid out well, and would like to start with those changes.
Jamie - Thinks it would be best to handle the first round now, and then work on amendments before the next meeting.
Proposal:
Section 1b: Members running a class may require proof of vaccination to attend unmasked, and given proof of vaccination may run and attend a class without a mask. Those who do not wish to disclose their vaccination status may attend, but must remain masked.

Moved by
Paul,
Seconded by
Jen
11 Ayes / 9 Nays
Result:
PASS
Discussion:
Jen - as someone who will lead classes is ok with the burden of verification.
Paul - would like to vote.
Mike - Does this mean that those who chose not to disclose status or are not vaccinated can attend or cannot attend classes?
Possible Proposal:
Reserving space in confined zones is permitted by using the work schedule, but otherwise use of the work schedule is optional. Reserving space should be done excellently (at least 12 hours in advance, only while you actually expect to be using the zone, etc) and any conflicts should be handled by being excellent to each other.
See HOWTO_Add_Yourself_to_the_i3_Work_Schedule for details and instructions on how to enter events onto the schedule.
Zone updates
Unison feed machine is acquired.
New 5' x 10' cutting mat arrived. Need to build a table for it.
Working on room infrastructure needs.
Space Project Updates
Expansion
Welding is a lot more organized now, and materials storage will be getting a big upgrade later this week.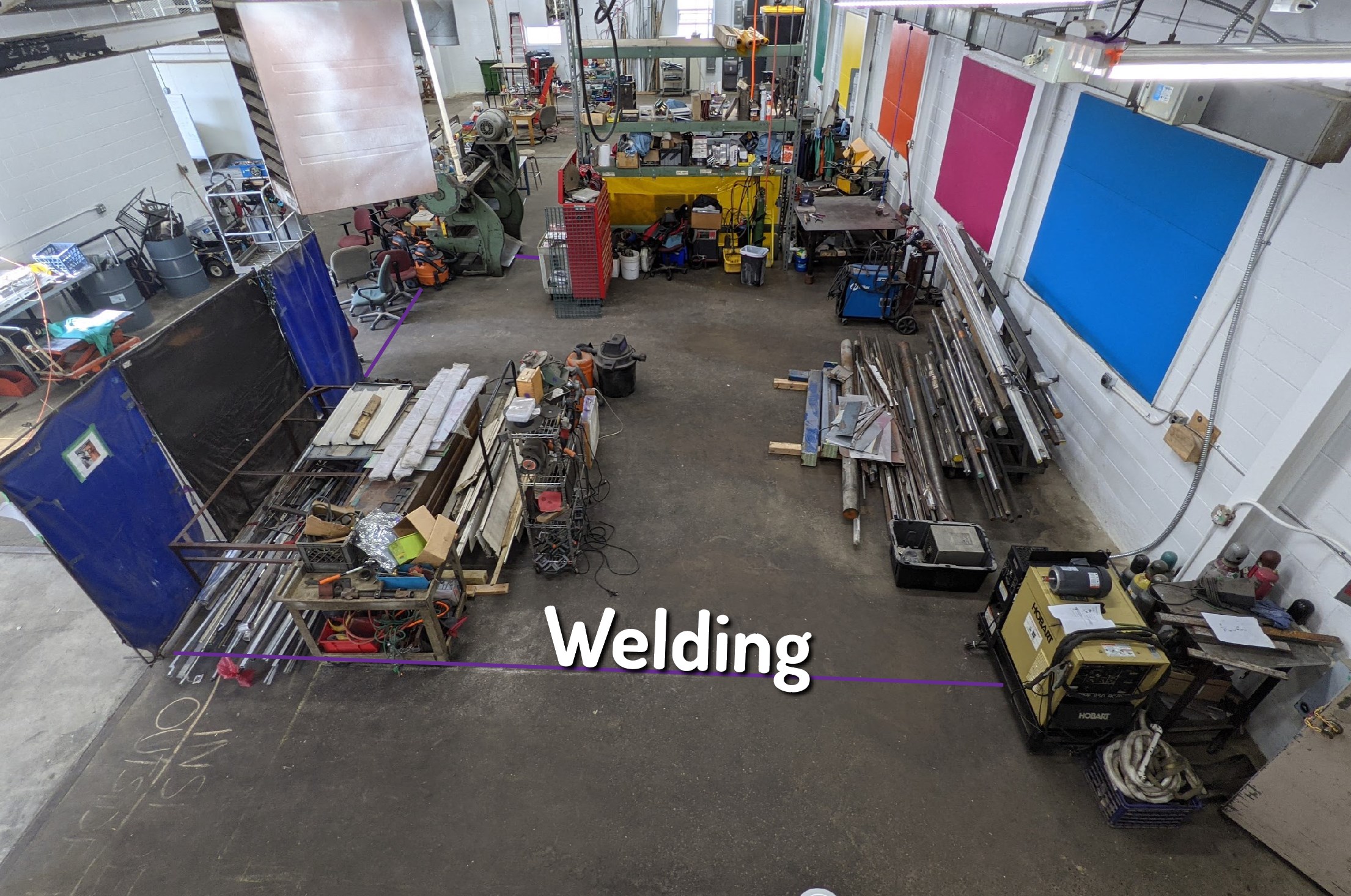 Machine shop and CNC areas are mostly cleared out and ready for things soon.
New electrical installed in Jewelry and more to be installed soon for the kilns.
B-Side main lights are all done! Look at those rows!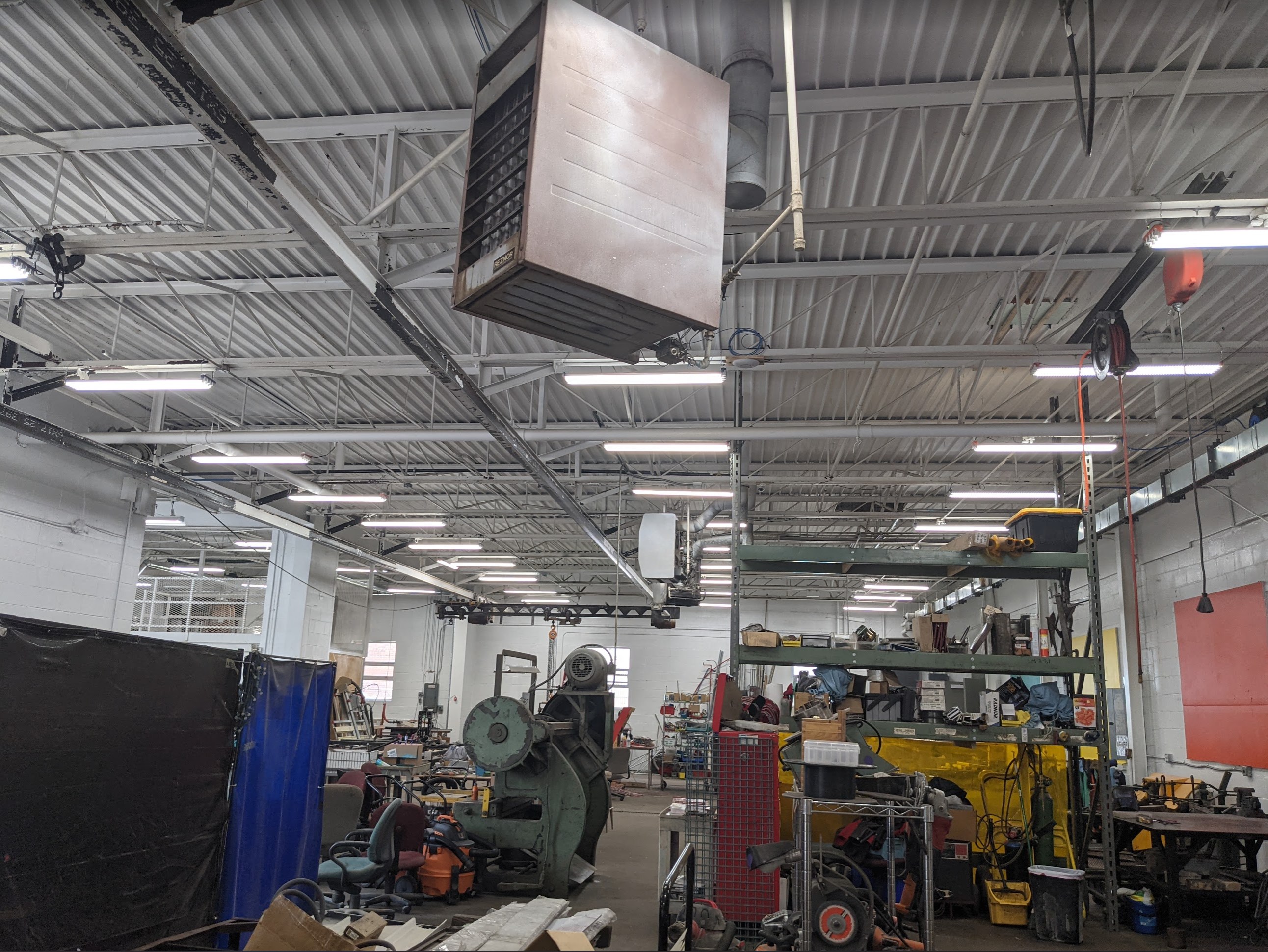 Zone updates
A'Lisa - Thanks to everyone for everything.
COWBELL
Action Item Summary
No action items.
Proposal Summary
Proposal
Moved By
Seconded By
Aye
Nay
Result
Section 1b: Members running a class may require proof of vaccination to attend unmasked, and given proof of vaccination may run and attend a class without a mask. Those who do not wish to disclose their vaccination status may attend, but must remain masked.
Paul
Jen
11
9
PASS
Add Section 1a: Members working within 6 feet of each other for 15 minutes or more other may consent to remaining mask-less if there is affirmative consent.
Mike
Paul
13
5
PASS
Change Covid Policy to:

COVID-19 Policy

Masks are required when you will be working within 6 feet of someone else for 15 minutes or more. This applies to both vaccinated & unvaccinated individuals.
Social distancing is not required provided you have consent of anyone you are within 6 feet of.
Anyone who experiences symptoms or has a suspected or confirmed diagnosis of COVID-19 within 14 days of visiting i3 shall notify the president by emailing president@i3detroit.org. The president will keep this information confidential but will use it to notify others who may have been exposed.
Camera reviews will be permitted to be conducted remotely via video chat. All other rules regarding the camera system will remain the same.
The Covid Policy supersedes any other Standing Rule should there be a discrepancy.

Highlights of Change:

Changes mask requirement from "everyone has to wear masks all the time" to only requiring them when people will be in close contact (15 minutes @ 6 feet, the CDC definition for close contact). This option was tied for most liked in the survey, and was the least hated. (The other most-liked option was unvaccinated only, but that was also more hated, both in votes and in write-in comments)
Removes health screening requirement before each visit based on 75% support on the survey
Removes calendar requirement based on 67% support on the survey.
Removes occupancy limit
Removes 1 of the 2 forms needed to reinstate your key. You still need to fill out the new waiver if you haven't already done so, but communication on that to the affected people is going to be handled off-list and isn't directly related to Covid.
Generally removes any explicit language that used to be legally necessary, and replaces it with the assumption that people will use common sense & be excellent to each other

Paul L
William
14
1
PASS
Meeting Metrics
Time completed: 21:17
Attendees: 23
Attendance
David Henry
Katlyn Mehne
L.U. Cymry
Matt Carpenter
Hans Chen
Greg Good
Tim Clayson
Que Fanning
Jen Nagle
Jamie Burdeski
Kevin Flory
Jeff Burdick
Jill Burdick
Jan Henry
William Kent
Paul Frick
Paul Lee
A'Lisa Krawciw
Mike Fink
Matthew Gardeski
Nate B
Ashley Lesser
Melissa Gilchrist