When I first came into i3Detroit, I didn't know what to expect. I never thought in a million years that I would be doing the things that I do when I spend time at the space. Clearly I was the odd "man" out. I was surrounded with individuals versed in things I had never even dreamed of; things I never thought i could comprehend and understand. I took a very basic electronics class, and was fascinated that i actually could understand and retain the information. It blew me away that an individual would take the time to teach me something I knew nothing about; it blew me away that an individual had the patience to teach me things I had never even heard of. I came to find that i3Detroit was full of people like this; sharing ideas an knowledge, and having a genuine want to teach you mindset. I quickly found a home where I was accepted, even though I didn't quite "fit the mold".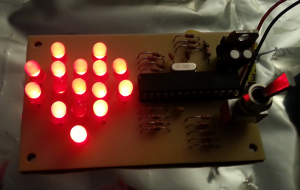 For Valentine's day this year, I created my very first circuit board. I found the idea here while I was searching for "heart shape circuit board" images on Google  I had planned on doing something more in my realm of knowledge. I was going to create circuit board flowers out of e-waste that can always be found floating in our graveyard.
The concept seemed simple; a circuit board that blinks a few LED's in some pretty neat patterns.
I quickly found the process to be much more complicated than I had anticipated; but in this process, I learned how to solder, and got  a crash course in how to use our PCB Mill. I connected with fellow members, and spent some fun late nights at the space. I felt at home. I felt smart. I felt awesome. (granted two of the LED's need some tweaking, but let's not get down on that.)
When I hit that switch for the first time, I was reminded of how passionate I was about this place, and the people in it. This is my home, and these people are my family. This place makes my Heart Blink.
Below is the video of my reaction. <3
<3 brodi3
https://www.i3detroit.org/wp-content/uploads/2014/03/Logo_large_png8-300x98.png
0
0
brodi3
https://www.i3detroit.org/wp-content/uploads/2014/03/Logo_large_png8-300x98.png
brodi3
2013-02-19 23:03:49
2015-10-12 13:20:25
I heart electronics