Salt Godbox
Salt Godbox
Name
Salt Godbox
Zone
Infrastructure




Owner
i3Detroit
Make Model
Raspberry Pi 4 Model B 4GB
Part Number
Date Acquired
2021-09-25
Storage Location
Likely Network Cabinet
Authorization Required
Yes
Status
Running
Value
$100
IP Address
10.13.0.11
MAC Address
e4:5f:01:60:57:36
Hostname
godbox
Power Requirements
IEEE PoE or 5V 2A
Documentation
https://docs.saltproject.io/en/latest/
Other References
https://lumami.biz/salt-setup/
Intro
Dedicated machine to coordinate Salt operations for the minions throughout the space network, taking commands from the Drone CI runner on Viki, passed from github through the drone coordinator on the web VM.
Rules
Ask Amelia Meyer before touching
Instructions
Maintenance Info
FAQ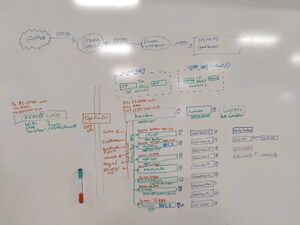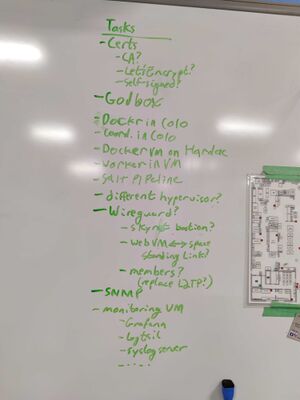 ToDo
Tasks:
UPGRADE SALT
change hypervisor on hardac?
Wireguard?

Use skynet as endpoint
Web VM <-> space permanent link
member VPN instead of L2TP?

Monitoring VM

Grafana
Telegraf
SNMP
syslog server
logtail
Maybe repurpose mcclellan

So many docs
Actually train a few other people on how to use the system
Authorized Users and Trainers
| Trainer Name | Certified Date |
| --- | --- |
| Amelia Meyer | 2021-09-25 |
| Jamie Bliss | 2021-09-25 |
| User Name | Authorized By | Date of Most Recent Training |
| --- | --- | --- |
Salt Repos
These are git repos that map to salt environments, and some basic information on them.
Provides the base salt environment. Uses gitfs and not SpiroFS, so special steps are needed to deploy it.
The only code in here is core stuff to get the godbox running salt.
https://drone.i3detroit.org/api/badges/i3detroit/salt-core/status.svg?ref=refs/heads/trunk
Base, widely-applicable settings and opinions.
Things like the MOTD generation goes here.