Minutes:Board Meeting Minutes 20170124
Agenda for 01-24-2017
NB: This meeting was held in place of the meeting scheduled for Jan. 10, 2017 Chair: Charlie 7:37
Officer Reports
Treasury and Budget Report for Dec, 2016
Emergency: $14K Checking : $2.1K BNektar: $3.3K Paypal: $1.6K Total: $21K
Lots of end of year reimbursements.
Dues down for Dec. Lets see what happens in Jan.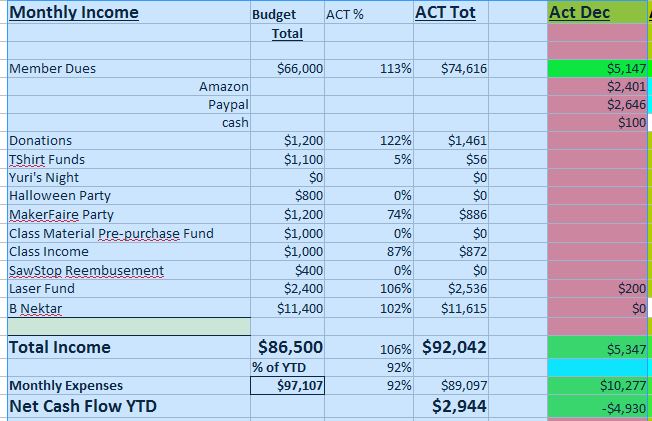 Secretary
N/A
President
December - Corporate membership to Henry Ford official! Up to five guests plus one i3 member at a time get entry and unlimited rides for free (doesn't include IMAX?) Charlie would like somebody to set up an event to show Henry Ford we appreciate the gift.
Charlie also seeks a successor. Official transfer in August, looking to mentor someone starting as early as possible!
Senior Vice President
Nothing to report at this time.
VP of Activities & Classes
N/A
VP of Membership-Onboarding
People seem to be getting stuck between Phase 1 and Phase 2 of the membership process (we have about 9 people in this state right now, some since as early as October). Need to come up with a plan to fix this up. One of the people that slipped through the cracks earlier in the membership process has become a full member though!
VP of Membership-Retention
Nobody currently assigned
VP of Membership-Member Advocate
No substantial issues at this time, will discuss later if required.
Old Business
Summary of Board List/Slack Discussions since last meeting
Nothing of note.
Camera Review Policy
With the current board vacancies is the requirement of two board members too restricting? Proposal of changing policy to require one board member and one officer (or possibly a zone coordinator) was raised at the last member meeting. Main opposition seems not to be that the proposal should be dropped, but that we should be taking our time adjusting to give everyone time to weigh in and be sure enough warning is given.
Bike Zone Coordinator Appointment
Mike plans to determine how the zone can be made most useful to the membership. Specifically, tools and parts that the membership would like access to. He is interested in arranging classes, but not necessarily able to teach these classes.
Proposal:
Appoint Mike W. the Bike Zone Coordinator
Moved by Matt G., Seconded by David H.
3 Ayes / 0 Nays
Result: PASS
Treehouse Situation
Karianne laid out the basics of a plan to convert the current treehouse into a combination leather working/hangout space. This would involve rearranging the South half of the current treehouse to make room for at least one workbench and several stools. At least one couch and other seating would occupy the North half near the stairs.
Proposal:
Appoint Karianne coordinator of the treehouse and pitch changing treehouse to a combined leather-working and chill zone at the member meeting 2/7
Moved by Jan H., Seconded by David H.
3 Ayes / 0 Nays
Result: PASS
New Business
Tool Authorization Process
One of Jody's mentees has ended his membership citing difficulty in getting certified on tools and the fact that nearly every tool had some type of authorization process. The fact (or perception) that an expert has to go through training as if they have never seen a tool before is frustrating and a bit insulting to some.
Identified Potential Source of Issues:
Authorization classes don't occur often enough
One size fits all class structure alienates experienced users
Some tools don't need to be authorization only
Should authorization-required tools be required to hold a certain number of classes each year? Let's get the zone coordinators together to decide on a standardized authorization process that keeps members safe and productive while ensuring equipment misuse is minimized.
Action Item: Jody - Schedule a coordinator meeting sometime in February
Filling Vacant Board Seats
Appointing someone to the Board seat left vacant by the resignation of Jamie Burdeski Update: Another board seat (Leora) has been vacated since the originally scheduled date of this meeting.
Candidates who accepted nomination in the last board election were contacted in order of votes received. Matt A. and Alec B. expressed interest. Alec is present tonight, can't confirm yet if Matt will be available at regular board meeting times. Do we want to do another election for the remainder of this term? If we do, they likely won't be installed until the beginning of next session's campaigning season. Let's appoint Alec to fill Jamie's board seat, wait to fill Leora's to give membership time to express interest and also verify if Matt A. can make meeting times going forward.
Proposal:
Appoint Alec to the i3 Board of Directors
Moved by David H., Seconded by Matt G.
3 Ayes / 0 Nays
Result: PASS
Action Item: David H. - Notify members of resignation (Leora), ask if any member is interested in serving, contact Matt Arnold to inquire about availability.
Other Brief Topics
Vivian talked to the U.S Office of Patents and Trademarks, they are currently planning to visit on 2/7.
Charlie is looking for somebody to take over planning and executing second Tuesday events.
Space & Zone Discussions
Floor Plan
N/A
Member Storage
N/A
Committee Reports
N/A
Moderation Committee
N/A
Lost & Found Party
N/A
Meeting Metrics
Time completed: 8:46
Funds appropriated: $0
Attendees: 10
Action Items
| Action Item | POC |
| --- | --- |
| Schedule a coordinator meeting sometime in February | Jody |
| Notify members of resignation (Leora), ask if any member is interested in serving, contact Matt Arnold to inquire about availability. | David H. |
Proposals
| Proposal | Moved By | Seconded By | Aye | Nay | Result |
| --- | --- | --- | --- | --- | --- |
| Appoint Karianne coordinator of the treehouse and pitch changing treehouse to a combined leather-working and chill zone at the member meeting 2/7 | Jan H. | David H. | 3 | 0 | PASS |
| Appoint Alec to the i3 Board of Directors | David H. | Matt G. | 3 | 0 | PASS |
| Appoint Mike W. the Bike Zone Coordinator | Matt G. | David H. | 3 | 0 | PASS |
Attendance
Charlie
Matt C.
Vivian
Jan Henry
David Henry
Alec
Gardeski
Mike
Jody Raidford
O'Dell