Minutes:Meeting Minutes 20140701
2014-07-01
Agenda
Chair Justin Triplett
Introductions
Visitor David-electrical engineer New member Ben-arduino stuff
Action Item Review
Painting the Roses Red
Max - paint the switches bright so people can see them for shutdown
Mostly done
New Sign
Greg S. - Start sign committee, check back in July (info this mtg)
2 prototypes shown
Do we need it to say i3detroit or i3?
People already know what they're looking for, only need simple sign
Other people want the full sign with "i3 Detroit, imagine, innovate, and inspire"
Have a complex sign in the window, simple one on the main
Greg to come up with more designs and ask the mailing list
Show and Tell
New CO2 fire extinguishers

Nate got them all re-certified and refilled today
Very cheap to refill!
Everyone should practice with these so there's less hesitation in an actual fire
Nate was on fire, and Charlie practiced putting him out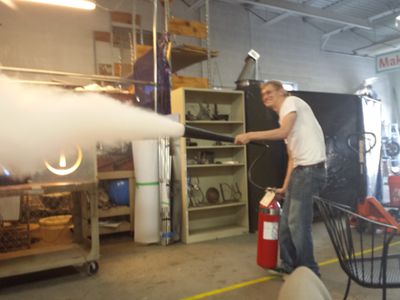 New brochures

Finally have the new brochures printed
For maker faire and having around the space, give them to everyone!
New Business
The Fall Election process is not well documented and confusing to new members
Last fall we just made up a process that no one seemed to have a huge problem with
Greg wants to create a fall election process for Standing Rules

Define CEOs role and responsibility
Nominating process
Board election
Officer election
Power Racing Series at Makerfaire (Matt H)

Every team competing needs to provide at least one volunteer to the PRS for the weekend. This volunteer will be used by the organizers as they see fit, most likely as a track marshal. Volunteers get a fancy T-shirt. I'd like to see i3 provide multiple volunteers if possible.
Don't need a ton of experience
Not necessarily a full-day time commitment
Can probably get free admission to Maker Faire
Hackaday meetup

Hooray, 60-80 of our closest friends we haven't met yet!
Holy crap, the hordes are descending!
NEED HELP for waiver duty, tour guides, parking directors...
Talk to Nate B if you want to help, he's very obviously clueless at party planning
There's already a list thread on the topic, contribute ideas there
Proposal: Front Hallway Walls [Craft Room]

Need room to let paintings dry undisturbed
Hang paintings on the wall in the hallway by the craft room
Form to tag paintings with to identify ownership and time of leaving
Bill Putt's i3 Golf Cart

Golf cart is used to shuttle people around at Maker Faire very awesomely
He needs $600 for new batteries, only 1/4 of the way there so far
Zone updates
Bike Zone
CNC Zone
Compute Zone
Craft Room
Coming Soon: Casting!
Plaster and latex castings?
Let Kevin know if there are any supplies you'd liked
E Lab
no updates, things are good!
Fab Lab
Injection Zone
PID Controllers Are working, need to mount thermocouples.
Large hydraulically controlled machine of DOOOOOOOOOOM
Charlie needs help overcoming the Doom, please help!
Kiln Zone
Laser Zone
Metal Shop
Tool Crib
Everything is pink, return anything pink to the Tool Crib
There is now a broken tools bin, on the wall on the far side of the I

IF you see a broken tool, put it in the bin!
IF you break a thing, you could be nice and leave a donation
Tree House
Vinyl Zone
Welding Zone
Wood Shop
Mini class July 7, 2014
General Wood Shop intro 7:30 PM
Action Items
Broom Party
Meeting Metrics
Time completed:
Funds appropriated:
Attendees:
Attendance
Justin Triplett
Jamie Burdeski
Mike Fink
Matt Huber
Greg Smith
Steve Nowicki
Dave Scholl
Bruce Webber
Maddy Winans
Kevin Flory
Xander Heide
Adrienne Patterson
Ben Davis
Ken Siegner
Nate Bezanson
Charlie Rysenga