Election 2020
Voting is currently open. All ballots need to be submitted before 1700 on 1Sep2020. So they can be counted before that member meeting.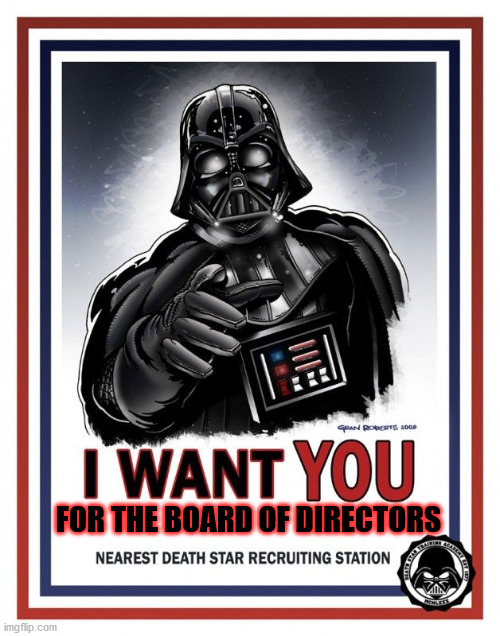 How to nominate someone
Nominees for Board of Directors

<p-- To easily add you name and link to your profile. Place 4 tildes where you want your name to be --!p>
Board nominee survey
All members are welcome to add any question they feel are relevant
How long have you been a member of i3?
Since shortly after the first Maker Faire... 2009? I'm a relative old-timer. I even visited the short-lived Royal Oak space once!
I have been an official member since January 1st of 2014 (6½ years). Before that I have been around the space since spring break 2013 and all subsequent breaks while I was at college. Before I was a member I was also heavily involved with the space infrastructure (and became the founding Coordinator of that zone).
It will be 9 years, as of November 22.
Since spring (February?) of 2013, so over 7 years. That's a long time!
It's coming up on 6 years this winter, I think. So a little more than 5 and a half.
Just about 2 years come September
What is i3?
A community of hackers trying to help each other learn new things and make cool stuff.
A group of people interested in making new things, changing old ones, and sharing knowledge!
A non-profit community and physical workspace where members share resources and knowledge, enabling people to learn new skills and make fun, exciting, and useful things.
i3Detroit is a place where people share knowledge. We are also a place where people make things. Those two are in that order because at the base level i3 is most useful as a place to share knowledge of various things because that is hard to find elsewhere, at least for a group as diverse as ours. We are also a shop where you can come make things, but if that's all it was then TechShop would be an equivalent and it most certainly was not. Everything else that i3 is comes from those two things, but even based only off of those the possibilities are endless.
i3 is an all-volunteer not-for-profit focused on voluntary work, which brings direct value to ourselves, each other, our loved ones, and our immediate community. D.I.Y. means we mostly prefer to increase how much we directly benefit from our own labor, and somewhat decrease our tendency to pay strangers who don't care about us to do labor for us-- or get paid to do it for them. There's already no shortage of that.
i3 is technically a warehouse full of random machine tools and a lot of people working on various projects, but more importantly is a community and resource and place to go to hang out and opportunity to learn. Whether you're working on a cosplay project or updating a garage tool, or designing a cold fusion prototype reactor, there's always someone around who is interested in what you're doing and at the very least can lend an opinion or two as to how to do something you didn't realize you didn't know existed. I3 is a place where I joined because I wanted to meet people in the area after moving here for a job, and wanted to learn to use some tools because it's cheaper to use those tools than get myself a storage rental and a full set of shop tools. Where now I know a decent number of people and am throwing myself into all sorts of new skills because I saw someone working on something and wanted to try my hand at it too.
i3 is a community of people who like to make stuff with tools, and learn new things, and share that knowledge with others.
A wonderful space for gaining access to tools which are impractical for hobbyists to own themselves. It's also a community of makers building neat things.
What types of personal projects do you work on?
Wifi-connected automation shenanigans, ergonomic keyboards, plotters, and sometimes motorsports.
Some people don't believe it but I do find time to work on my own projects sometimes! Usually electronics and programming related. Hoping to make better use of the lasers and woodshop in the future
Jack of all trades, master of none. I enjoy printmaking and brought the tabletop letterpress [[1]] into the space! (I'm happy to train anyone on it - just e-mail me or @ me on Slack.) Who knows what I'll get into over time. I've also done some mosaic art, and just bought a sewing machine. As an engineer, I'm also interested in programming, sensors, fabrication/prototyping, materials science...
I created both a business and personal income tax class for i3, which is sort of personal.
For the last several months I've been focusing on lots of vintage electronics, bringing old computers and the like back to life (brought that to makerfaire last year). I'm also involved with making the new wood cnc useful because I have some projects at home that could benefit from woodworking. Sometimes I ended up using the machine shop for work stuff because the stuff we had at work is a joke in comparison.
I make board game prototypes for my publisher. I host meetings for other nonprofits that I help to run, such as Penguicon.
I do 3d printing stuff and make a lot of ill advised large cosplay armor sets and props. Also learning electronics design and how to properly solder.
They tend to be multi-year projects. Dollhouse and miniatures, costumes with fabric. I've also started to learn drawing and video creation, which support the documentation of my sewing work.
Currently have a 1965 Chevy Corvair Corsa in about 200.5 different pieces, and as usual project creep is setting in. Why not convert to fuel injection with a custom made speeduino-derived controller and while I'm at it twin turbocharge it. There are also some house projects needed such as re-tiling an entryway and landscaping.
What appointments have you held/do you hold now at i3? (previous board, officers, zone coordinators, committee chairs, etc)
You can see history of being on the board, zozo, or officer on each person's wiki userpage.
I'm currently with the bylaws SIG, and I was pretty involved in the expansion committee back when there was stuff to do besides talk to architects.
I am just wrapping up my second board term. According to my Wiki page I've been the VP of Onboarding for 4 terms (!!!) which is crazy. I've also served on the occasional committee and represented i3 at several events.
I've been nominated for the board several times, but this is the first time I've accepted. I've been on the boards of other non-profit organizations (professional/technical societies, and the concert choir in which I sang before COVID) and can bring those experiences to bear.
I was treasurer for a year and a half, and as treasurer I started the Fundraising Committee and was one of the first co-chairs. I've also served on the Bylaws Committee, CRM Committee, Expansion Committee, Covid Limited Use Committee, and the regular Covid Committee. I also helped organize Maker Faire for two years. And I've now served one year on the Board. I'm trying to get better about targeting where I spend my energy, though.
Treasurer from Jan 2014 through elections of that year.

Infrastructure zone coordinator since the position was created.

Tool Crib zone coordinator for 2016-2019.

Machine Shop zone coordinator for the past year.

Board member for 2014-2017.

I've been a Board Director multiple times in the past. I have been Laser Zone Coordinator, Classroom Zone Coordinator, and Member Advocate, a role I originally suggested and championed. I'm currently one of the Virtual Reality Zone Coordinators.
None of the above.
I've been on the board for several terms, 2019-2020 is the most recent. I am craft room co-coordinator which is to say I take care of the "sewing dept" and champion of future sewing zone.
Was the motorsports lead until I bought a house and started doing renovations
What projects have you worked on to improve i3?
I'm one of the maintainers of the space automation systems, as well as a wiki maintainer. Also expansion stuff.
Various things over the years. I've taught classes at various times and done demos during Maker Faire. I was involved in the successful MEDC fundraising campaign, have provided input on the COVID guidelines, and am still working to resolve i3's current expansion challenges. I am running for the board because I believe it will be easier to make a difference in these areas as an official representative of i3.
Created our current accounting system. Spearheaded the MEDC campaign where we raised $50,000 and got a matching grant for $50,000. Still hoping to better integrate the CRM and related systems into the accounting system and also improve our Bylaws and Standing Rules so that we have clear and consistent policies that make it easier for future leadership to maintain our organization.
I've been involved in the expansion, ripping down old piping, wiring, and stringing some new stuff. Getting the new half of the building set up for our IoT system. I finally finished replacing all incandescent and fluorescent lights with LEDs so maintenance of those is a thing of the past. Infrastructure is literally one of my titles around here.
I spearheaded and ran the fundraiser which originally purchased our two GK Weike lasers. Last year, I ran the fundraiser for the Oculus Quest.
I have also fielded emails to our contact-at address for years. Most of them are from people who don't understand what we are; they only know what they're used to. So they assume we are a business with employees and they can be our customer. My job is to be friendly and helpful, explaining our way of doing things in the hopes that it will be welcoming and attractive to them. Instead of bouncing them off like a "shield", we sort of "funnel" them into becoming one of us. This is culture building work. This an important part of preserving the distinctives that we love about i3.
I've been helping out with the 3d printers in the Fab Lab, and random tasks around the space as needed.
I clean, when I can. I added pads and tablets to the toilets/urinal to try to keep them cleaner longer. I made soap for the bathrooms as a fun thing I like to do... and I try to keep the classroom the clean space of the space, giving it a deep clean with Glen's floor machine occasionally. I support i3's presence online, such as with the Facebook page, as an admin. I'm starting an expansion series to tell the story of our evolution, for video on our YouTube channel.
Oof this'll be interesting. I helped rebuild car 3 and build 2 battery packs for car 13. I did organize the scrap metal in the welding area and have cleaned up the metal shop. Also serviced the sand blasting cabinet some.
What qualities do you look for in a fellow board member?
Focus on the long-term sustainability of the organization. Ability to listen and consider multiple points of view. In challenging situations, the ability to de-escalate conflict and focus on the problem at hand.
Board members should, of course, be prepared to not be universally liked and should not try to be. The board is elected to make decisions that keep the space useful to the membership and that's not always popular with everyone. That being said, I would look for a vision of the future and an open mind to tackle problems that we may face without being weighed down by the past. A willingness weigh all the options and make the tough decisions. The ability to not get emotionally involved with situations handled by the board (or the willingness to recuse yourself if you do). To see the decisions through to fruition and, especially, ask for help if it is needed.
Working out decisions in emails to be prepared in advance of meetings. Assertiveness. Willingness to have one-on-one phone or chat conversations with each Board director one at a time, giving them uninterrupted attention, rather than a debate in a muddle of voices in a meeting.
Conciseness, ability to make a judgement or decision as needed, willingness to listen to other members and make decisions based on input and experience.
Commitment, ability to listen, communication, ask questions, ask for help and learn, make an effort.
Trust and honesty
What qualities do you have to be a board member?
I work well with others, and try to be levelheaded & calm.
I make decisions based on facts, and I'm always willing to learn.
I care deeply about the organization and am already up to speed on some of the current issues.
After two terms I feel like I have a good handle on how the board operates, have a
I've also put together a good idea of where we are on our larger initiatives requiring focused effort across several board terms
A lot of experience on non-profit boards (fundraising, public relations)
My professional career is as an environmental engineer serving the real estate industry. I can help interpret the info from the architect and code officials and figure out our options for the expansion. (I'm already working on this and plan to continue whether or not I'm on the board.)
I am also knowledgeable about safety and environmental regulations (including COVID plans, waste disposal, and other things that may arise).
Having been an involved member for over a decade, I have a long-term perspective on i3Detroit and an appreciation for its unique culture
I have a background in legal and financial compliance. I've been using my knowledge for the benefit of i3 for the last couple years. I'd like to continue doing so.
I can recognize when things need a decision made and make that decision. Anyone who's been a member at i3 can probably think of a thing that needs changing but they don't want to bring it up at a meeting, or they don't want to write a proposal. Maybe there's a person who continues to break the rules and other people have been covering for them or there's a rule that is just ignored most of the time because it's not actually solving anything. I want to help get our bylaws and standing rules into a condition where any prospective member can read them and understand how i3 actually works. I can also get a majority of people to understand the problem at hand and cooperate to come up with a solution. It is important to know that virtually nothing requires unanimity and we shouldn't let the status quo be terrible because one person isn't quite convinced about this particular plan. Deliberate, Vote, act on the majority, what's next.
Forward motion. I never call a halt to a process unless I also propose the next step toward overcoming the holdup. I try to add a time to my requests, such as "Please respond by one week from today." Wrapping up a discussion could be as simple as getting the majority of the Board on record saying that the Board will not take action on the discussion. It's not that we need to rush to the conclusion; we just need to focus on the next step, and ask for it within a specific timeframe. The Board is where most volunteer organizations stall most often. You need someone who keeps it moving.
I've been on numerous team projects, can take charge and provide direction if the team doesn't seem to want to go anywhere, but am able to stop and be a good listener.
I have a lot of long term projects/things in my life that have trained me well in patience. I am patient. I think things through. I like details. I spend a lot of time listening. Originally, I was going to be a journalist. They listen, they gather data, they try to present a full story. So some of that has stuck with me. Granted, we're talking pre-internet here! I'm not old? Maybe just a time-traveler.
I've done a lot of conflict resolution both in family and among friends, which usually requires being personable enough and listening in order to understand why they feel the way that they do which in turn makes a compromise possible without emotions flying out of control. I also have enough understanding of most electrical and mechanical contrivances, and enough humility to understand limits, to be able to judge space contributions.
Why are you interested in being a board member?
I know how to do it and I'm worried a lot of the current board members are burning out.
The expansion stuff is going to continue to be annoying to deal with, on top of all the other excitement we have these days.
Many of the projects that began during my board tenure are too large to be completed in one term. I would like the opportunity to continue pushing them forward and hopefully get them accross the finish line.
There are also a few large endeavors I would like to get rolling which were eclipsed by all the activity during the most recent board term
I've always felt that board service was best done by those who were present in the space on a daily basis, who knew everyone's face and what might be going wrong with any given piece of equipment. That's still important, but we're in a whole new world right now between the expansion and COVID. Based on my experience, I think I'm well suited to navigate that. My goals are to complete the expansion, communicate better with our members instead of relying on them to stay in the loop, figure out how to inclusively welcome new members and guests even while the space is not fully open, and build more awareness of i3Detroit in the broader community so that we can continue to grow - all without changing any of the things that have made the space successful to date.
Going to be very honest here. I want to finish what I've been working on for the past two years, but if elected, I am going to lobby very hard to take one of the one year slots and hopefully let someone else who hasn't served before take over from me in a year. This can be a hard job, and I think taking breaks is healthy.
I know the past year has been hard on our current board members and things have been very draining. I think I could help share the load of dealing with operating i3 in this new situation we find ourselves in.
i3Detroit gives me a venue to do work that is meaningful, creative, fulfilling, engaging, which directly benefits me and the people around me. When I'm working with you there, I can rest assured the only reason you are there working with me, is that you want to be there.
I'd like to help share the load of being on the board.
I want to strengthen the metalworking and automotive repair capabilities of the space. This includes organization of tools, identification and replacement of missing pieces of sets of tools (such as drill bits, sockets, spanners, etc.), and cleaning/servicing/repair of the makerspaces' machines. So I guess I'm a machine advocate?
I enjoy serving and have been honored to be chosen in the past, and to be considered currently, and take seriously the role of board member in making decisions for i3.
What is the biggest issue at i3 that you hope to address in the next year, whether you serve on the board or not?
Rewrite the Bylaws and Standing Rules to be easy to understand and follow instead of unreadable and inconsistent with how we actually run.
I think the biggest issue facing the organization today is the uncertainty around the expansion. Many factors have gotten in the way but I would like to see us get a clearer idea what will actually be required if we want to use the other half of the building. We need to decide if we need to change our layout plans or possibly walk away from taking over the other half of the building entirely if it comes to it
Biggest? Making progress on the expansion. The code and legal issues are complicated, and I don't want to get into them here, but I'm happy to answer questions if anyone would like.
Finish the expansion. Get our legal and financial framework to a point where they can be maintained by new people. Rewrite the Bylaws. Make our policies fair, clear, consistent, and easier to follow, while still keeping us safe. Improve our diversity by reaching out to more diverse communities.
Start to utilize the remaining half of the building we've been paying for. Either by operating smaller things over there so we have minimal more hoops to jump through or, ideally, complete the expansion plan that was voted on.
Finish the expansion. See what I wrote above about forward motion.
Expansion is the main topic, but also keep the space running and figure out how to continue being excellent during the ongoing pandemic.
I'm planning to continue to help fundraising. In the traditional way, such as with grants if I discover any to suggest, and also through social media content creation. It's an idea I'm developing slowly, because if done for the wrong reasons, it looks insincere. Also, I'd like to encourage improvements in communication. One tweak to current practice is to summarize all channels where discussion occurs (except for confidential ones of course) such as Leadership. There is some crossover there that could benefit from a summary at the monthly meeting.
Makerspaces attract a lot of eccentrics, which have caused issues. I want this place to feel welcoming for everyone, with the tools identifiable, maintained, and available so that people feel empowered to make things.
What are your long-term (5+ years) goals for i3?
I want to have rules that are simple and clear, not just in what you cannot do but written so it's clear that any individual can mostly just go and make things better.
I want to have enough space that people can work on large projects.
I want to have a community knows itself better, there are people I still don't know who I'm sure are doing cool things that I haven't seen.
In 5-10 years I want i3 to have it's own building owned by the organization whether we acquire financing or get a generous deal from some city
I would also like to see us better integrated with our community with a wider range of regularly scheduled public classes
Finally, I hope to have better lines of communication with our government at all levels. This will both prevent some of our covid compliance stresses from repeating and allows us to leverage our resources to help in future emergencies
An expanded or new space that is suitable for the membership size and any new zones we want to establish
Better known around metro Detroit, more public engagement, stronger community partnerships/fundraising
Engaged membership, less leadership burnout
Financial security (increased emergency fund, fundraising capacity, owning own building outright, etc.)
I want to financially position us so that we will be able to secure a mortgage or be in a much better bargaining position the next time we have to negotiate a lease. A side of effect of this will be better documentation for our own purposes, as well.
In 5 years I would like to see us moving toward owning our own building at least as big as we are now to have more space for more diverse zones. Partnership with the community, specifically our local government and big businesses that we can leverage to ease the burden on our members. I would like the positions of responsibility to all be held by motivated and active members with little to no overlap. I would like to see us do more things that add capability to the space that benefit the surrounding community.
Reinvigorating the office of Member Advocate. I would start back up the quarterly reminders to our membership that we have mediators to address conflict. I would make sure that the next time someone starts a flame war on Slack, a Member Advocate steps in and begins mediation between the parties involved, instead of letting them demotivate the whole community.
I want us to still be here and still be the great place I joined, and have better machines so that we can avoid all the maintenance issues of the current machines.
I'd like to see i3 settle into its expansion and develop the new zones and expand the ones that need space. Down the road, if it's financially feasible, I'd like i3 to have its own building. I also think it can transcend the physical space and reach more people through content creation. The same sort of skill sharing we do with each other, we can do in the community beyond our borders.
A lot can happen in 5 years. So have the expansion built out, with defined areas so that activities which generate lots of dirt/debris are contained and localized. Have COO which allows automotive work, all within the laws and regulation of Ferndale. Have the machines cleaned, serviced, and repaired so that they are ready for most any task. Have all the tools organized in their zones so they are easy to find. May be a bit ambitious, but have monitors on all the machines so that after they are used, they calculate a recommended donation according to how much they are used, not to mention allowing only people who have been trained with machines which require training.
What makes i3 great? Why did you join/why do you keep coming back?
To be honest, I joined for the tools. But when I started spending time hanging around the space I found that the community is tremendously interesting. The breadth and depth of knowledge on any topic we can bring to bear is incredible. I keep coming back to see what other people are working on and see what unusual conversations I can get pulled into!
People and projects! I used to say that every time I walked into the space, I'd see or learn something fun or amazing. (Still true, just now it mostly happens on Slack.)
The diversity (although it could be better!). Just the sheer range of people with skills and knowledge to offer. It's amazing! The tools are nice, but it's the people that make i3 great.
What makes i3Detroit great is the diversity of membership. Sure you get differing points of view that may be contentious, but you get so many cross-disciplinary ideas and projects that allow people out of their comfort zones. I joined because thanks to everyone here I can learn whatever skills I need in almost any subject simply by finding the person who's passionate about it and letting them know I am too. Similarly I take great benefit from teaching other members things they are interested in that I happen to know.
We don't have a "customer/business" relationship, where the customer says "I paid for my experience-- now provide it for me" and the business employees can't wait to clock out on Friday. We're a community of passionate participants with a shared personal stake.
I'm here for the community and the diverse set of people who inspire me and help me figure out what I'm doing in life.
The fact that you can come here and use tools you don't have at home, and/or learn to use those tools, and create things that otherwise would be out of reach. I joined originally because the Halloween party was great and David was disappearing for hours here and I wanted to check it out. I stayed, and before the pandemic, I was sewing 4 days a week in the space because I came to enjoy the community so much. I'm working from home now because I have machines, but when it's safe to return, I'll be back sewing in the space regularly once again.
Similar answer to earlier. But, having access to machines for projects and a community to help when you feel stuck.
What isn't i3 for?
People who aren't curious, and people who aren't responsible for their own and other's safety.
We aren't a job shop. We're where you go when you want to learn to fish rather than be given one.
We are not a gym, if you want to use tools you should be willing to help maintain/repair them, that's what keeps the place humming
People who don't want to be part of a community. That includes respect for tools and helping to maintain them, respect for people and willingness to share your knowledge with them.
i3 isn't a job shop, although I have gotten a contract job and two full-time jobs just by hanging around here. i3 isn't a place where seniority trumps sense, experience is always useful but this is one of those places where age isn't a factor in intelligence. i3 is the place where you do things yourself, if all you have is suggestions for how someone else should do something don't be surprised when they do it their way.
We are not employees, who are obligated to provide services to customers in exchange for money. (Businesses can do things with i3 resources, on their own, but i3 is a 501c(3) nonprofit.) That means if you feel entitled for us to hold your hand every time you should look it up on the wiki, this place is not for you. As a Board member, I will work to ensure that our onboarding process will frustrate your unearned feelings of entitlement to our unpaid labor. Those who are unwilling to DIY at least a little bit, are not part of a DIY space.
People who want us to be Tech-Shop aka "I'll give you money and you'll give me an item" job shop mentality.
i3 is not a good fit for people who expect to be served, or who see it as a place to drop a job off to be made, or look up the tool list and ask to rent a tool.
Good question, but it's not for people who are unwilling to put in the work to build something. Also not a place to find romantic relationships.
What will you do if the board or members pass a decision you disagree with? Will you enforce it?
I hope that we are able to work together to minimize instances where a motion is passed while some members are resolutely against it. But if disagreement is unavoidable I would abide by the rule as passed and try to find ways for more fruitful compromise in the future
I think it's valuable to aim for consensus. I realize it's not always possible, and would follow the board's decision if outvoted. If I could not -- for instance, in the unlikely case of the decision being morally repugnant -- I would resign.
I will either enforce the will of the majority, or, if I believe the decision to be too unethical to enforce, I will resign my position on the board.
If a decision has already been passed then my time for discussion of the subject is over and it is important to adhere to the will of the membership. If it turns out I was right then there will probably be a backlash anyway and I can get behind the repeal of an unjust policy (but if I'm consistently the outlier, maybe there isn't a problem).
This is unlikely to ever happen, but if I'm not going to enforce something set down by the Board, I would say so during the deliberations about whether to pass the motion. I won't spring it as a surprise when the time comes to enforce it. If I don't want to enforce something which is the express will of the overall membership, I may either abstain, or step down. The group has the right to govern itself the way that it wishes. Participating in a group means accepting that.
Yes. I'll do my part to make sure the decision is the correct decision, and will uphold it even if I do not personally agree with it. If the decision is unethical for me to enforce or I believe it goes against the will of the membership, I will resign.
I accept that if a vote isn't required to be unanimous, others may have a different viewpoint than mine and arrive at a decision that differs from mine. If it's the majority and that wins, then that's the one we go with.
I'll voice my concerns, but if it passes I'll uphold it like any other decision.
What changes do you feel need to be made in i3 policy?
I think the points made by Mtfurlan about the opacity of our rules documents are valid and I would support any efforts to make them easier to understand whether that involves completely rewriting them or adding a plain-english translation making them easier to understand
I would also like to see a more standardized process for documenting training, usage and maintenance procedures for our tools
Other than keeping the ever-evolving COVID rules up to date and as permissive as is safe, I don't have specific changes in mind.
Policies do need a periodic review. I try to ask "why" the policy is in place, to make sure it aligns with the kind of community we want to be.
I agree that simplification would help a great deal. The complexity makes the space unfriendly to newcomers.
I would like to see better documentation that allows us to be more consistent and transparent. In addition I'd like to see us continue to refine our processes to make them easier to follow to make it easier for people to do the right thing and to have their voices be heard.
Anyone who's been a member at i3 can probably think of a thing that needs changing but they don't want to bring it up at a meeting, or they don't want to write a proposal. Maybe there's a person who continues to break the rules and other people have been covering for them or there's a rule that is just ignored most of the time because it's not actually solving anything. I want to help get our bylaws and standing rules into a condition where any prospective member can read them and understand how i3 actually works.
As mentioned above, I want the rules to match reality. Saying we do something and not doing it helps nobody.
More formal machine authorization, but without making it cumbersome.
Contradictions and inconsistencies among Standing Rules and Bylaws.
It is my experience that our consensus model works best if all people in the decision making group gives feedback in a timely manner. Otherwise, we are left hanging for significant periods waiting to hear if everyone is just silently agreeing or actually hasn't responded yet. Can you commit to responding to direct questions in a reasonable (48-72 hour) time frame?
Yes.
Yes.
Yes.
Yes
Yup
Links to Nominee Stump speeches