Minutes:Meeting Minutes 20170502
Agenda for 05-02-2017
Chair: Charlie Rysenga
Introductions
What's your name, what do you make, and what's your nemesis?
Experienced Members
Nate B likes to make electronics and procedures and making things work. His nemesis is lipids.
Dana likes lasercutting and organizing things. Her nemesis is anyone who thinks John Snow is Azor Ahai
New Members & Guests
Andy is in phase two of onboariding. He likes to make microcontrollers, programs, and woodworking. His nemesis is misspelled words.
Alex is an automotive engineer. He likes microcontrollers and robotics, and his nemeiss is Time.
Tony likes to make guitar pedals and instruments. His nemesis is inaudible
inaudible
(Secretary's note: Secretary's nemeses are low-mid frequency tool noise and the softspoken)
Jim is visiting from Hive13 in Cincinatti. He's a mechanical engineer who's in town for the week. He's done powertool dragracing at Detroit Maker Faire for a few years. His nemesis is the mundane.
Coy is visiting with Jim. His nemesis is websites with useless knowledge.
Show and Tell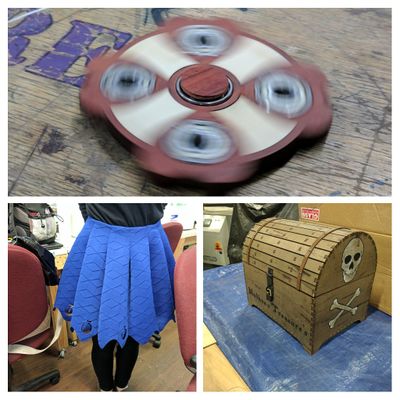 Jan H has a lasercut skirt with lasercut i3 logos cut out of it. It's a really cool wavy design!
Dana and Jess made neat lasercut penguin shaped gaming table signs for Penguion.
Steve has made a couple neat things. The first is a spinner widget for idle hands to play with. The second is a set of wooden treasure chests that look super pirate-y and awesome.
Matt A would like to plug a book he's been reading related to volunteer/unpaid work and how we can go from an economy that uses money to something like in Star Trek. The book is Walkaway by Cory Doctorow.
New Business
Mural
POC: Jamie B/Tom K
The board approved a mural for the front of the building to be designed by Anthony Lee and have allocated $500 for materials
More details to come, but membership input is welcome/encouraged/demanded and the final design will be approved by a membership vote
Question: how much would the extra surface area affect the cost?
Mike: It's about double the surface area
Dana: What's stopping us from doing just the door now and expanding the mural later?
Mike: The artist's design is sounds like it would be really expandable. The bay door would be like a dragon robot mech in a hangar, so stuff could be added around it later.
Charlie: Straw poll: Mural just for the bay door or mural for the whole front of the building?

10 for door only, 0 for whole, 2 against a mural in general
Expansion
POC: Charlie / Board
i3 has been extended the opportunity to take over ste. B of our building in approximately August.
Doing so will approximately double our rent for an additional 5,400 sqft.
This will mean that we would have to claw back basically all zone/discretionary funding for this year.
Zone spending would resume as we gain more members or explore other funding opportunities.
Straw poll: Expand?

15 in favor of expanding, a couple (?) against
Discussion:
Nate thinks that membership community ties are breaking as we grow larger, and expanding to more members in a larger space will change the nature of the community. There are a lot neat of things we could do with more space like adding a fire wall so we could do auto work, but he thought membership should have been capped at around 100 members to keep a stronger sense of community.
Nick agrees with Nate. It sounds like it could be a great idea but there are a lot of risks to consider.
Dana: Likes the idea of rentable spaces if we had more space. She thinks we could be doing more now to strengthen our community. She shares Nate's concerns but thinks we can overcome them.
Matt A used to share similar concerns about having too many members, but he thinks we have come together to manage a lot of challenges an thinks this is something we can do.
Steve N: Has there been any talk of increasing member dues?
Charlie: A small increase in dues with 150 members would noticably impact revenue
Mike: The whole topic just came up very recently, so there hasn not been much discussion yet
David thinks it's time to ask members how they would feel about increasing dues by $5, $10, or $20 and whether they'd stay on.
Jan wants to make sure we're not priced too high compared to other options, but thinks we have a lot of value.
Steve N: What other zones could we add if we got that space?
Someone: The discussion hasn't had time to get that far yet
Charlie wants to put this up for a vote at the board meeting next week.
Mike points out that gives us a week to get the whole memberships opinion.
Charlie says it could be pushed off a month or it could be a special meeting to vote.
Henry Ford Membership
i3 Membership for The Henry Ford. Up to six people can visit the museum or Greenfield Village for free. Contact James O'Dell or Charlie Rysenga for the pass. Please take advantage of the membership and return with pictures.
The six don't all need to be i3 members.
Maker Faire Planning
POC: Dana
A preliminary planning meeting will be this Friday, May 5 from 7-10 pm. Maybe bring tequila!
IEEE IOT Meeting
Nate B: At the upcoming IEEE meeting, a table has been offered to i3 to present projects. So far he and Roger are going and are looking for some less electronics-heavy projects that could be shown off.
Third Tuesday Community Meeting
The theme is connectivity
There will be a HTC Vive Virtual Reality Demo to play wth
Show and Tell Wednesday Meetup
Nick is running a bi-weekly show and tell event wednesdays in place of the javascript meetup. Things could be technological, but they don't have to.
Proposals
Re-title CCTV Policy Section of Standing Rules
Given that i3's Security Cameras are now networked IP cameras utilizing i3's local server and network, the label "CCTV" is no longer correct. To correct this, I propose that we change the title of the Standing Rules Section 12 from "CCTV Policy" to "Security Camera Policy" and replace all instances of "CCTV" and "CCTV system" with "security camera system" in the section.
Proposal:
Change the title of the
Standing Rules Section 12
from "CCTV Policy" to "Security Camera Policy" and replace all instances of "CCTV" and "CCTV system" with "security camera system" in the section.
Moved by
Mike F,
Seconded by
David H
14 Ayes / 0 Nays
Result:
PASS
Zone updates
Commons Area
Looking for donation of a new (to us) bookcase that is more sturdy and a bit taller than the one next to the Fab-Lab door.
The current one is pretty flimsy and about 30 inches tall.
Compute Zone
Large format printer is running. Print great posters. Contact James O'Dell if you need assistance.
Craft Room
Sewing Dept:
USB for embroidery is still missing and to clarify what this means, is the machine can do the files it has in its system and whatever files you purchase online in the supported file format but it cannot do custom work. That needed the software. So while the machine has the capability, it is not currently equipped for it. I'd ask for anyone giving tours to be aware and not promise people what is not currently available and I've labeled the machine with that information. New software with the abilities we need would run approx $600 or so, and when the time comes we may do some crowdfunding to finance it.
A class list has been posted on the craft room door next to the mirror. Be on the lookout for these coming to a schedule near you.
Electronics Lab
Nate thanks everyone for doing all the cleaning during and since potlock. It's made it much easier to tackle reorganization when there aren't dust and crud monsters in the way.
Fab Lab
Long time no see!

I am largely done with project work at work and should be way more available than I have been thus far this year

Moving

all equipment has been moved into the new space
shelves need to be built for the west wall to house supplies and the ultrasonic cleaner
vent system needs to be swung over from the old lab, and the hole in the ceiling patched
cooling system needs to be built or purchased for lasers
Rostock MAX bed needs the full leveling operation performed
local terminals need to be completed

finish raspberry pi thin client image

get other VMs accessible via rdp
make shortcuts to same
USB forwarding?

flash second pi with image
mount pis to monitor mounts and get cabling squared away
mount remaining monitor

door trim
mount paper towel dispenser on wall somewhere out of the way
mount cash box on wall somewhere out of the way
mount tools flat on wall
build shelf for connection oven over west laser
complete vent system

duct work to lasers and oven
sonoff on ceiling to control fan
manual switch in lab
Infrastructure
No significant changes, some network jacks have been punched down better
Jewelry Zone
Kiln Zone
Intro to Fused Glass class has been scheduled for the evening of May 10th at 6:30 p.m. Email will go out to members tomorrow.
Intro to Stained Glass (foil method) is being scheduled for May or June.
Individual orientations to the zone can be scheduled through LeoraCreates@gmail.com
Laser Zone
Replacement laser tube arrived late last week, seems to work well. Shipping was cheaper and they didn't break it this time! Yay!
The issue with Bumblebee still persists and couldn't be tested/fixed without a working tube, so we're now back at work trying to solve the issue.
The laser reservation information is now fully documented on the wiki.
Mike also thanks everyone who's been cleaning and tidying up the clutter and tools in the zone. It's much appreciated and has not gone not-unnoticed.
Leather Loft
The loft has been lit with nice new little lights.
All the leather tools are up there
We have new dye and daubers so dye all your leather!
It's all coming together pretty quickly with some great new donations.
Media Lab
Ready to move into new space. Will be building two Media computers for zone during May. Could use help figuring out parts and assembly.
Tool Crib
New tool wall is up and ~85% populated, 0% labeled
Remaining tools to hang are mostly sockets and wrenches which will go up once we have a complete set of something
We will be looking at getting more carts for the space in general to facilitate bringing tools to projects rather than projects to tools
The remaining stock will be going up slowly and getting labeled as it does
If you want to help hang some of the remaining tools please contact the coordinator for direction
SIGs
i3 DetroitSat
DetroitSat is ramping up for MakerFaire and should have some neat reaction wheels and sensors to show off pretty soon.
Sewing
The next sewing night is May 10.
COWBELL
Broom Party
Lost & Found Party
Meeting Metrics
Time completed: 8:23 pm
Attendees: 20
Action Item Summary
No action items.
Proposal Summary
| Proposal | Moved By | Seconded By | Aye | Nay | Result |
| --- | --- | --- | --- | --- | --- |
| Change the title of the Standing Rules Section 12 from "CCTV Policy" to "Security Camera Policy" and replace all instances of "CCTV" and "CCTV system" with "security camera system" in the section. | Mike F | David H | 14 | 0 | PASS |
Attendance
Charlie R
Mike F
Nick A
Matt A
Alec B
Nate B
Kevin F
Mark F
Matt G
David H
Jan H
Dana N
Steve N
James O
Dave S
Tony S
Coy P
Jim d
Tony L
Chris B
Vivian S