Minutes:Meeting Minutes 20190604
Agenda for 06-04-2019
Chair: Vivian
Introductions
Introduction of i3Detroit
i3 is a MakerSpace...
Ross: <sarcasm>What's that?</sarcasm>
Nate: A place where smart-asses gather.
Vivian gives a much more thoughtful description that the secretary has failed to fully capture here.
Experienced Members
Greg has been out sick for a while, and he and Dave are here for their last meeting as Wood Shop coordinators. It's been a good 7 or 8 years.
Art is one of our member advocates, see him or message him (@ArtsAndCrash) if you have any problems
New Members & Guests
Mike Bereczky has a background in mechanical engineering, heavy on the design side. He offers CAD help to Jody for the Welding Zone
Joe grew up in Ypsi/Ann Arbor and is back in the area. He was looking at putting together a wood shop and then found i3.
Drake is visiting, he does a lot of work on jewelry, does a lot of wire work and has done casting.
Katie is Josh's regular guest, and she's helping make tutus.
Show and Tell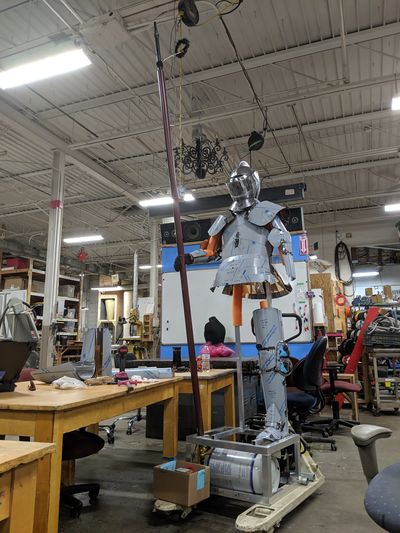 David: Knights, flame effects and magic mirrors are finally coming together.

David is wearing part of one of the suits of armor. It is heavy. It still has the protective coating on it so it's not as shiny as its going to be.
The mirrors are 7 feet tall, and have LCDs and speakers built in.
New Business
Upcoming Events
Maker Faire!!!!!
Maker Faire is nearly upon us. We need projects, lots of projects. Small ones, big ones, middle ones. And volunteers for setup, tear down, working the tent, and working the party.
There will be forms to fill out for volunteers and if you want to show off a project in our tent.
Signup link to volunteer: https://tinyurl.com/y567bf9k
Regular Events
Wednesday, June 5

7-10PM: i3 Detroit Sewing Semi-monthly Sew-up
Thursday, June 6

7-10PM: Tabletop Gaming Night
Friday, June 7

6-9PM: Friday Night Tours
7-9PM: Open Craft Room
Saturday, June 8

2-5PM: Introduction to Business Tax Returns Class
Sunday, June 9

2-5PM: i3 Motorsports
Tuesday, June 11

7:30PM: June Board Meeting
Thursday, June 13

8-9AM: Lazy Business Networking
Friday, June 14

6-9PM: Friday Night Tours
7-10PM: Open Craft Room
Saturday, June 15

1-4PM: Detroit Autonomous Vehicle Group Meetup
1-4PM: Eastern Michigan Python Users' Group Meetup
Sunday, June 16

2-5PM: i3 Motorsports
Tuesday, June 18

6:30PM: Maker Faire Meeting
7:30PM: June Third Tuesday Members Meeting
Zone updates
CNC Zone is getting a lot of use! We are going to be moving to the west side with the new floor plan. I'm a bit nervous about it but I support the move and feel confident we can overcome any issues resulting from the move. Thad Johnson CNC Zone Coordinator.
There's a new power supply in the lab, which will replace one of the really old ones.
Nate thanks everyone who works in the zone and keeps it clean and better than they found it.
From Lego:
Red and Purple PLA purchased on request by whiteboard
Please just tell me directly rather than making a list on the board; much more direct and faster!
Also we have flexible filaments, both TPE and TPU, and they work fine! THere are octopodes in the lab as samples
I still fail at getting together a train-the-trainer class for the Form2. Death in the family and all. WHenisgood maybe tonight
Name boards on all the printers! Please use them. Random unidentified prints found on the beds will no longer be taped to the wall; we will be discarding them postwith.
Whose spool of filament is that on the shelf next to the H2? If it is a donation, please to be telling the ZC (me!). If it is personal, label and/or take home.
Expect to be doing a fair amount of molding this summer and am continuing to work with member Jim Kemp to bring his robotic tank project to life.
Bumblebee's x-axis linear bearing has been getting worse and has started seizing up. Parts are in the mail to replace it.
Please don't leave a mess when you're done, and don't drill into the table tops. Please be mindful of your fellow humans.
Looking forward to moving, it's time to get serious about carts and tables.
I would appreciate some help drawing up plans for the following:

Long-stock cutting table

(for the Miter Saw, including sound abatement enclosure)

Shear Stump

(to permanently mount the throatless shear, to include extendable minimal stock support and catch bin)

Welding Booths

(freestanding or tabletop, with downdraft grating)

Other standard drawings

Weld curtains, shop carts, vaccuum carts, etc)

Cotact Jody on slack or email Welding@i3detroit.org if you have any CAD ability or thoughts on how such things should be designed.
TLDR:

What tools would you like to see in the wood shop?
Thomas is looking for some "Tool Wardens" aka zone assistants focused on specific tools
Anyone want to teach classes? Interested in Lumber Milling Basics?
After hearing the musings, ideas and mutterings of more than a few members, There are tools we'd like to set as goals and capabilities of current tools we'd love to expand! Are you itching for the band saw to have a veneering blade? Would you like to be able to cut dados on a table saw? Maybe expand the offerings on the drum sander to higher grits? Maybe you want to learn to use a router planer or even a hand tool to level the rock in that finicky project you just can't sand out... Thomas Tusano "Wood" like to know what tools and capacities the members of i3 would like to see added to the i3 Detroit Woodshop! Discuss it in the Woodshop Slack Channel, or leave it on paper on the clipboard on the side of the Mitersaw.
TOOL WARDENS - Very Important!!

Woodshop will be updating the training covered in the Authorization Process, so as to increase the flexibility and functionality of the Woodshop. Doing this will also come with a need for more trainers and members to help with upkeep and the authorization process.
"Tool Wardens" will be members and Zone Assistants authorized to train on one or more tools/Machines, and be educated in the upkeep, and specifics of each, along with edge-cases and odd-circumstances. They will be encouraged to help members without detriment to themselves and asked to report briefly to either the ZoCo or membership when something is amiss with their specific tool/machine, and work with the ZoCo to fix issues, or do basic shop maintenance. (Honest Note and formality aside, this basically means when you come in checking the tool for anything amiss, making a quick note of wear on the tool, fixing what may be wrong when it might need to be maintained, responding to members on slack who need training or authorizations and shooting the ZoCo or other tool wardens a message when something is amiss, That's it, it just comes with a fancy sounding title)
If interested in becoming a trainer and/or Tool Warden and have a tool/machine you'd like to learn more about Wardening for, please reach out to Thomas Tusano by Slack, email or Phone as listed on his slack profile. A list is being made of interested members and he will be reaching out to contact interested parties this weekend.

As a second point to this, Woodshop would like to be more active in hosting classes on said Authorizations. All Current Authorizations will be honored and none will be removed for all members in good standing. If there are any members willing to teach classes, again please reach out to Thomas Tusano, same for any and all members needing authorizations, reach out in the Woodshop slack channel and a Whenisgood for group authorizations will be set up.
The Woodshop is also gauging interest on a Lumber Milling Basics Class, which will be a short live demo in which we Chainsaw mill a log into workable live-edge pieces to be seasoned or kilned depending on available facilities. Any members in attendance who would like to learn how the process is carried out are welcome to attend, with a donation of $5 a head being asked for the funding of the New Dust Collector and/or the Fundraising/Grant Campaign. Details still forthcoming on Date and Time for the class. More information on the class Coming Soon, Hopefully this Friday Evening.
Space Project Updates
Expansion
Based on the results of Floor Plan Proposals, we're working toward executing a new layout for the space. It's going to take some time and some work.
Mike accepted the task of being PoC on this.
Changes will roll out in phases, with a lot of warning and planning beforehand, to start once we have an appropriate CoO.
In the near term, we're working on making the dividing wall a fire block, which involves covering all of the windows in the wall with fire rated drywall and rockwool insulation.
There's also a lot of power washing and paint scraping to be done. Following that it'll get a fresh coat of paint.
If you want to help, there will be many work- nights/days. Stay tuned to the mailing list or #expansion on slack.
New car: Next steps are figure out how to mount an alternator and find steering parts.
Car 3: We have battery charger, need to find the EV charging socket that @abzman wired up and wire that all up and it *should* work, all it needs after that is an LED ring around the EV port to say charge status.

Nate: The goal with that is that in addition to being a ridiculously overpowered kids car, it's an electric vehicle, and we'd like to be able to charge it from standard EV chargers.
COWBELL
Meeting Metrics
Time completed: 8:01 pm
Attendees: 25
Action Item Summary
No action items.
Proposal Summary
No proposals.
Attendance
Mike F
Gary M
James O
Karianne G
Greg G
Andy L
Drake C
Arthur M
Alison B
Lewis D
Matt C
Joe G
Ross T
Michael B
Nate B
David H
Tony S
Joshua A
Greg S
Katie C
Dave S
Rufus T
Steve N
Jim B
Paul L