Raspberry Pi Model 4 B 4GB
Intro
This page is in the process of being edited. 2021-11-27
Classy the Raspberry Pi 4 Model B 4GB Classroom Computer and Media Center
The primary use of this computer system is to assist with demos, presentations, and lectures taking place in the classroom.
This classroom presentation / media center PC is a Raspberry Pi 4 Model B Single-board Computer connected to the back of the 4k TV mounted on the western wall in the Classroom Zone. It has 4 GB of RAM and 480GB of SSD storage (unlike most Pi's, which primarily use lower capacity SD cards).
This computer's name is Classy, as is classy is it's hostname.
A powered 4 port USB 3.0 hub is provided for users for connecting additional USB peripherals, commonly such devices as a flash thumb storage or portable hard drives.
Raspberry Pi Media's rich library of computing and DIY maker books and magazines have all been downloaded [all to date as of 2021-11-25] and is available in the student user's Bookshelf directory. (Select: Raspberry Menu (purple berry icon), choose "Help", then click on "Bookshelf".)
---
If you would like to help with mitigating the costs and for the acquisition of peripherals associated with this equipment, please consider donating funds via the Classroom Zone's PayPal link.
Rules
Keep It Classy, Be Excellent!
Be mindful that this system is primarily for classroom presentation use. Entertainment use: While someone else is hosting a scheduled class, or while the space is being used as someone's refuge from noise from the rest of the facility (i.e studying), or when folks participating in Craft Room activities of this shared space while not desiring distractions, would be rude and definitely Not Keeping It Classy!
Conserve energy and turn the computer off when not in use.
Classy the Classroom PC's home is in the classroom, specifically belongs at [TBA]. Please make sure Classy is always where they belong.
Avoid using the already fully allotted USB ports on the Raspberry Pi / Argon40 ONE M.2 case itself. Also the single USB-C port on the system is power only.
In regards to the main board's microSD card reader: Having a normally accessible card reader (for a Raspberry Pi SBC) is not the case with this unit, because of the Argon40 ONE M.2 enclosure requires taking apart and removing screws from the plastic base to access it. Unnecessary opening of this case is discouraged. Unless needing access for maintenance / repair of the computer itself, please use a USB based dongle SD card reader instead, when making disk images or general data access with SD cards.
Instructions
Access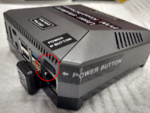 To Power Up the Raspberry Pi System:

You may need to use the TV remote to wake the screen. Click the red power button at the top of the remote. It takes about 12 seconds to wake, you should see a blue led light at the middle bottom of the bevel after turning on. Change the TV's input to HDMI #3, using the HDMI button near the bottom of the remote.
When the TV & Raspberry Pi is OFF... [xxx]
To power up the Raspberry Pi System when TV & Raspberry Pi is OFF. Simply press the black power switch, to ON. It will turn on the Raspberry Pi System and wake up the TV, in about 15 seconds.
Login:

User: student PW: KeepItClassy
General Use and Operations
Use the 4-port powered USB 3.0 hub to connect USB based peripherals (Data storage devices, game-pads, etc.). Each port has its own power switch, which lights up blue when activated. (View full image to the right to see an example.)
Support for exFAT has also been added for those with storage drives using this file system, common to Windows users.
When Not in Use
To Safely Shutdown the Raspberry Pi System:
Close all open applications.
Select: Raspberry Menu (purple berry icon), select: green "Logout" icon, choose "Shutdown", and the unit with turn itself off.
Maintenance Info
Installed Software
The basic desktop version was installed, rather than the version with all of the "recommended software", to discourage software bloat.
Preinstalled:
Chromium (Web browser), Geany (Text Editor), Thony (Python IDE), and VLC media player.
Added:
Some of the LibreOffice Suite (Calc, Impress, Writer), Pi-Safe (Backup solution), and RPi Imager (SDCard/disk image tool).
Included Resources:
Bookshelf has been fully populated with media [all to date as of 2021-11-25].
Non-standard Bash Tools and Packages:
Configuration Information
Argon40 Fan and Temperature Configuration...
Overclocked to 2.0Ghz. (This specific unit's CPU ended up not being stable at 2.147GHz. We didn't win the silicon lottery with this one, unfortunately.)
System Python Version: 3.9.2
Accessories / Parts List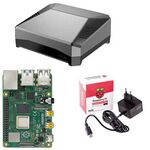 Wish List
Bluetooth enabled (not 'wireless', as in requiring use of a USB dongle) portable keyboard and mouse or portable keyboard with integrated track-pad.
---
Any questions about the Raspberry Pi System can be directed to [TBA/Classroom Zone Coordinator].
FAQ
What is the standard user's login info?
User: student PW: KeepItClassy

Default User pi has been disabled.
What is an elevated privilege user's login info?
This info is located under the GPIO cover of the Argon case and under the keyboard, PLEASE USE RESPONSIBLY. (If you break it using admin commands, then you should have the ability to fix it, otherwise please not use this option if you don't fully know what you are doing.)
Can I print anything from this computer?
What is the Operating System used on this device?
Raspberry Pi OS Version: 2021-10-30 64bit ARM with Desktop. Note, as of November 2021, we're using the 64bit version here rather the default 32bit one (which is still an uncommon distribution) and thus some standard software may not have been updated for use yet.
ToDo
2021-11-25
Install this computer, hopefully with some decent cable management. (And determine if its getting Velcro-ed to the back of the TV or living on the shelf.)
Connect to local network, using best practice methods. (Wired or Wireless?)
Set up to access local printers. (with at least one of the printers that can print basic 8.5" x 11" documents.)
Update instructions posted on the western wall. Don't forget newly acquired frame for it.
Update main page picture with the actual unit, not something downloaded from the internet.
Complete editing this wiki page and remove editing / revision warning at top of this page.