Minutes:Meeting Minutes 20191001
Agenda for 10-01-2019
Chair: Jamie Burdeski
Meeting called to order at 1930
Introductions
Introduction of i3Detroit
Presented by Melissa Gilchrist
Experienced Members
Jody Raiford - New treasurer
Arthur Mize - Return to activity and good health
Mike Fink - Board member and expansion Czar
New Members & Guests
John and Local artist and the Crosby family were both visiting the space.
Show and Tell
Kittens!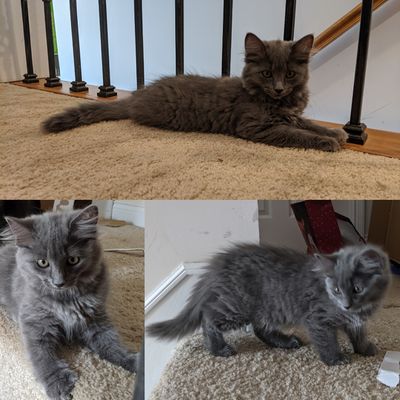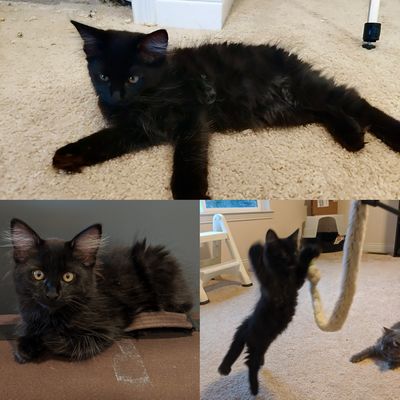 Mike and Jamie still have two kittens from Cricket's litter available for adoption. Cricket was found living behind the i3 dumpster in June and gave birth to 5 kittens July 16.
The kittens are 11 weeks old. They're indoor cats, in good health. Both are long hair. Exposure to other cats and dogs has been limited but generally cautious and positive.
Floofy Grey One is a little shy but warms up to people pretty quickly, and she's pretty playful.
Floofy Black One loves people and is comfortable enough to hop into laps. He has a ton of energy (see photo) and loves to play with dangling toys.
Old Business
New Business
Upcoming Events
Livestream Debrief - October 17th @ 6:30PM wherever tabletop gaming isn't

We survived our first(?) space-wide livestream! Now that we've realized our dream of actually living at the space, it's time to record the lessons learned so next time is even better! Bring your ideas, observations, and leftover snacks!
Google Docs link for conversation topics will be posted to the mailing list and slack channel later this week
Officer Appointments for 2019-2020
President: Jamie Burdeski
Vice-President: A'Lisa Krawciw
Treasurer: Jody Raiford
Secretary: Kevin Fanning
Vice-President of Activities and Classes: Paul Lee
Vice-President of Onboarding: Matt Carpenter
Membership Advocate: Arthur Mize, Alec Beardsley
Zone Coordinator Appointments for 2019-2020
Classroom: LU Cymry
Commons: Alec Beardsley
Craft Room: Kevin FLory/Jan Henry
ELab: Nate Bezanson
Fab Lab: Amelia Meyer
Infrastructure: Evan Allen
Injection Molding: Thad Johnson
Jewelry Zone: Ann Marie McFadden
Laser Zone: Mike Fink/Bryan Williams
Leather Loft: Karianne Gottschalk
Machine Shop: Evan Allen
Media Lab: Robert Burns/Matt Arnold
Tool Crib: Mark Furland
Vinyl Zone: Bryan Williams
Welding: Jody Raiford
Wood Shop: Thomas Tusano
Tabled:
Bike Zone
CNC
Kiln Zone
All Future zones
Making and Shipping Patronicity Rewards
We need to make the things and then ship them.
Folks who signed up to make things will need to get them in by Mid-October
Helpers for data entry, boxing, and shipping could be helpful
Point of contact for volunteers will be Jody Raiford
MEDC Fundraising Dues Allocation Amendment
We raised lots and lots of money during the livestream marathon, and if we applied all dues collected during the MEDC period to the campaign, it would put us well over $50,000. In order to keep funds available for operating expenses, it would be best to only use as much dues revenue as we need to receive the match.
The original wording was: "Apply dues paid during the campaign period to the MEDC campaign unless a member opts out."
Proposal:
Wording is proposed to be amedended to Apply dues paid during the campaign period to the MEDC campaign unless a member opts out. Dues collected during the MEDC campaign will go towards the campaign until we reach $50,000.
Moved by Arthur Mize ; Seconded by Bryan Williams
17 Ayes / 0 Nays
Result: PASS
Use of streaming for Member participation in Meetings
The use of various streaming formats and camera set up were generally discussed. Including concerns of privacy and quality. Futher disscussion will happen in #teleconfrence on slack.
Zone updates
Note that the tables can collapse if the hinges are not completely engaged in the lock position. Check before you set up your stuff as moving tables can cause it to unlock. Tap firmly on the hinge to ensure it's in. Also Murphy's Law makes it possible the table will go down if you don't check as usual. So save yourself a food/drink mess or damaged equipment and check it out, thanks!
Getting close to having a fix for the Haas to try that can be paid for out of our current zone balance and should end up being under $100. Jim Kemp has designed a circuit board to add on to the processor board to handle the RS232 communications. In a week or two we should have an answer as to how this fix works.
Currently the Haas is down and not usable.
For those who are interested in getting authorized, there is plenty you can do to prepare prior to pushing buttons on the Haas control. Read the training section on the CNC Training Wiki page and email me at cnc@i3detroit.org with questions. CNC Zone Cord. Thad
Craft/Sewing has received a generous donation of ribbon and other supplies. Ribbons and trims for sewing have been sorted and added to our stash. Suggested donations on the supplies will help us to purchase replacements in the future.
The rest was sorted into macrame/hammock cord bundles (lots of them!) and general crafts. There's even a 3D Schnauzer dog portrait. Anyone have a Schnauzer? These remaining materials are up for grabs in the graveyard.
We have been making new molds and running tryouts for Jim Kemp's patented "Smart Cap" battery water level tester.
Our small machine is perfect for what I call "Beyond 3D Printing". Jim's volume is past what he wants to 3D print and he also needs the injection molding to verify the design integrity during durability testing.
Jim is helping us to upgrade the controls on the small machine.
I will be having another class prior to the end of the year. Please contact me with any questions or private no charge consultations. Thad
What fasteners do you want?
Still haven't burned down. Considering adding walls of some description in the new location to ease fire marshal relations. Architectural know-it-all's welcome!
Taught a couple new folks to weld this week. Always interested in more teaching, just email Welding@i3detroit.org or head over to slack to set something up. Doesn't have to be a formal class, can just be a chill evening playing with fire and lightning.
Ptroz maked so many tables!
Woodshop wants to formally and publically thank Santana Scott, David Henry and all who tuned into the livestream to watch the general shenanigans, or helped with the build. We appreciate every last one of you, Especially Santana for organizing things.
A requisition order for more supplies is being put in this evening to the new treasurer, this include Sanding Discs, Table Saw Blades,Band Saw Blades, Glue, (Wood and CA) along with new drum sander belts. The initial run of belts did so well, that we'll be purchasing more in different grits, hopefully 220 to 400 so you can take boards all the way to finish! More consumables documentation on the way soon!
Wood Shop Tool Wardens, I've gather a rough gant chart of when you're all available, expect to be scheduling training and SOP writing groups to be made and sent out soon with a when is good for this month so that everyone (Or most) will be trained by Nov-December timeline!
Space Project Updates
Ashley is planning to do some printing this weekend during the livestream - time TBD. If you're interested in getting training or printing something this weekend, shoot her an e-mail!
COWBELL
Broom Party
Lost & Found Party
Meeting Metrics
Time completed:2027
Attendees:18
Action Item Summary
No action items.
Proposal Summary
| Proposal | Moved By | Seconded By | Aye | Nay | Result |
| --- | --- | --- | --- | --- | --- |
| Wording is proposed to be amedended to Apply dues paid during the campaign period to the MEDC campaign unless a member opts out. Dues collected during the MEDC campaign will go towards the campaign until we reach $50,000. | Arthur Mize | Bryan Williams | 17 | 0 | PASS |
Attendance
Jamie B
Chris W
Steve N
John S
Jody R
Brian L
Andrew N
Bryan W
Melissa G
Andy L
Paul L
Nate B
Jersey
Mike F
L.U. C
Matt S
Greg G
Alisa K