ToDo
Looking for ways to help around the space? Apply your talents here!
If you're not sure about the details of something here, post to the group and ask.
If you're gearing up for Potlock, look for the appropriate PotLock-specific task list in PotLock.
Periodic tasks
Task
notes
last performed
How often?
Clean chair/couch upholstery
2013 June
Make the microwave spotless
last potlock
Check/update all machine signs
just print the first section of each machine's wiki page and stick it to the machine
2014 June mostly
every 6 months, or when you know there's a major change
check/update all zone coordinator signs
just print the first section of each zone's wiki page and post it in the zone
2015 march
every 6 months, or when you know there's a major change
purge graveyard
put today's date on all undated items. Items over 90 days old go to dumpster/recycle.
2014 march
every 90 days
clean and sweep under graveyard
ideally every time the recycling goes out...
every month
Genie preventive maintenance
see NateB.
2014 august
every 6 months
check/stock paper towel stations
use the e-room one as an example
2014 december
every month (guessing this happens pretty often and isn't documented)
Rooftop furnace filter
Size is 10 x 20 x 1, takes 2 at a time. We now have washable filters, no more need to keep spending money
2015 may
supposed to be every 90 Days!
Hardac/network equipment fans and filters
We now have washable filters, no more need to keep spending money
?
as needed
Air compressor cabinet intake prefilter
16 x 20 x 1 We now have washable filters, no more need to keep spending money
2016 January
Monthly, or as needed
Laser exhaust blower blades and screen
Genie+straps to drop the blower out of the line
Fall 2015
Every 6-9 months, or when suction is noticeably lacking
Review and prune items in mezzanine storage
Review and update the list at Long Term Storage
?
Every potlock
Fire extinguisher maintenance
We have a contract with Cintas to maintain and recharge the fire extinguishers. They come in twice a year to check everything, and every couple of years (or by request) they will do a walk-around to make sure we have our fire extinguishers in the right spots for both code compliance and actual sense. Next Cintas visit will hopefully be listed here

List on map of extinguishers

?/?/2022
<--- after that date
Corkboard pictures
keep officers, coordinators, and board members' pictures and titles up to date
*shrug*
every pot lock
Clean Sandblaster Filter
Wear a respirator!
05/29/2016
Every 6 months or when the vacuum pressure drops below .1 on the gauge
Take pictures Category:Photographs_Needed
Pictures you take are better than stock photos
whenever
task
notes
date
how often?
Nonrecurring tasks
Zones TODO List
The following list is an attempt to offer up suggestions of tasks that could be accomplished in the various zones by people interested in helping out.
Feel free to take charge of one or more of these items as your time and expertise allow. If you have taken charge of a task, please put your name into the field next to the task.
Should you run out of time or ability to complete a task, make sure to post on the mailing list and "fail loudly". This ensures that task status is shared, and no task languishes in silent failure.
General TODOs
| Task Name | Description | Priority | Champion |
| --- | --- | --- | --- |
| Task | Details | 1 | Name |
Equipment TODOs
|   | TODO |
| --- | --- |
| Haas VF-3 CNC Mill | Update Wiki pages for this page and for Training page as well as produce training videos. |
General TODOs
| Task Name | Description | Priority | Champion |
| --- | --- | --- | --- |
Equipment TODOs
 
TODO
Raspberry Pi Model 4 B 4GB

Physical sign / QR Code for Classroom Zone PayPal link. (And Collections Box? Or at least instructions to use primary donations box.)

Sceptre 55in 4K UHD TV
*Upload, update main page picture with the actual unit, preferably something displaying i3D logo on the screen. (desktop of Classroom PC or Chromecast?)

Update with where the remote is usually to be stored. (Acquire Velcro?)

*Add a picture of the remote.

Perhaps make a wiki page for the ChromeCast?
General TODOs
| Task Name | Description | Priority | Champion |
| --- | --- | --- | --- |
| Paint the Snack Shop Vending Machine | It is currently primed from a long ago attempt at painting | 1 | |
| Fix the Dixie Narco Soda Machine controller | The controller software (maybe hardware?) is not completely stable, debug and fix | 1 | |
| Update Dixie Narco Soda Machine page | Information and links to documentation on the controller running it right now and the software in the most up to date state should be on that page | 1 | |
| Comission the new vending machines | reconnect, test, repair (if needed), fill, and use the new machines | 1 | |
| add wiki page for new vending machines | that's it, all possible info and manuals please | 1 | |
| Build new commons tables | collaboration between welding and wood shop to design and build new modular commons tables | 1 | |
Equipment TODOs
 
TODO
4x8 Utility Trailer

Put a sign on the trailer that indicates usage rules.
Mount the spare tire to the tongue.

Infocus Projector

Make a permanent home for the remote control
Route VGA/Composite cables from the projector down behind the screen to the audio hookup location
Add an HDMI adapter and chromecast

Philips HeartStart OnSite AED
Expiration date is listed as December 2016.
Sandblaster

Reseal everything!
Run air line drop from above.

Tandem kayak
Add a couple pulleys so the gearbox is reachable from the floor.
Vacuum Former

Please create list of materials that can be used, with suggested suppliers
Basic tutorial & instructions would be helpful
General TODOs
Task Name
Description
Priority
Champion
Rewrite Inventory Page
Items have left, items have entered.
1
Kevin
Husqvarna Trainer's Checklist
Jan would like a clearer checklist for Husqvarna training.
1
Kevin
List of Husqvarna Hoops in Stock
(for wiki)
3
Either
List of Husqvarna Feet in Stock
(for wiki)
3
Either
Granite Block Mounting
The granite block on the table by the leather supplies? I'd like to flush-mount that in an existing table, but significant carpentry work is required.
3
Kevin
Lower Shelves: Mounting
I'd like to put lower shelves on all of the Craft Room tables, *except* those holding sewing machines. Significant carpentry work is required. The supplies are currently taking up space, so this is high priority.
1
Kevin
Price/Label Button Supplies
The button supplies on the top shelf need to be priced out, and the price per button needs to be posted on the boxes.
2
Kevin
Create Flats Storage
The mat board, foam-core board, and other flat materials would be much easier to store with specialized storage. Given the small amount of wall space, I favor an open-ended box divided into tall, narrow sections on the inside.
3
Kevin
Create samples for 'Craft Room' sign
We still need light, wall-hangable samples of:

Buttonmaking
Sewing
Serging
Machine Embroidery (smaller sample)
Casting
Papercraft
Silhouette

2
Kevin
Equipment TODOs
|   | TODO |
| --- | --- |
| 3Doodler | None. |
| Badger Universal Model 360 Airbrush | I need to take more photos and post them along with a link or two to some sort of airbrush how-to. I've never used one myself, so until I've accessed that content and played around with the airbrush, this page will remain a stub. |
General TODOs
| Task Name | Description | Priority | Champion |
| --- | --- | --- | --- |
| Populate ToDo List | Add a list of things that are needed/wanting to be done in the eRoom. | 1 | Nate B. |
| Benchview PC | Set up a (small-form-factor?) PC with Windows (7 or 10?) to run the GPIB/LXI gear. Install Keysight Benchview on it and add the licenses we got for the Dream Bench instruments. | 2 | ? |
| PartsLaser mechanism | Build X-Y gimbal, motor controller, laser enable, and camera mount | ? | ? |
| PartsLaser software | Spreadsheet/database, label printing, find-a-part interface | ? | ? |
| Cabinet map | Until Partslaser is operational, an easier way to update https://www.i3detroit.org/wiki/File:NewERoomWithOverlays-output.jpg would be nice. | 2 | ? |
| wire spool rack | Design a (laser-cuttable?) rack for small wire spools, that hangs on pegboard or under shelf | ? | ? |
| tenma meter repair | Fix the sticky ammeter needle on the Tenma 72-630 PSU. Gently! | ? | ? |
| mount bigass HP PSU under shelf | Nearest the door, so it's not in knee-space but the meters are accessible | 3 | ? |
| simpson microohmmeter refurb | readings aren't consistent, maybe because the internal nicad pack is missing? | 4 | Evan? |
| cull crap on topmost shelves | either side of the window, there's a bunch of stuff we never touch, that space could be better used. | 3 | Nate B. |
Equipment TODOs
 
TODO
Lightbulb load-box
Grab a photo! Add a fan and intake/exhaust grilles?
Re:load Pro
Find out how this works (See PDF link in "Documentation")
Soldering Station - Edsyn Loner

Acquire some new tips to replace the ones that've been bent, oxidized to hell and gone, or just plain worn out.
New sponges, too. They are considered a consumable.
Better labeling / signage, to direct people to this page.
General TODOs
| Task Name | Description | Priority | Champion |
| --- | --- | --- | --- |
| Rostock part cooling | design/get manufactured a ring of microjets to be supplied by shop air. the jets should hit the plastic, not the nozzle | 3 | |
Equipment TODOs
General TODOs
| Task Name | Description | Priority | Deadline | Champion |
| --- | --- | --- | --- | --- |
| Front Door stop | Front door bangs on gas meters, attach a doorstop to the floor to prevent | 1 | | Jake |
| Floor Leveling on B-side | Apply floor leveling compound to rough spots | 1 | | |
| Move big sink to B side | move to final location and plumb in below B-side treehouse, anytime | 2 | | |
| Front door replacement | Find a replacement door, probably frame, and install it | 2 | | |
| Power Runs | Label all outlets with the panel and breaker that serves them | 2 | | |
| floor smoothing in wood shop | needs real concrete | 2 | | |
| floor smoothing by laser/vinyl | needs leveling compound, acid, whole nine yards | 2 | | |
| Thermal Insulation | The space leaks some energy in winter, let's find some major leaks and get some solutions in place. Luckily some of our members have FLIRs. | 2 | | |
| Conduit Labeling | Designate all conduits with the circuits contained therein, and "downstream" (toward-end-device) "flow" arrows. | 3 | | |
| Roof vent | Wood shop vent needs one of the motors on the motor shelf near the bike zone to be installed. | 3 | | |
| Floor pour in old cart storage | needs real concrete north of the treehouse stairs. | 3 | | |
| hot water heater | look at securing north side to the wall | 3 | | |
| Building ground | Tie all the breaker panels to the building beams for ground. Make sure the bus-bar is as well. | 5 | | |
| West wing north vent fan wiring | The wire insulation is dead, and that entire area could use cleanup. | 6 | | |
| Rewire old woodshop panel to go off main disconnect instead of from A SW panel | It used to be powered through the wall, but was split when A/B were seperated | 6 | | |
Equipment TODOs
 
TODO
Drone CI

Use slack and slack blame into some channel for announcements of pipeline status
Better way to edit server-side configuration (instead of re-creating the containers)

Furnace: A Middle

needs thermostat
Turn towards lasers?
Had a label saying fan doesn't work, worked fine for us though.

Furnace: A North

Needs a power cycle before it works? Only for cold start though?
New thermostat
Improve panel access, it's really annoying with how it's currently hung.

Furnace: A South

Pilot light won't stay lit, replace thermocouple
Needs thermostat
turn towards commons?

Furnace: B Mid
Furnace: B North

Needs new motor
Needs new bottom sheetmetal
New Thermostat

Furnace: B South

Replace switch box on furnace
new thermostat

Genie
Yet to do, short term:

Coat battery terminals generously with anticorrosive.
Replace the base-run switch.

Wishlist, long term:

Diagnose and repair the platform-power connection.
Redo the vinyl lettering on the machine panels and sides.
Remove, sandblast, repaint, and reinstall the battery bays.
Ammeter for charging/discharging current?

IoT Kiosk
Add touchscreen capabilities
OpenEVSE
Maybe replace the i2c cable with something better. There are parts to build another one that has not been completed.
RFID entry system
Known esp rfid bugs (not reported to esp rfid because making test cases is annoying)

Doors scan as the previous user occasionally
doors crash a lot when reading the user list


Future Plans:

make a script that can automagically pull the spreadsheet, but this is a google permissions issue and I think the best way is to create an account that only has read access to the spreadsheet and use credentials from that and I've been lazy.
Update CRM to replace slot with pin, and put all the keys back in the CRM.
Cronjob or something to update the doors, but this will need some more error handling because the doors will often crash if you sync twice. You just have to retry, but it's annoying.

Traffic Light
make PWM capable
General TODOs
| Task Name | Description | Priority | Champion |
| --- | --- | --- | --- |
Equipment TODOs
No equipment in zone 'Injection Molding Shop' has todos
General TODOs
| Task Name | Description | Priority | Champion |
| --- | --- | --- | --- |
Equipment TODOs
No equipment has todos
Recurring Tasks
| Task Name | Description | Frequency |
| --- | --- | --- |
| Check chiller water levels | Check water levels in chillers and refill with distilled water as needed (see the gauge on the back of the chiller) | Potlock |
| Clean chiller dust filters | Remove the chiller cases and clean out their dust filters | Potlock |
| Cull scrap materials | Sort scrap materials in grey drawers and under Bumblebee's desk into "Usable - keep as is", "Usable - needs trimming" and "Too small to keep." Throw the latter in the dumpster, and for pieces that need trimming, cut unuseful sections off with the band saw. Sort pieces to be kept into their respective drawers or back under the desk. Guidelines: keep wood items larger than ~50in² and acrylics larger than 15in². Smaller colored acrylics may be kept too. Other materials, use your judgement or ask. | Potlock |
| Thoroughly vacuum out debris | Vacuum out all of the debris that accumulates in the back and sides of the cutting chamber, as well as all of the debris that has fallen below the laser bed. | Potlock |
| Sweep underneath each laser | Sweep out whatever debris has fallen on the floor underneath each laser. Some of this might be useful tools or other items that have gotten lost, so look things over before immediately tossing everything in the trash. | Potlock |
| Clean dust filters on intake fans | Remove and clean the small dust filter on the 120mm case fan on the left side of each laser. | Monthly? |
| Clean optics and level the bed | Please only attempt these if you've been trained to do them. | As needed |
Long Term
| Task Name | Description | Priority | Champion |
| --- | --- | --- | --- |
| Add proper limit switches to Bumblebee | Currently, the laser only knows it's position in software, based on initial homing. If this glitches for some reason, which it can be prone to do, the gantry will crash, which is Bad. The functionality for proper "STOP when you reach this point" limit switches exists on the laser controller so this could be done with 4 limit switches and some wiring--some of which will have to run through the flexible wire bundle that moves with the gantry. | 1 | |
Equipment TODOs
 
TODO
Laser Cutter - Chinesium

Put in new Bed
Rewrite Smoothieware - Why? Seems to work?
air assist solenoid
air assist nozzle
replace power switch with sonoff pow
add flow switch
add door interlock
add max endstops
better laser focus

Laser Cutter - Cyclops

Get a honeycomb that we can set on the cutting table.
Get a handle on the metal cutting mode.

Laser Cutter - Full Spectrum

The focus slide could be redesigned for less flex.
Payment counter?
New roller design

Laser Cutter - Wolverine
Develop a list of materials, with speed and power settings for various cutting depths.

Add bumpers under the lid.

Add stringer gas shocks so the lid does not slam shut.
General TODOs
| Task Name | Description | Priority | Champion |
| --- | --- | --- | --- |
Equipment TODOs
No equipment in zone 'Leather Loft' has todos
General TODOs
Task Name
Description
Priority
Champion
Dayton 24" Brake

get manuals for wiki
Find location for it
design mounting solution

1
DoAll Band Saw

Air pump/chip removal – use shop air
Clean/refinish blade guides
Write out/establish maintenance procedures and timing (i.e. oiling)
Fix roll pin in speed adjustment shaft
Buy DoAll colored red and gray paint
Touch up paint on DoAll
Source blade stock
Buy padlock for lockout during service
Buy table guide
Buy part holders to use with feed chain
guides for blade welder (see Evan A., or Matt G.)
grinding wheel for blade welder

1
Dake Band Saw

Clean out blade brushes
Clean out chip tray
Add fluid if low
Replace screws/bolts in switch box that is loose

1
Kalamazoo Horizontal Band Saw

get manuals for wiki
get some example videos of how to use horizontal band saws
braze crack
weld up chip tray
better affix chip tray (weld and re-tap holes maybe)
test moving parts
get coolant pump for it and make coolant work
wire in
paint

1
Tapping Machine

make wiki page
get picture for wiki
get manuals for wiki
get some example videos of how to use a tapping machine
Remove damaged screw stuck in collet
Replace screws with Allen head screws
Make/retrofit adjustable tap collet?

1
Acer 1440G Lathe

Tailstock alignment
Additional gears for other threading operations

1
Powermatic Sander

make wiki page
get picture for wiki
get manuals for wiki
get some example videos of how to use a sander for metal
Replace missing knobs
Find table for belt sander portion
Make exhaust work
Get new belts

1
Edlund Drill Press
1
Fix exhaust fans
1
Belt Grinder

mount to base better
make wiki page
get picture for wiki
get manuals for wiki
get some example videos of how to use a belt grinder

1
Brown and Sharpe Surface Grinder

better storage for surface grinder wheels
get manuals for wiki
get some example videos of how to use surface grinders and square the wheels (maybe how to level the chuck)

1
Cleaning/organization

drill bits
taps/dies
under the arbor press bench
under the drill press bench
cart in the corner
metal mesh cabinet
shelf above arbor presses
long stock over everything

1
sheet metal roller
1
Niagra 342 Shear

get manuals for wiki
get some example videos of how to use a shear like this
move to final location
apply power
make work
replace light with LED (add good switch)

1
Rockwell Grinder

get picture for wiki
get manuals for wiki
get some example videos of how to use grinders

1
Rockwell Grinder 2

get picture for wiki
get manuals for wiki
get some example videos of how to use grinders

1
Baldor Grinder

get picture for wiki
get manuals for wiki
get some example videos of how to use grinders
replace or find missing nut

1
Heinrich Deep Throat Bench Punch

get manuals for wiki
get some example videos of how to use a punch

1
Equipment TODOs
 
TODO
Acer 1440G Lathe
Center Tailstock
Bridgeport Mill
replace or repair light (droops)

wire in the power feed, light, and DRO so the wires are not in the way run air line to the machine for coolant mister repair coolant mister (droops) buy and add pneumatic drawbar

buy and add drill-powered knee
Dayton 24" Brake
Build a stand and bolt it to the floor
Edlund Drill Press
Fix tensioner
Monarch Series 50 Model 16 Lathe

Thoroughly clean all surfaces

Dismantle gearboxes?
Evaporust!
Relubricate

Pin crossfeed handle
Make cover for belt tensioner
Get/make new handle for disconnect
Replace power indicator lamp
Test all oiling tubes (after new pot)
Clean under threading gearbox cover
Exercise the power feed gear selector mechanism
Re-grease bearings for gearbox (left side)
Get (wishlist):

Change gear for metric threading
Collet chuck
Taper attachment
Steady rest
QC tool holders that fit 1" bits
magnetic parts trays

Powermatic Belt and Disc Sander (Model 30A)
1. Add/enable dust collection system for the machine. -- Done

2. Make a butterfly valve for the disc vacuum line.

3. Add disc and belt direction arrows.

4. Replace belt guard nuts with knobs for easier removal and replacement.

5. Replace missing and broken adjustment knobs.

6. Add miter gauge to disc sander bed. -- Done

7. Find at i3 or buy heat gun for changing sanding discs. -- Tool Crib
General TODOs
Media Lab
Description
Champion
Backup then reset Windows PC
Make fabric sleeve for roll of photo gloss
put new sign on printer
Possibly setup DesignJet accounts
Go through all the bins and misc. items that have collected under the desk
Paint Compute Desk
Paint Compute Desk
James O'Dell
Update wiki
Update wiki with printer directions,

cost listing, printer tutorials

James O'Dell
Paint Shelves
James O'Dell
Move server left
Move server left to get more leg

room

James O'Dell
Fix Ceiling
Plug holes in ceiling and fix walls
James O'Dell
Equipment TODOs
 
TODO
DesignJet t1100ps
Needs a fitted cover, at some point. How-to list for printing patterns and posters on the roll paper at full size.
EpsonStylusPro9800

Acquire ink cartridges.
Test printer.
Setup for fabric printing!
General TODOs
| Task Name | Description | Priority | Champion |
| --- | --- | --- | --- |
Equipment TODOs
General TODOs
| Task Name | Description | Priority | Champion |
| --- | --- | --- | --- |
| Paint powertools | There are still a bunch of tools not painted pink | 1 | Anyone can do this |
| Missing screwdrivers | Figure out which screwdrivers are missing, paint any spares, and refill the wall | 1 | Please? |
| Make up borrowable tools rule page and rules | Proposed idea is mark some tools as able to be borrowed, people are allowed to borrow those by posting in something like #borrowable_tools when the borrow it for how long they expect to borrow it, and when they return it. The rules would be posted, and anything people want to borrow but isn't on the list can be discussed. | | Mtfurlan (talk) |
Equipment TODOs
No equipment in zone 'Tool Crib' has todos
Potlock TODOs: 2023-02-18
(Break?) open vinyl filing cabinet
The special materials vinyl cabinet, currently sitting behind the heat press near the cutting mat, doesn't open when I rattle/tug the handles.

As there's no keyhole and no known key, I'm not quite sure what's going on. It's likely there's some sort of lock or catch mechanism; since I've got mobility and dexterity issues, this task may be as simple as finding a button somewhere other than the front surface that unlocks the whole. I didn't have it in me to do more then tug the handles and examine the front.
Non-destructive methods are preferred; if a destructive method is used, the cabinet must remain capable of normal use (drawers can still be pulled in and out, remains structurally stable and sound, etc.)
The cabinet's at the far end of the cutting mat, beside the heat press, and is temporarily hidden by a stashed display case; it's just visible in the shadow.
Move telephone -or- mount display case
The display case from the second photo above needs to be placed in an accessible yet secure spot somewhere adjacent to the vinyl zone.
My preferred way to do this is remove the (unused) telephone from its mounting on the special supplies cabinet, and not bother remounting it elsewhere. (As I recall, we now actively discourage answering the phone.) Then the case could simply sit by the special supplies cabinet.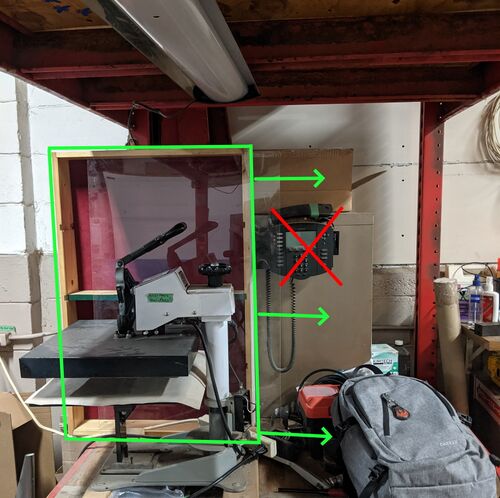 Should this prove impractical, the case needs to be mounted elsewhere. Here's a reference shot of the case, followed by the placement requirements.
The requirements are:
Accessible from the floor; easily "opened".

Tour guides (and anyone else who's interested) should be able to walk up, open the case, and take things out to pass around to visitors. The case's purpose is to protect the contents from dust and bumps, and keep them off of working surfaces; it's NOT to seal the contents away from everyone. Having contents easily visible from the aisle is a huge plus.
This case is exactly like the one mounted to one side of the A-side entry door, opposite the log-in sheet. That means it "opens" by sliding the acrylic panel to one side. The acrylic isn't fastened down; it sits in a pair of grooves and slides out.

Directionally oriented.

In the photo above, an internal horizontal shelf is visible. There are slots (not currently in use) for two more in the same direction. If the case can be mounted so the shelves remain horizontal, it'll be much more useful.
Protected from accidental bumps. If protecting the case weren't important, it could just sit on the floor in the aisle by the vinyl zone desk. However, long experience has shown that, eventually, everything on an aisleway at floor level will get hit by the Genie or a cart, potentially quite hard. That would be worse than no display case at all, both for the case and the contents, which will include a substantial amount of glassware.

Removable/remountable. Much like the case by the front door, the case should be removable for reuse elsewhere without major repairs.
It's occurred to me that "mounting" between the stanchions of the red pallet rack, by the aisle, might be enough to protect it. While very accessible, such a mounting seems complicated to build, and would need to be removable once Vinyl moves out of the area. I also haven't yet gotten buyin from Lew, so please check with me before carrying this one out!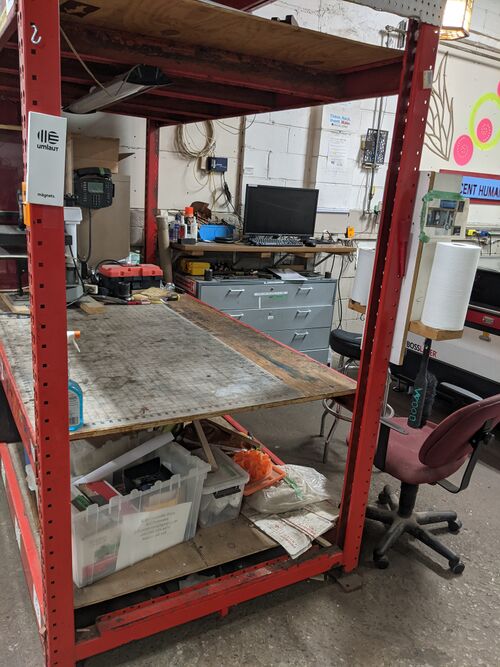 There's wall space by the back of Vinyl above the trash can. However, a substantial amount of furring would be needed to 'push' the case out from the wall enough to open it without crashing into the adjacent pallet rack, and to work around the support piller.
The wall space opposite to Vinyl, on the outer wall of the Fab Lab, is being used for temporary equipment storage. It probably shouldn't be used as a mounting location.
If it can be easily done, it might be acceptable to mount the case to the front of the Vinyl Zone desk, facing the Bike Zone and bathroom. However, such a mounting must be easy to remove (in the case Bike Zone decides to put something by the desk) and must not interfere with how the desk works (can't block desk drawers or compromise the structural integrity).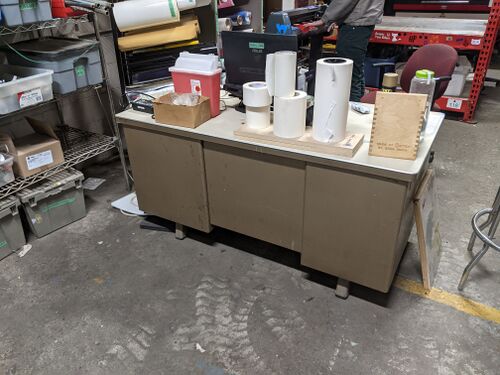 General TODOs
| Date Added | Task Name | Description | Priority | Champion |
| --- | --- | --- | --- | --- |
| 2022-01-06 | Update Vinyl Inventory | Inventory current vinyl stock, modify Wiki table as needed. This includes the "special" stock and heat press stock, which may need to be located and marked. | | Current coordinator (Kevin F.) |
| 2022-01-06 | Add Zone Coordinator Sign | Add a sign with contact information for the current ZC (Kevin F.) | | Current coordinator (Kevin F.) |
| 2022-01-06 | Coordinator only: Review Process | Familiarize oneself with current toolchain, licensing; document the software restoration process; update ownership notes if necessary | | Current coordinator (Kevin F.) |
| 2022-01-06 | Coordinator only: Review Heat Press | Familiarize oneself with how to use the heat press. | | Current coordinator (Kevin F.) |
| 2022-01-06 | Coordinator only: Review Etching | Familiarize oneself with how to use vinyl and the sandblaster to etch. See link in main Vinyl Shop page. | | Current coordinator (Kevin F.) |
Recurrent TODOs
Date Added
Task Name
Description
Priority
Champion
2022-01-06
Update Vinyl Inventory
Inventory current vinyl stock, modify Wiki table as needed. This includes the "special" stock and heat press stock, which may need to be located and marked. Stock is 'done' when it's listed in the Wiki, and it's received a special label on the inside of the roll.
Current coordinator (Kevin F.)

Equipment TODOs

No equipment in zone 'Vinyl Shop' has todos

This list is current as of 2023-02-18.




 -


Current items are in the old style, on https://www.i3detroit.org/wiki/Category:Welding_Area#Wishlist_and_Tasks

Could really use some help getting updated to the new style.....

General TODOs

| Task Name | Description | Priority | Champion |
| --- | --- | --- | --- |

Equipment TODOs

 
TODO
Bench-Mounted Manual Metal Shear
Add a spring loaded hold down to the left (anvil) side
CNC Plasma Cutter
Get pledges for thing. Buy thing. Install thing. Learn and train on thing. Use thing.
Hossfeld 2 Universal bender

Source more dies
Add a good pic to this page
Add the manual or a link to it
Maybe find some good videos and link them

New TIG
Replace plug and test. Update ToDo based on that.
Welding Table
Replace with a proper layout table and a flat welding table w/ threaded anchor holes. Maybe a downdraft table too. 4x8 for the layout table, a couple of 4x4 welding tables that can be clamped together, 3x4 for the downdraft, ideally 3 of them, each with their own set of practice welders.

Other

Reverse sort meeting minutes. This will probably be done with sematic mediawiki.
Add some "good first task" tasks to this list, for new editors to get their feet wet.
Good first task → Find an equipment page that lacks a picture. (Talk to the ZoCo and get some help identifying the equipment, then) Take the picture, upload it, and edit the page to include the uploaded file.
Go through all the Board Minutes and find the financial reports and make sure they are also linked in the Financial page.

Content

Making up better words

Everything in Category:Landing Page is intended as pages for non-i3 people to show up at. We should put extra focus on putting good words there.

Adding content

Create a page for expansion tasks to be tracked & then transclude it into the main expansion page. If this works well maybe we can expand it into ways for people to sign up for regular space & zone maintenance tasks in the future?
Missing Equipment
Take pictures
Make i3 page on wikipedia: https://en.wikipedia.org/wiki/i3Detroit
Update the links on https://www.i3detroit.org/wiki/Financial with the reports, found in each month's board meeting.

Could this be automated by adding some kind of tag to uploaded financial documents?

Maintenance

Reorganizing

Go through all the ToDo pages, and move any todos that should be on equipment instead of the general zone to that equipment
Go through all the ToDo pages, and standardize the todo format on equipment pages
Go through all the Category:HOWTO pages and move tool howto content onto the tool pages themselves; those are not todos
Deal with events/classes HowTo pages, maybe coalesce
Fix Category:Proposals

Add tagged proposals to the category?
Hunt down old proposals and properly tag them

Give anyone who appears in a magic table an infobox
Merge Wood_CNC into CNC Router, or delete outright?
Delete Template:MinutesNotice, after editing all of the minutes that use it to use Template:MinutesHeader instead: Special:WhatLinksHere/Template:MinutesNotice

Semantifying

EAP: Reformat all dates to be yyyy-mm-dd
EAP: sorttable/sorting order on transcluded queries - probably the user table generation
EAP: make user tables and trainer tables have prettylinks
EAP: add comment on authorized users table that ZCs should email wiki@ if they can't edit

Alternatively, make it unrestricted until someone goes dumb and tries to add themselves without actually getting authorized first

EAP: Figure out how to add second trainer to lasers

Tried to make the trainer field parallel to the owners field, but it isn't working. It could be because the trainers field is in a multiple-instance field. Also, when formatting for display, the owners field uses an arraymap, but since the trainers property is a subobject, everything is weird. I don't remember how to call an arraymap within a subobject declaration, or even if it can be done. Everything is confusing and future jamie should take pity on this jamie and not be mad at her :-(

Meeting minutes: Use template subclusion to auto-populate with old business, previous action items, current space projects, even zones and sigs maybe

See if wikibot can help with this

Make ToDos editable with forms
Learn cargo and see if it's worth rewriting all the SMW stuff in a more database-like format
Talk pages would be more useful if they indicated LOUDLY that they exist, or that they have new content on them, cuz on our wiki they're so rare most of us forget to look for 'em

Fixing broken things

Amelia Meyer cannot add authorised users to her zone's equipment (like the 3D_Printer_-_Rostock_MAX), but can add trainers

The text-entry boxes are greyed-out for the authorised users, and white for the trainers
Looks like a permissions issue

Wiki accounts allowed to add users to these lists should have access to both in general

make SMW error icon mouse over-able like it's supposed to

Jamie has advice from the SMW mailing list somewhere in her inbox.

serverside stuff

commit config
fix plugins git stuff

Adding plugins

General TODOs

| Task Name | Description | Priority | Champion |
| --- | --- | --- | --- |
| New tasks | | | |

Equipment TODOs




Concrete tasks

Doable, solid, well-defined tasks (with needed supplies and notes)

Vinyl a few more http://www.zoro.com/accuform-signs-36-clearance-electrical-hazard-signs/g/00164777/ for the breaker panels, Nikki has the design already done.
Relocate emergency phone info signs to actually be near the phones.
Re-establish cart-parking in place of e-lab overflow after the floor has been leveled and sealed a bit
Repaint/revinyl n2d2
Make a poster about what laser scrap to keep (useful pieces) vs dumpster (remnants that're mostly empty space)
Iron on vinyl label "safety glasses" for canvas pockets near bandsaw
Make a sheet-metal diverter for the northeast furnace to send partial flow into metalshop.
Make official-looking sign for front area with Board of Directors, Officers, and Zone Coordinators' names and pictures (Figure out exact design and placement-on corkboard where pictures are now? On whiteboard wall?)
Make "how to phone" cheatsheets for phones
Update the Map of Fire Extinguishers using the New Blueprints

Abstract or more-planning-needed tasks

Make float switch for 12v sump pump, finish backup pump in north sump
Create a theme for the wiki that reflects the main website's feel
Find a way for the CRM to add/remove people to/from the Google Groups
Build printer that, when presented with a member's RFID tag, prints a label with name/date/email/etc
Equip the snack vending machine with a bill acceptor
Finish the OpenAccess system CRM integration